As manufacturers incessantly search for more efficient mobile technologies, one question continues to cause enterprise confusion: are consumer-grade smartphones or rugged devices better for business? Unfortunately, there isn't a "right" answer to this question. It depends entirely on your mobility program's strategies and goals.
While there isn't a universal solution, both technologies offer distinct business advantages. Here are some things to consider to help your company determine its best course of action:
Multi-Purpose vs. Hyper-Focused
How will your program's mobile devices be used? Are there one or two high-volume enterprise applications that need to be supported, or does employee performance and organizational achievement depend on dozens of lightweight applications downloaded from both enterprise and third-party sources?
Smartphones offer end users familiarity and flexibility. While they aren't always the optimally efficient choice, they're capable of increasing workforce productivity on an enterprise-wide scale. Rugged devices, on the other hand, feature extended battery life, multiple network support options, and additional support capabilities for enterprise technologies like Radio Frequency Identification (RFID) and Global Positioning Systems (GPS) to accomplish more specialized tasks.
Accountability
How a company allocates carrier expenses also plays an important role. Consumer-grade devices can be assigned to individual employees, adding granular usage details, enhanced reporting capabilities, and complete transparency to a mobility program. In contrast, rugged devices used by multiple employees are more effectively managed when assigned to a specific department or cost center.
Sourcing and Procurement
The consumer-grade mobile device market is noticeably more expansive, leading to a virtually endless number of equipment manufacturers and logistics solutions. Smartphones can be sourced and procured globally with ease, resulting in rapid rollouts and a much higher likelihood of seamless device deployments. If coordinated exclusively or with a limited number of wireless carriers, this also means significantly cheaper initial purchase costs and improved buying and negotiating power.
Options for rugged devices, while much more limited, still offer business benefits. Unlike smartphone manufacturers, this industry is dominated by longstanding partnerships between hardware and software companies. Global sourcing and procurement is a much more tedious process, however the Total Cost of Ownership (TCO) for a rugged device is roughly 50% cheaper due to an average device lifespan that lasts more than twice as long as its consumer-grade counterparts.
Common Ground
Regardless of which type is more useful, asset tracking and Enterprise Mobility Management (EMM) are essential to your program's overall security. Partnering with an experienced Mobility Management Platform (MMP) centralizes device management and allows administrators to deploy enterprise-wide security updates concurrently, provision new devices and applications universally, and track user behavior globally.
Complete lifecycle management and support is also a must-have whether you're managing smartphones or rugged devices. The average manufacturing work environment is much more dangerous and less controlled than in other industries, meaning users need multiple support options and secure device procurement and retirement workflows.
Single Platform Solution
Another recent enterprise mobility trend is program migration toward single platform software management. As traditional Information Technology (IT) converges with mobile technology and the Internet of Things (IoT), organizations are uncovering tremendous value in managing all of their devices from one place. In fact, 44% of all manufacturing firms plan to converge their technology management into a single platform within the next 12 months.
This transition doesn't just reduce your internal IT team's burden; it also reduces program risk, slashes operating costs, improves customer service efficiency, speeds up production cycles, streamlines enterprise operations, and ensures user compliance. A single source of mobility management delivers consistent capabilities from one program manager to the next, a consolidated technology database, and one software interface to learn and use.
Partnering with an MMP evolves your program past device management and toward securing all endpoint applications and data. It also allows your program to take advantage of cutting-edge IT architecture that's driven by Application Programming Interfaces (APIs), which are required to execute big data and analytics capable of driving innovation and further efficiency gains.
Finding the perfect balance of consumer-grade and rugged devices and empowering your program with a unified, software-first management solution is the future of mobility in the manufacturing industry. By integrating a centralized platform equipped with the tools and expertise needed to converge all enterprise technology management, your business gains a competitive edge over other companies and creates efficiency by establishing a single set of IT objectives, underlying technology requirements, and goals.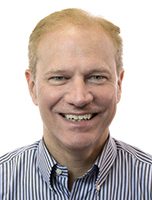 About the Author
Chris Koeneman is the Senior Vice President of MOBI, where he is responsible for go-to-market success and all sales efforts. Chris has an extensive background in technology sales, which includes leadership positions with leading technology companies such as AT&T, Intel, and Cisco as well as innovative start-ups. He has led global teams focused on networking infrastructure, cloud services, and virtualization solutions sold through OEMs, channel partners, and direct. He has been a part of two successful wireless acquisitions; one by HP and the other by Adtran.
Chris is a popular public speaker on technology and has presented at a number of international venues on the application of a wide range of technologies. He graduated with a BA from Indiana University and an MBA from Georgia State University. He lives with his wife and two children in Boston, and enjoys traveling in his spare time.