July 3, 2019
The U.S. economy is reaching a record-breaking period of expansion that started 10 years ago. There is a reignited interest in discussing and predicting when the next recession could happen. Finance and Procurement are likely to be the first in their organizations to perceive and deal with the impact of a recession. Suplari, a leading AI-powered enterprise financial insights system, surveyed Finance and Procurement professionals about their concerns, preparedness and coping tactics. The report intends to help you further assess the odds and outlook for an eventual recession, plan ahead to avoid business disruptions and prioritize the strategies and tactics to deal with a recession.
Are companies preparing for an economic downturn?
A majority 55% of respondents believe a recession will take place within 18 months, before the end of 2020. The percentage is even higher, 77%, when counting the larger group expecting a recession to occur within the next 2 years. Smaller companies are more skittish about the economy, with more of them expecting a recession to hit in the next 12 months.
Despite an encouraging 61% of respondents demonstrating confidence in their companies' preparedness for times of economic needs, there remains an alarming 30% feeling unprepared or unaware of their organizations ability to cope with an upcoming recession. The other 9%, although also feeling without preparation, simply don't foresee a recession on the horizon.
Executive Procurement and Finance professionals expect they will be pressed to quickly find cost savings. Yet, even if a recession doesn't come to pass, procurement and finance organizations should not wait for an economic downtown to put an ironclad plan in place. Enterprises need and should be proactive, with an always-on systematic approach to managing spend and margins.
The key tactics that procurement and finance professionals plan to pursue
The main 'go-to' tactics or levers to optimize spend and risk are Contract Renegotiation and Vendor Consolidation. Worth noting that different industry sectors ranked other preferred tactics specific to their business. The manufacturing sector, for instance, is more likely than average to delay project expenditures. Across the board, there is also high focus on avoiding maverick and bypass purchasing.
In case of economic need, Travel becomes by far the most scrutinized or tightened spend category. Listed next, were Facilities Expenditures as well as Office Equipment and Services. That did not surprise me. Companies have large amounts of dollars flowing through Travel & Expenses (T&E). We also see companies spending more in overall transportation, with Uber, Lyft and other 'new economy' riding services. Left unchecked, T&E programs can invite managerial concerns, and even actual cases of fraud or non-compliance.
One category that I did expect to see listed as a high target for scrutiny, but that was not ranked, was the spend with SaaS subscriptions. Our data shows sharp increases in that category and tremendous opportunity to better manage and consolidate contracts across departmental and employee usage of cloud software. Companies are starting to realize they need better visibility into this particular category.
When it comes to supplier management, it will pay off to have processes and technologies to systematically track supplier information, their business stability and operational continuity risks. Companies should get proactive to find spend optimization opportunities beyond the group of top suppliers alone. There is significant opportunity to also optimize tail spend and suppliers.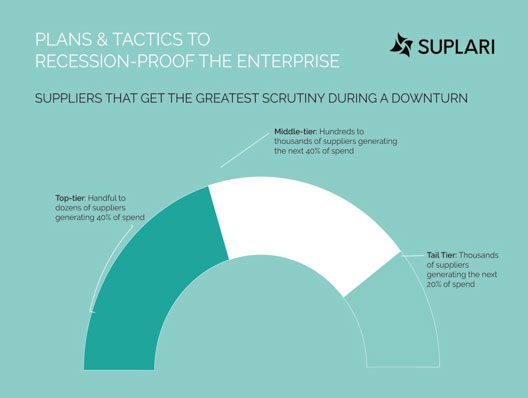 Most companies indicated a balanced approach to optimize spend and contracts across all suppliers tiers. Mid-size enterprises with revenues between $250M and $1B were more likely to go further down the tail end of supplier and spend to find savings opportunities. Smaller companies, however, demonstrated very small inclination to scrutinize that tail spend, preferring to focus much more on top- and middle-tier suppliers.
Getting the full recession survey report
Now it's the time to examine spend categories, supplier's stability and upcoming contract renewals. Make sure that your Finance and Procurement teams, as well as stakeholders in the business, are equipped with proper visibility and proactive insights into their spend, suppliers and contracts activity. The study also goes in further details of industry and regional analysis.
The report "Plans & Tactics to Recession-Proof the Enterprise: A Survey of Procurement & Finance Professionals" is now available at https://www.suplari.com/recessionsurvey/. Readers can join the conversation and share comments at Suplari's LinkedIn company page.
About the Author
Alberto Sutton is SVP of Marketing at Suplari and has 20 years of multidisciplinary experience in business technology and services. Prior to Suplari , Sutton held leadership roles in marketing, product and channel management at Onvia, Pyramid Analytics, Nintex, and Microsoft. He also served as business consultant for Ernst & Young and PwC. Sutton earned his bachelor's degree in Production Engineering from Escola Politécnica de São Paulo and holds an MBA from the Wharton School of the University of Pennsylvania. https://www.linkedin.com/in/albertosutton/
Suplari provides an AI-powered Enterprise Insights System to Finance and Procurement. It makes financial sense of their spend, supplier and contracts data, so they gain control and optimize margins, cost, risk and ROI. https://www.suplari.com/