Do it right every time.
1. BRAND REPUTATION AND PROTECTION
A brand is an amalgamation of what your customers, prospects, and partners perceive about you, it is a myriad of organizational variables:
Branding is a vast subject in itself with Brand Equity and Value being extremely important in today's highly competitive landscape. Good brands command a premium positioning, better recall, higher perception, and infuse a sense of loyalty and goodwill. Top brands have billion-dollar valuations and not only cover companies, products, and services but even extended organizations such as suppliers.
In today's uncertain and cost-sensitive economy your Organization's Brand Reputation is a powerful asset providing differentiation and value-addition. Brand Reputation is dichotomous: tangible, powerful yet fragile. In a recent survey at the World Economic Forum, more than 100 top executives rated their company and brand reputation as the second most important Performance Metric next only to their Product/ Service quality. While brands take years to build value, there is a risk and propensity for rapid erosion, especially in today's digitally connected age.
It is hence very critical for organizations to be passionate about Brand Protection. Technically it is defined as the process and actions that the brand owner undertakes to prevent third parties from using its IP without permission, as this may cause revenue loss and erosion of brand equity, reputation, and trust.
2. EMAIL MARKETING
Email Marketing has the best alignment vis-à-vis other traditional advertising, social, and promotional channels. 80% of customers still prefer being contacted by Email, and Email marketing generates 38 times revenue for every dollar spent, compared to other channels. Email Marketing is cost-effective, has a wide reach to a diverse audience, easily implementable & measurable, and delivers timely targeted messages throughout the customer journey.
It is hence super-critical to include Brand Protection considerations in your Email Marketing journey. To reiterate, the brand life cycle far outlives the campaign and specific product life cycles.
3. THE 5 Cs OF BRAND PROTECTION IN EMAIL MARKETING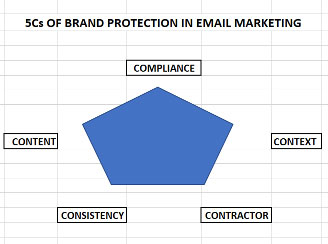 4. THE OPERATIONAL Cs
Content: In the age of personalization; this must be within the guidelines of the brand. You should lockdown fixed sections for the branding such as disclaimers, landing pages, product catalogs, triggers. Such important communication containing branding must be given special importance and you should strictly adhere to the Branding Dos and Don'ts. The flexible constituents of the template, landing pages, Tags, Plug-ins, signatures, while being visually aesthetic and relevant, must be in consonance with the overall brand.
Consistency: Content and Consistency go hand in hand, especially since your customers open their emails on various email clients: Web, Outlook, Lotus Notes, and on a wide plethora of devices. Personalization can be responsible and adaptive however as the Branding Guidelines, Dos and Don'ts should strictly apply to your customers' diverse browsers and devices. Rigorous rendering can pre-empt embarrassing situations such as garbled logos and links. Besides aesthetics, this also has an important bearing on genuineness and spam pre-emption, especially considering the growing counterfeit industry
Context: Once you have nailed the Content and Consistency as per your stringent brand guidelines and discerning quality, you can intelligently leverage the personalization in the best contextual way. You can mix and match colors, timing, contextual message basis your customer journey all within the brand persona and stand out from your competitors. A/B split testing with the segment-wise brand ambassadors can give your team of developers' wonderful insights and ideas for fine-tuning.
Contractors: In your email marketing team comprising Creative, Developer, Campaign, and Automation Teams, it is likely for some roles to be outsourced to contractors. It is hence important that you communicate and align these brand protection operational and legal guidelines (The 4 remaining Cs) with your contractors. Professional, reputed, and conscientious partners would proactively work on Brand Protection.
5. THE LEGAL C
Compliance: Email Marketing departments and partners incorporate eliminating spam trigger words, email scrubbing, spam score testing, and other checks and balances during the Content and Context Stages itself.

However, with every passing day, malware, phishing, and other cyber-attacks increase. Over 90% of attacks originate through email; and these fake dangerous emails are the primary weapons used by cybercriminals to target your important customers claiming to be from your brand. This causes harm to your customers and brand. So, email marketers need to be proactive to ensure that email claiming to be from your brand is actually from your brand.

It is apt to use email authentication protocols such as DMARC, DKIM, and SPF to analyze who is sending email on behalf of your domain—your brand—and prevent spammers from using the domain to send fraudulent emails. Email Deliverability & Performance Optimization Tools have Brand Protection modules that allow you to configure, enforce, and monitor stringent Email delivery policies for your ESPs claiming to be from your brand. Hence, you can easily identify and approve authorized senders and configure policies to block cybercriminals from impersonating your brand.
Valimail, eDataSource, and Dmarcian are such tools. You can refer here for considerations in tool selection.
6. 5Cs FOR DAMAGE CONTROL
While the 5Cs are very useful for Brand Protection during Email marketing for your sales, product launch, and marketing campaigns, their importance grows significantly in the unfortunate event of disaster management or damage control. Brand Protection considerations are critical during email campaigns of apologies, product recall, customer service camps, and similar scenarios. The already disgruntled public nit-picks and find faults. Email marketing in this scenario reflects on a strong, polite, firm, brave, and proactive Brand.
Lastly, brand perception is in the eyes of your customers and partners. Frequent Feedback Forms or Gamified Brand Quizzes will give you insights on the ground reality of the protection of your brand in your Email Marketing function. You can use these analytics to fine-tune and improve further.
Want to engage an email automation specialist that follows these 5 Cs diligently and augments your brand protection aspects? You can surely take help of Marketo specialists or Mailchimp experts.
About us:
Kevin George is the Head of Marketing at Email Uplers, one of the growing Email marketing agency that specializes in converting PSD to email templates. He loves gadgets, bikes, jazz, and breathes 'email marketing'. He is a brand magician who loves to engage and share insights with fellow marketers.