April 12, 2019
By Romain Le Merlus, Co-Founder and CEO, Centreon North America
As digital transformation accelerates across industries at an astounding rate, business leaders are realizing that IT infrastructure and operations (I&O) are stuck between a rock and a hard place.
In one corner, cloud technologies are the centrepiece of digital strategies that see automatic, virtual infrastructure mushrooming, helping drive innovation, efficiencies and ultimately, competitive advantage. On the other, mighty industrial legacy systems and other physical IT assets of the IoT (Internet of Things). In the middle, some overly challenged teams tasked with monitoring and managing IT operations performance.
Research firm IDC predicts double-digit growth this year in global spending on industry-tailored cloud across five "rapidly-digitizing industries," with manufacturing growing the fastest[i]. But as industries from manufacturing, to energy and utilities, to transportation and logistics embrace digital, cloud-based technologies, which can range from virtualized services, to IoT, to robotics, and AI, they must address a whole new set of accompanying issues stemming from IT complexity.
For example, digitally transforming energy and utility organizations are already dealing with globally distributed, hybrid IT environments and the need for remote site monitoring. Still, this sector has critical legacy systems that cannot be retired, such as routers in power transformation substations, digital control systems or older SCADA systems—all of which need to be monitored—and often remotely serviced. Now, throw IoT enablement into this mix. It allows for millions of metrics to be collected in real time but often requires dedicated algorithms and services in the cloud. This complex new ecosystem exists at a time when the industry is operating within a hyper-competitive, global marketplace that demands network uptime and always-on performance.
A new focus on IT operations management
As digitally diverse hybrid IT ecosystems gain a foothold across industries, IT infrastructure and operations is taking on growing importance within the organization.
Studies have shown that integration and streamlined operations are top priorities for industrial businesses, aligned to business goals around building new cost efficiencies, optimizing supply chains and adopting new Industry 4.0 models, but at the same time, guarding against cyberattack and mitigating data security risks.
Today, everything rides on IT performance, which demands 100 percent uptime and interoperability. Just look at the cascading effect across the globe when an airline booking system goes down. The global nature of business further compounds the need for network uptime and system interoperability. As offices, plants and facilities are situated around the world to eke out efficiencies and support global demand, ever-more-complex, evolving IT ecosystems must be monitored and managed remotely and holistically.
Unfortunately, it has been observed that many organizations still lack the I&O maturity needed to handle this challenge. Faced with multiple architectures, platforms, tools and systems, too many industrial organizations simply don't have the holistic, end-to-end, dynamic visibility required to be proactive and manage the complex, diverse infrastructure of this digital era, effectively merging the old with the new.
A new holistic, business-aware view
You can't improve what you can't see. Still, traditionally, different IT assets are being monitored with a plethora of poorly integrated dedicated tools or point solutions; a patchwork of nearly a dozen or more monitoring tools watching over as little as 50% of an ever-growing hybrid IT infrastructure.
It's easy to see how, by its very nature, this approach can't give the big picture needed by industry today. Fragmented views add complexity and foil attempts to make the quick and informed decisions necessary to prevent failures, ensure proper integration and, importantly, improve performance. Monitoring a globally distributed IT network, including remote and legacy assets, must therefore be seamless and comprehensive to enable innovation and growth.
Innovation is not about deploying technology for technology's sake, but for the business services it enables – improved delivery of core services, customer experience and competitive advantage – in a fast-moving, global economy. The excess of IT monitoring tools that have accumulated provide only a fragmented approach to monitoring, when an all-encompassing, interconnecting, dynamic solution is needed.
Today's industry leaders expect to be able to correlate back-end and I infrastructure reporting with what's happening on the front end. In other words, they want to know if end users were delivered the IT services they need to perform and meet the most ambitious business objectives. At the same time, they are challenged with making decisions regarding new cloud technology and services, servers, expanding databases, security and monitoring solutions. The best approach is an interoperable, grow-as-you-go solution that directly and indirectly monitors the IT ecosystem, addressing legacy systems while enabling innovation and growth. This integrated and business-aware approach is fundamental to IT monitoring solutions such as Centreon's EMS platform.
Despite the challenges that organizations with complex, distributed and hybrid infrastructures pose to innovation, there's a bright future for industrial businesses that embrace technology in a smart way – and sometimes, the right solution is quite simple. But to see this bright future realized, it may be time to revisit how IT infrastructure monitoring is performed. Integrating multi-cloud and the legacy environment with holistic, business-aware IT monitoring must be prioritized and quickly.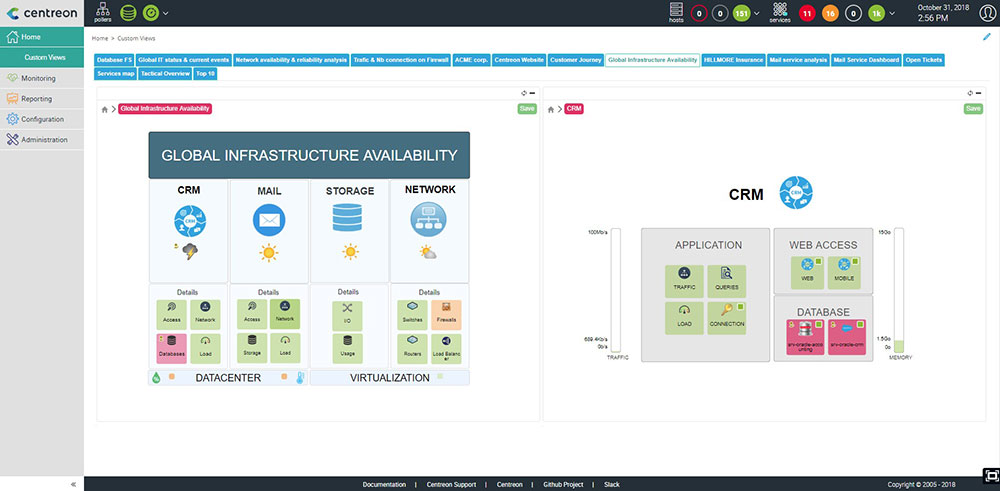 Romain Le Merlus is co-founder and CEO of Centreon Software Systems Ltd., a trusted software provider for enterprise IT monitoring of converging and hybrid infrastructure across a wide range of industrial, public and private sectors. Centreon's flagship solution delivers unified views and streamlined, interoperable monitoring for business-aware IT operations management, eliminating costly downtime and boosting performance analysis. For more information, visit www.centreon.com.
[i] https://www.telecomtv.com/content/transformation/rapidly-digitising-industries-to-drive-double-digit-growth-in-cloud-spending-33601/