Volume 22
| Issue 2
| Year 2019
Click here to read the complete illustrated article as originally published or continue below to read the text article.
It's been a difficult last few years for most Brazilian companies, even one such as Sotreq, which during its 77 years in business as a major distributor of machines, engines, parts and equipment for different segments, has weathered quite a few of Brazil's signature economic ups and downs. After suffering through one of the worst recessions in the country's history, economic growth has been sluggish at best, creating new challenges for this Brazilian group.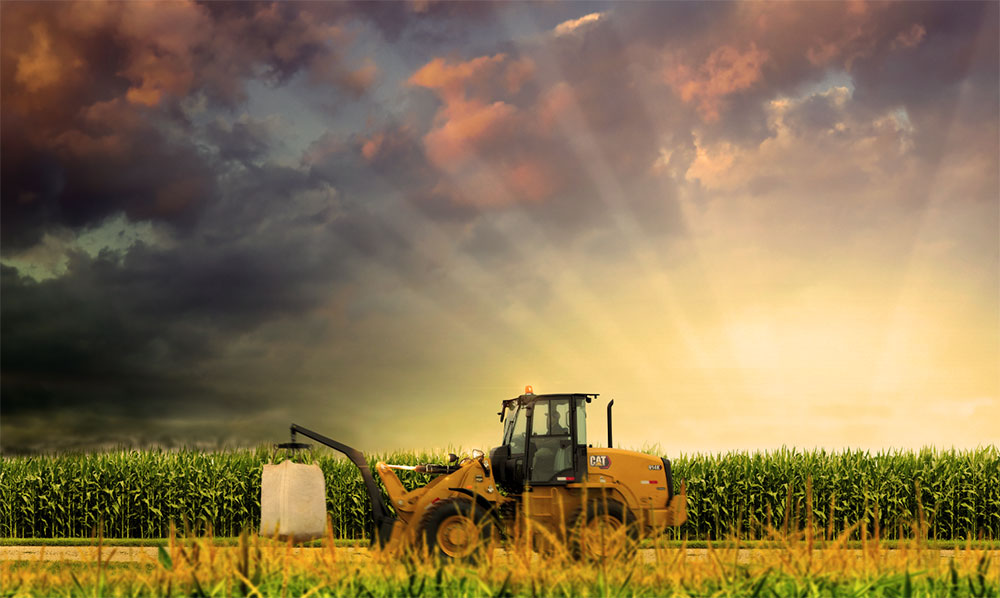 After-Sales Silver Lining
With different segments stationary or shrinking, many of Brazil's leading equipment resellers and distributors have gone on the offensive by focusing more on after-sales services such as preventive maintenance and cost-cutting efficiencies. They've found a silver lining in the fact that while sales of new equipment has stalled, clients seeking increased support has soared as many seek to extend the lives and productivity of preexisting items. Amid this turbulent climate, Sotreq has been at the forefront of providing such services by harnessing the benefits of the Fourth Industrial Revolution to meet its clients' needs.
From its inception in 1941 Sotreq was all about meeting the needs of Caterpillar. Mere months after its foundation in Rio de Janeiro, the fledging company was selling and distributing Caterpillar equipment throughout Rio de Janeiro and the neighboring state of Espírito Santo. Over succeeding decades, as the partnership flourished, Sotreq expanded, opening new dealerships throughout Brazil's vast territory. Today, Sotreq is exclusive representive of Caterpillar's product line in 90 percent of Brazilian territory and the world's largest manufacturer of construction equipment remains an important supplier, accounting for the lion's share of revenues. Meanwhile, over the years, Sotreq has added other prominent names to its roster including SEM, Perkins, Hyster, Yale, Michelin, MAK, EMD, Ponsse, Trimble, CJC, Rajant and Rentar.
The dawn of the new millennium brought unprecedented growth as the company consolidated its domestic presence and began a series of strategic acquisitions and developments. In 2002, Sotreq created a second São Paulo-based company, Somov, the largest reseller of Hyster and Yale equipment in South America, becoming the Sotreq Group. In rapid succession, the new group added additional companies to its stable. Founded in 2006, in Bareueri, São Paulo, MD Power was established as the exclusive distributor of Perkins engines and related spare parts for Brazil. Created in 2007 and headquartered at the port of Serra, near the capital of Espírito Santo, Soimpex is a trading company that imports equipment, machines and parts for the group, as well as for other resellers and clients.
Dawn of the Revolution
Accompanying such expansion were investments in R&D and technology. Says Wagner Emerick, Executive Director of the Sotreq Group, "Our investments in technology began in 2003 when we started to deliver machines with satellite telemetry, which allowed us to offer many new services to our clients. This was the Fourth Industry transforming the way we do business."
As a result of this initial investment in telemetry, today Sotreq boasts more than 16,000 machines equipped with devices capable of sending out vital information that significantly increases operational efficiency. However, this was just the beginning of the company's own revolution. In 2015, the group acquired 50 percent of Radix Engineering and Software Development. Headquartered in Rio de Janeiro, but undergoing rapid expansion across Brazil and into the U.S., this Brazilian engineering and technology company focuses on operational intelligence, process improvement and production management. It was with Radix that Sotreq developed its Warehouse Management System, a complete automation system for its PDC (Part Distribution Centers) whose implantation resulted in reduction of errors and the ability to tracking every operation, including those customized to meet the specific needs of individual clients.
More recent, and more revolutionary, has been the creation of SotreqLink, a real-time equipment management system also developed by Radix, which offers near elimination of unplanned downtime via condition monitoring and IIoT (Industrial Internet of Things). Before adopting SotreqLink, the distributor relied upon more than 10 different applications that weren't completely integrated, making it problematic for supporting customers in an effective way and also for the company's 18 condition monitoring analysts to share information. As a result of such fragmentation, response times ranged from two to four days and information was sometimes lost. Now, with SotreqLink in place, when a fault is encountered, the system immediately identifies replacement parts and sends a quote to SAP to support the larger business processes for selling parts and services, purchasing, inventory and carrying out maintenance. Interfaces are provided for management, sales teams, service and support as well as for customers. Among the solution's applications are various types of AI including machine learning, automated prognostics, robots and intelligent smartphone apps for technicians in the field.
Such efforts have paid off. In 2018, Sotreq was ranked first in in the "Index of Digital Maturity: Brazil," in the advanced industry category, for having improved client's results and facilitated customer service via its digital solutions. While admitting that it can still catch up to other players in the sector that have better structure and wealth of data, Sotreq has already succeeded in earning value by digitalizing back office processes for gains in efficiency and control over processes.
"We realized that, with the digital transformation, the sales context was going to change: connected to clouds, clients can decide upon purchases without consulting anybody," said Carlos Arantes, a digital business and innovation technology executive at Sotreq, in a recent interview with Valor magazine. "We perceived that we needed to distinguish ourselves not just by offering an innovative product, but also by our excellence in sales and service."
A Digital – and Market – Leader
As a result of its efforts, Sotreq considers itself a digital leader among its competitors, with a strategy that focuses on four pillars: digital transformation, market competition, disruption and cultural change. Says Arantes: "Disruption is one of the most challenging steps: when a company introduces an innovation and the client begins to try it, there can be resistance." Meanwhile, cultural change also takes time, particularly in a traditional company that's been around for three-quarters of a century. "It's no use having new systems, intelligent products and efficient processes, if you don't have a team with an innovative mindset and way of interacting with clients."
With this mantra in mind, Sotreq has applied its external business model to the company's inner workings, resulting in more automation and agility. Says Emerick: "We are always investing heavily in human capital with trainee and internship programs as well as partnerships with the many brands we represent whereby we help our clients learn about and experiment the benefits of the Fourth Industry and teach them to make use of our digital services such as SotreqLink."
Such strategies have paid off in the development of profitable after-sales niches such as maintenance contracts, which currently cover more than 20 percent of active equipment. These contracts range in coverage; an increasing number offer paid-by-hour maintenance whereby maintenance by Sotreq is complete, covering preventive and predictive as well as corrective maintenance.
At the moment, Sotreq has 52 affiliates, subsidiaries and sales offices – many of them operating 24/7 – located in strategic points throughout Brazil. Complementing this infrastructure are more than 1,000 technicians (out of a total workforce of 4,500) prepared to provide service in their own workshops or at clients' sites, often in the capacity of exclusive providers. At any given time, Sotreq has more than 90,000 items and consigned parts in stock at its warehouses to supports its clients from agricultural, industrial, construction, forestry, earthworks, road paving, maritime, energy, oil and gas sectors. Although it boasts some large-scale players, its largest sales volume is derived from small equipment rental firms, businesses and construction companies not to mention thousands of individuals with machines or generators.
Current leaders in the majority of the markets in which it operates, Sotreq boasts annual revenues of R$4.5 billion (roughly US$1.1 billion). Despite the challenges of the turbulent economic times that have affected all market players, Sotreq has managed to enjoy gradual growth. "We're optimistic about the outlook for business this years," says Emerick. "Of course there will be major challenges, but at the same time we're seeing the opportunity of applying new technologies, to innovate and grow even more."