By Eric Marotta, Director of Product Marketing at CloudCraze
Manufacturing business leaders are under increased pressure to digitize their business relationships with commerce. This push for digital stems from the combination of changing buyer expectations and heightened market pressure. Buyers now demand a quality commerce experience – both in their personal and business lives. Couple that with the fact that many competitors are increasing their digital investments, and manufacturing leaders find themselves in a high stakes customer experience game.
The motivation among manufacturers to adopt robust digital platforms isn't just smart, it's imperative. There are tangible benefits to undergoing a digital transformation, such as streamlined operations, reduced cost to serve, and driving topline growth. However, making the eCommerce leap can be daunting. Cutting through vendors hyperbole is one challenge, but so is managing internal bias, like the perception that a new channel might have a negative impact on the legacy partner and direct sales channels.
With the right solution, manufacturers can enhance the customer experience, drive more sales, increase revenue and cut cost to serve. But before jumping head-first and embarking on a complete transformation, IT leaders must fully understand their digital needs by measuring the ROI of going digital.
Benefits of a digital transformation
You may have noticed that I dropped the 'e' in eCommerce in the initial paragraph. This is purposeful. In B2B particularly, commerce platforms support the entire customer journey, no matter the channel of engagement: direct, partner or digital.
A digital transformation will reap benefits for the entire business. When building a business plan, consider setting KPIs that measure every channel, such as:
Increase average order value
Reduce cost to serve customers
Increase customer retention
Minimize order errors
Improve sales team efficiency
The KPIs above provide a framework from which to build your business case. Consider how a digital strategy will impact your organization as a whole and ensure your investments will move the needle in every engagement channel.
It can be helpful to have guidance as you move forward. Frameworks are great, but experience is better. Engage with a trusted vendor to marry their industry expertise and your experience with your business's intricacies to define the key benefits today and expected benefits tomorrow.
Understand the business impact
Despite the clear advantages, executing a successful digital transformation is not a simple task. Some businesses struggle because they partner with vendors that may exaggerate their technology's capabilities, while others fail to successfully articulate a strong business case that motivates internal stakeholder buy-in. That's why it's important for organizations to clearly understand the business impact before making any moves.
Cutting through the vendor landscape is a remarkably easy feat. First, look for a commerce partner that knows your business and is focused on customer-first B2B commerce. If a vendor places your customer at the core of the commerce experience, you can inform every customer interaction with data across multiple channels – commerce, sales, service and more. This ensures your business will provide the most efficient, engaging and informed customer experience possible.
Second, build relationships with analysts. Call Forrester and Gartner for advice. You'll receive far more value from a 30-minute conversation than you will reading their Wave and Magic Quadrant reports.
Addressing internal bias is indeed more daunting. In my experience, evaluating a commerce investment in a holistic manner is critical. If you are building a plan following years of existing commerce experience, identify what worked and what did not. Identify where the breakdowns occurred. Was it a lack of functionality? Ability to adjust to changes in customer needs? Did the prior investment support your partner and direct sales channels? Then use these lessons to inform a strategic business plan that motivates internal buy-in.
Lastly, a basic understanding of the current state of your legacy system can help guide your strategy moving forward and convince the necessary decision-makers. Tools like the CloudCraze ROI calculator can help assess the performance of your current platform and reveal measurable improvements in order value, error rate, efficiency and more through digital transformation.
Embrace change and evolve with the market
Once you've laid out a plan that takes into consideration your current legacy performance and how a digital transformation can benefit your business, it's important to remember that today's markets have evolved. The most successful businesses will embrace change, rather than cling to the past.
I've witnessed the benefits of a solution that is built to adapt to market changes first hand. One of our customers saw exponential return on their investment when they recognized they could sell hardware and software together. Another found that building a marketplace transformed the dealer/distributor value chain. This client's partner strategy around marketplaces allowed greater growth for their channel partners, and the manufacturer was able to provide a larger set of products and services that brought customers to the brand site more often.
With a deep understanding of your business KPIs, your business go-to-market strategy and objectives, you'll be able to generate a tremendous return on investment in digital commerce. Fortunately, if you enlist a vendor designed with a B2B mindset, they can help guide you through a digital transformation every step of the way.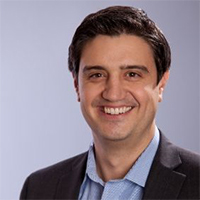 Eric Marotta, director of product marketing at CloudCraze, has extensive product management and business development experience across multiple industries. Before joining CloudCraze in 2016, he was director of product marketing for hybris Commerce at SAP Hybris. Earlier in his career he worked at Apttus and IBM. He has a bachelor's from the University of Dayton and an MBA from The Ohio State University Fisher College of Business.