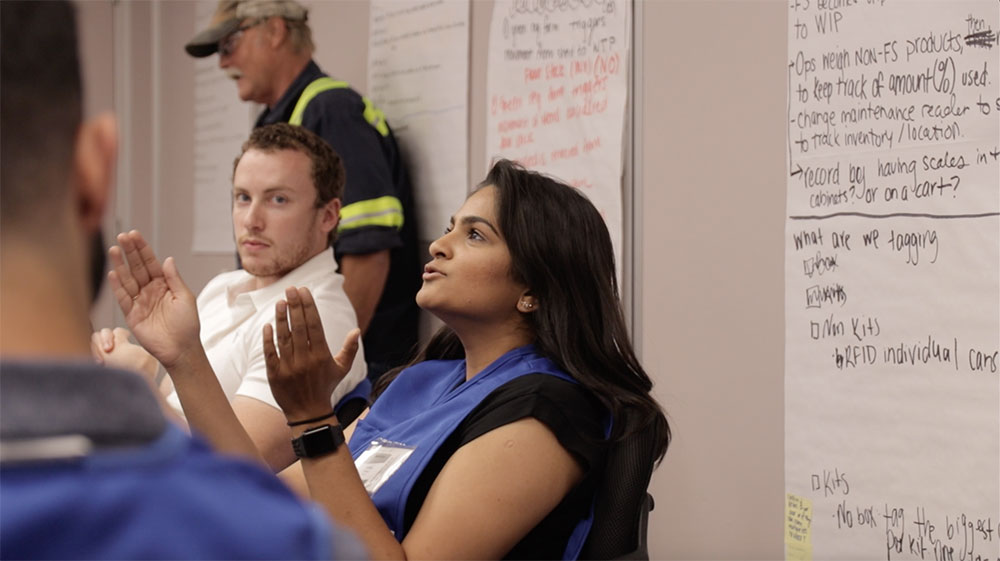 October 30, 2019
By Carolyn Kelley, VP of Talent Management, Saint-Gobain North America
It's no secret: the perception of manufacturing jobs must vastly improve. Jobs in this field are often perceived in one of two ways: labor-intensive factory work or highly technological centers where new innovations like AI and machine learning are taking over. The reality of a modern manufacturing setting lies in the middle, with technology changing the type of work (and the type of workers) needed to bring the industry into the next generation. It's up to manufacturing companies and industry professionals to change these perceptions by showing prospective employees the breadth of opportunities available.
THE CHALLENGE.
According to the Bureau of Labor Statistics, more than 76 million Baby Boomers are expected to retire in the coming years. Furthermore, over the next decade, nearly 2.4 million manufacturing jobs are expected to go unfilled due to a shortage of qualified applicants for skilled and highly-skilled production positions. The problem is exacerbated by the poor perception of jobs in the industry. In fact, according to the Manufacturing Institute, one-third of Americans would not encourage their children to pursue a career in manufacturing because of concerns surrounding job security and compensation.
THE OPPORTUNITY.
For manufacturers looking to address the perception shifts needed in the industry, it's important to first understand where the industry is heading. While the current workforce statistics for manufacturing are declining, the industry itself, in terms of sustainability, innovation and technology, is on an upward trajectory. Manufacturers should be aware of the impact that the next generation's workforce, or the current lack thereof, is bound to have on the industry's vitality.
Sustainable practices within the industry have become more prevalent as organizations take intentional steps towards decreasing their environmental footprint. This not only positively impacts the environment, but also shows returns for organizations by decreasing overhead costs, allowing them to better manage their supply chains and making their brand more attractive to consumers. Without a trained and skilled workforce, this sustainability trajectory will come to a halt, due in part to the inevitable deceleration of the innovation lifecycle that makes these advances in efficiency possible.
Innovation is at the core of the manufacturing industry, and goes beyond the introduction of new ideas to new technology, processes, practices, equipment and materials. These innovations not only propel the industry forward, but also power organizations, pushing them to constantly evolve and implement best practices, in order to cement coveted "thought leadership" accolades within the industry. However, while the space might exist for new ideas and industry firsts, without the diversity and forward thinking of the next generation workforce, the innovation lifecycle will lack the fuel it needs to sustain today's level of progressive innovation.
While those outside the industry may perceive these as problems that don't impact them, the reality is that if we don't address these challenges now, the economy at large will be at risk, with the National Association of Manufacturers estimating that the U.S. economy will lose $2.5 trillion in GDP over the next decade if jobs are not filled.
THE SOLUTION.
It's evident that workforce challenges exist in manufacturing, and that there are a wide array of opportunities for next-gen talent to clip in; but how can manufacturers get their boots on the ground to recruit those who are just entering workforce?
Offer workforce development programs that encourage early career talent to get firsthand experience. Americans indicate that targeted programs, such as internships, work study or apprenticeships, and certifications or degree programs for manufacturing skills training, would increase interest in manufacturing careers. Organizations should look to create programs that serve the emerging workforce and work to expand their knowledge. At Saint-Gobain North America we have experienced success with workforce development efforts through our Essentials of Manufacturing Development Program (EOM), which works with recently graduated students who have earned their bachelor's degree in engineering to immerse them in industry careers by allowing them to work on real-world projects.
Consider a mentorship program. The next generation's workforce values guidance and insight from established professionals. To meet this criteria, organizations should consider internal mentorship programs. Saint-Gobain's EOM program, currently in its second year, also focuses on mentorship, pairing participants with mentors who help them navigate through large and diverse business units, while sharing knowledge and career tips that are essential to career development.
Bridge generational gaps. With the aging workforce moving towards retirement, it's important to bridge the generational gap by having older, more experienced workers pass their knowledge on to next generations. Consider fitting this into your programming wherever possible. For example, we frequently pair our EOM participants with Baby Boomer mentors to encourage cross-generational conversations and training from experienced professionals.
The future of the manufacturing industry is bright, as is the future of the next generation's workforce. Our job as manufacturers is to share the possibilities that exist within the industry, educate prospective employees and dedicate time and resources to career development programs in order to attract, train and retain the world-class talent that currently exists.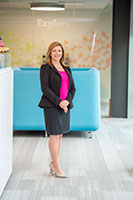 ABOUT THE AUTHOR.
Carolyn Kelley is the Vice President of Talent Management at Saint-Gobain North America. In her current role, she leads the Human Resources organization responsible for Talent Acquisition and Learning & Development in the United States and Canada.
Carolyn joined Saint-Gobain in 2016 after an 18-year career at Intel Corporation where she held various technical and leadership roles, including Automation Engineer, Industrial Engineering Manager, and Factory Planning Manager. She was promoted into Human Resources as a Site HR Manager before leading a Business Transformation team and serving as a Global Business Unit HR Director and Mergers & Acquisitions Transition Manager.
Carolyn received her B.S. in Industrial Engineering from the Rochester Institute of Technology in Rochester, New York.
To learn more about Saint-Gobain North America's Essentials of Manufacturing Program, please visit: https://sgna-eom.com/.