November 4, 2019
By Sarah Johnson
The days of waiting a week for delivery of an item purchased online or dealing with restrictive return policies are long gone. The new world of e-commerce may be more convenient for shoppers, but it's brought sizable new supply chain challenges for retailers buried in returned inventory and scrambling to scatter inventory with new distribution centers.
Mobile Warehousing and Storage (MW&S), which uses trailers to create warehouse space, provides an innovative, cost-effective solution for both problems, providing a pressure valve of sorts as retailers learn how to strategically deal with changes to the sector and revamp their supply chains accordingly.
Returns on the Rise
According to a CBRE study, while retail returns have historically represented around 8% of total sales, that number jumps as high as 30% for e-tailers. Returns are 3-4 times higher than traditional retail. As shoppers increasingly abandon malls for the comfort of shopping from their couches, retailers must figure out a way to recover value from the onslaught of returned inventory.
In addition to liberal return policies, customers are demanding items be delivered in as little as a few days. To accommodate this, retailers can no longer rely on a few distribution centers on the coasts; instead, they must have centers strategically set up all around the country.
Retailers acutely need extra space during surge times, such as post-holiday rush, when as much as $37 billion worth of returns flood in, and around big events that have consumers flocking to replace items in the home. During the Super Bowl, for instance, electronics recyclers are awash in discarded TVs as fans purchase the latest and greatest flat-screen for the big game. The process of sorting through the recycled TVs, stripping them of valuable metals, and recycling the plastic and glass is a time-consuming, costly process – it doesn't occur all at once, and the recycled items must be stored in the meantime.
A Warehouse Alternative
Liberal return policies paired with consumer demand for quick delivery means many retailers are on the hunt for more space. Purchasing or leasing additional warehouse space, however, is often an unattainable option.
According to CBRE, warehouse demand has outpaced new space by 169 million square feet since 2015. During that same time period, warehouse rents increased nearly 20% — a significant hurdle for retailers with already-thin margins. Some of the warehouse squeeze can be attributed to ecommerce. As malls are sitting empty, retailers are no longer using the backroom storage space that comes with their storefronts. Instead, the inventory is sitting in warehouses.
MW&S is a real-estate alternative, giving companies time, space, and flexibility to deal with reverse logistics and strategically move goods back through the supply chain. Sorting returned goods doesn't occur overnight, as companies must decide whether to return it to the shelf, sell it to a secondary market, or trash or recycle it.
Some companies even use MW&S to stage sales of large items. This year a national furniture manufacturer, for instance, used Milestone trailers for a nationwide mattress sale; the trailers both facilitated storage of the large mattresses and enabled consumers to have them delivered within days.
Sustainability also comes into play with MW&S, as retailers weigh the cost of disposal to value recovery and compare to improving the public perception of the company. The cost of gathering and sorting returned goods, especially for low-value products, may outweigh the profit recovery. Having inexpensive, flex space to store these products that can eventually be recycled or disposed of in a responsible manner, makes it a more cost-effective and sustainable option.
A comprehensive reverse logistics supply chain for e-tailers can aid in the consumer expectations of a quick, clear and easy return policy. Having space to quickly store products waiting to be sorted, re-stocked, recycled, etc., allows for proper understanding of return rate among product as well which will only help the overall recovery effort therefore increasing revenue.
MW&S is also cost-effective, particularly when compared with renting or leasing warehouse space. A trailer will typically cost around $150 per month, or $0.38 per square foot, compared to warehouse costs that can be $1.00 or more per square foot in some areas. MW&S also does not require any kind of lease commitment, freeing companies up to pivot processes and strategies as needed.
As an emerging logistics option, MW&S is continually improving. Companies, including Milestone, are adding a tech component to trailers to help their clients understand what product is sitting there, how much capacity remains, and other metrics to help them strategically manage the product on the trailer.
The world of e-commerce is quickly changing the outbound and inbound supply chain, and many companies struggle to keep up, let alone take the time to effectively revamp processes to meet evolving needs. MW&S represents a pause button, letting companies take care of immediate needs while giving them capacity for supply chain innovation.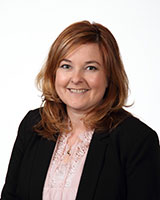 Sarah Johnson is executive vice president of mobile warehousing and storage at Milestone Equipment Holdings, one of the largest and fastest growing transportation equipment lessors in the United States, operating a diversified fleet of approximately 85,000 pieces of equipment, which includes a trailer fleet of 60,000.