I have turned around 77 failing businesses in my 52-year career, and if there's one shared trait among the companies I took over, it was their approach to accounting. Each one of them was using what I call "taillight accounting" – looking backwards to see how the business is doing financially. I don't blame them for using this method of accounting, as this approach is preferred by the majority of companies in this country.
The problem is that taillight accounting encourages business failure.
Imagine driving a Ferrari 100 mph down a winding road at night with no headlights. The car might stay on the road for a while, but you're eventually going to crash. Business owners who use taillight accounting are doing the same by barreling into an unknown financial future and hoping the road doesn't fall out from under them.
The system I use to turn failing businesses around is called "headlight accounting."
You implement headlight accounting so you can answer the question, "How is my business doing right now?" Taillight accounting involves looking back at P&L reports, balance sheets, and cash flow statements to measure against previous months or against this time last year to find an answer. This process has merit, but it's not sufficient to know where your business is or where it's going.
One reason is that P&L reports usually come with a lag time of 10-12 days, as various accounts are reconciled. By the time the report is received, your business is usually 40 days removed from the beginning of the month being reviewed.
Taillight accounting is also flawed because it represents a snapshot in time that might not include the full picture. A rosy January report might not reflect the invoice the bookkeeper buried until February that will affect your cash flow.
You implement headlight accounting to know how your business is doing at any given moment, and to do that, you must first identify your measures of success and set a monthly goal for each one. Setting a monthly goal creates a 30-day mentality that is a powerful force for profitability in your company (more on this in a bit).
The metrics you measure could be number of units produced, clients booked, products sold, or contracts renewed. How does your business ultimately make money?
For example, we own apartment complexes, and at the end of each day, I receive a DOC (daily operating control) sheet with an update on the following metrics:
Number of vacant apartment units
Number of approved credit deposits
Number of tenants with past-due rent
Number of expiring leases for the next four months
If we have 40 leases expiring, our team can be proactive and call residents to find out their status and offer them exemption from rent increases if they extend their lease. If we have no expiring leases, we can back off on advertising since we don't have any available units. Using our headlights saves us money.
When determining your measures of success, keep in mind these two points:
Your metrics should be clearly defined
Your metrics should be easy to pull together
Once your metric(s) are identified, purchase whiteboards for each one. I know this sounds old school, but it's cheaper and more effective than implementing an expensive software system to track your progress against your monthly goals.
Monthly goals reinforce a 30-day mindset, which is critical for two reasons:
The biggest potential for profit increase occurs within a 30-day window.
Employees should take it up a level at month's end to hit the sales goal.
One thing to keep in mind: these boards should be placed in a prominent area where all your employees can see them rather than buried in someone's office.
Every day, a team member should update the board(s) with the volume produced in the past 24 hours. In our companies, we update the board between 2-3 pm and have the same person do it every day. These daily updates show if the company is on target, below target, or above target, which provides you with two immediate benefits:
You don't need to send out company-wide memos because employees can see the company's progress in real-time every day.
The boards are the best form of silent motivation. If you're below target, everybody will be working hard to get above the target line.
Implementing headlight accounting will not only help prevent failure, it will transform your business into a lean, mean, profit-generating machine.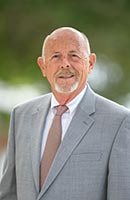 Robert Thomas Bethel is the orchestrator of seventy-seven business turnarounds over the past fifty years. Early successes and troubles in his own professional career inspired his passion for taking over struggling businesses and guiding them towards the road of profitability. Bethel has turned around companies in various industries—from restaurant chains to engineering firms—and has helped save over ten thousand jobs as a result of his strategic business counsel. A graduate of the Owen Graduate School of Management at Vanderbilt University, Bethel owns several companies across the southern United States and has operated businesses both nationwide and internationally. He is an Eagle Scout and, in addition to counseling, also spends times teaching three-day seminars on best business practices throughout the country. He currently resides in Orange Beach, Alabama with his wife, Reese.
For more information, visit robertthomasbethel.com. Strengthen Your Business is available on Amazon.