Volume 25
| Issue 2
| Year 2022
Click here to read the complete illustrated article or continue below to read the text article.
John F. Kennedy once said, "The time to repair the roof is when the sun is shining." CMR Construction & Roofing first opened its doors 20 years ago to help families and businesses repair their roofs and recover when the sun wasn't shining during catastrophic storm damage.
Since then, CMR has expanded to over 30 states, employing more than 500 and expanding its services beyond storm-related roof repairs and replacements. Today, CMR installs roofs for residential, specialty, commercial, and historical restoration projects. It also has major motorsports sponsorships in alignment with its company motto, When Speed Matters.
"CMR has been ranked among the top-100 roofing companies in America every year since 2007," CEO Steven Soule points out. "We continue to excel year after year and attained the tenth leading position last year."
He adds, "We have invested a great deal into our culture, training and employee experiences, which helps us attract top-quality talent. We sponsor a range of events that are unique in our industry to provide fun opportunities for our team and their families to participate. People are looking to work for a company that gets them excited, and that's the energy we try to maintain here. We focus on building our team with people who are passionate about what they do and are experts at it so we can deliver superior products, services and experiences for our customers."
CMR also partners as needed to perform work and meet customer expectations. "We leverage all our assets, including trusted partners and subcontractors, to provide fast, expert, high quality and reliable services to our customers. We've built our nationwide network to ensure we can deliver on that promise."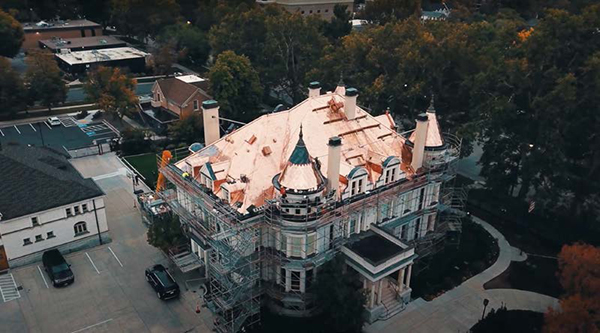 Strategy and Execution
Working in national markets serving various customers helps assure CMR's continued growth. "There has been a healthy demand for residential and commercial jobs across the nation," Soule says, adding, "Of course, the storm markets are active for most roofing companies. We've been very busy in southern Louisiana since Hurricane Ida and across Florida and parts of Texas. But CMR's strategy is different from traditional storm chasers or roofers focused on a few local markets. We have built the resources, processes, and reputation we need to ensure we can serve our customers where and when they need us—no matter where they are located."
Some examples include repair work in Louisiana's Terrebonne Parish school district, while another CMR team installed a custom copper roof on the Governor's mansion in Utah. "CMR has dedicated account managers, crews, and resources available in each area so we can continue servicing and maintaining properties long after the projects are complete," Soule says.
One particularly challenging project illustrates CMR's ability to respond to unique customer needs with creative solutions that exemplify its motto of When Speed Matters. "One of our commercial projects came to us after another contractor could not complete the job and was months behind the original schedule. The building still didn't have a roof, and the grand opening was just two weeks away," Soule says. To make matters worse, Soule points out, "The roof, wall panels and MEP (mechanical, electrical, plumbing) were all unfinished. And moving the grand opening wasn't an option."
A further problem, according to Soule, was that "The project schedule we inherited was out of sequence and overlapped with the work of other companies. Six hundred members of various crews had to share the same space over 14 days with access to only four service elevators. While our team worked 24-hour shifts to complete the project on time, we had to adjust to provide other companies with access to the roof throughout the installation."
The solution was to move materials at night, install them during the day, and continuously lay protection down on the new roof to shield it from damage while the other crews worked. In addition, CMR constructed scaffolding with aerial platforms that enabled the other teams to work simultaneously in the surrounding areas and avoid project delays.
"Two weeks from the initial call to action, our crew successfully completed the multi-level roofing project, including a new gutter system that ran adjacent to the building's laser equipment. The collaborating teams were also able to complete their jobs, and the building opened as scheduled and on budget," Soule says.
He adds, "This project demonstrated how important it is to have the decades of experience CMR offers. We've overcome similar challenges on previous projects—from mimicking centuries-old roofing practices for historical buildings to collaborating with complex teams on one-of-a-kind roofs."
Up on the Roof
Roofing materials and construction play an important role in achieving energy efficiency and sustainability goals. Soule notes, "Trends toward sustainability and energy efficiency have been steadily rising for a while now. CMR has always paid attention to both trends in the market and government incentives or restrictions to determine the best course of action for us to follow. One piece of legislation can quickly take down a portion of your growth strategy in this industry. That said, solar seems to be on the rise again, so we are excited about providing that offering to our customers."
These days, almost every company is dealing with supply issues. CMR is no exception. "Supply chain challenges are difficult industry- wide," Soule says. "CMR is lucky to be in a position where we have the cash flow and storage capacity to keep certain supplies and roofing materials on hand, enabling us to ride out shortages for a reasonable amount of time. We also maintain excellent relationships with our suppliers, which provides many benefits, including cost efficiencies and priority treatment."
Still, prolongated supply chain issues require more creative thinking. "Since many of our customers are in areas that suffer from frequent and severe storms, we needed to find options that would help them resolve their immediate problems, such as leaks," Soule says. "We came up with some innovative product options that enable us to seal the roofs and protect them from leaks while they wait for their preferred permanent roofing materials to arrive."
When Speed Matters
CMR's motto aligns perfectly with its racing team sponsorships. "We succeed at roofing the same way they succeed at motorsports…speed combined with performance," Soule notes. "To drive faster and outperform the competition, you need a talented driver, crew expertise, teamwork, top-quality materials and workmanship, as well as an optimal design. Fractional changes and measurements—inches, seconds, degrees—make all the difference. The very same is true in roofing."
CMR sponsorships include #39 Ryan Sieg Racing for NASCAR Xfinity, Kalitta Motorsports for NHRA, the Forbush Performance team for IMSA, ThorSport Racing for NASCAR Camping World Truck Series, and Shaun Torrente for Powerboat P1.
In addition, CMR sponsorships extend to a slower-paced sport, but one with equal emphasis on performance and accuracy. "We are also participating in PGA Golf with our new brand ambassador, Chad Pfeifer," Soule says. "It's a great honor to sponsor Chad, who fought bravely for our country and is dedicated to leveraging his success to champion various organizations that support wounded veterans and their families. CMR has always prioritized bettering our community and supporting veterans, which makes Chad and his passion projects the perfect fit for CMR."
Soule emphasizes that CMR is unique with its combination of 20 years of roofing experience and reputation for speed, performance and excellence serving residential, commercial, and historical renovation customers across the nation. "CMR blends traditional craftsmanship with advanced technology and strategies to install the most innovative roofing systems, respond immediately to customers and complete projects on tight deadlines without sacrificing quality. We can deliver on this promise because of the top-quality people, partnerships, processes and expertise we've built over two decades in business."
CMR Construction & Roofing is America's 10th-largest roofing company.