Hardware and electronics development are witnessing new challenges that traditional manufacturing processes are not well-equipped to meet.
By: Brady O. Bruce, Head of Marketing, Tempo Automation
The pandemic has complicated many components of our lives, and the process of hardware development and prototyping is not immune. There are dozens of factors contributing to the complexity of the new normal — from remote work and stay-at-home orders, to disruptive travel and trade restrictions, to the component supply chain.
When the pandemic first took hold in March 2020, the electronics manufacturing value chain specifically faced a slew of complications; a March 2020 report from Deloitte accurately predicted that "raw-material supplies such as aluminum, copper, and chemicals are affected by disruption, delaying delivery and impacting future inventory, as well as other components shortages overseas that created choke points for board and systems manufacturing." The report also warned that new product schedules might get delayed and product go-to-market strategies may need to be changed to meet the velocity of the value chain.
Now, more than ever, there is a greater need to reduce risk for fast-turn, first time right builds, particularly in essential and highly complex businesses such as medical technology, semiconducting, and others where there is a high cost of getting it wrong. As businesses come back online and develop future-looking strategies for 2021 and beyond, engineering teams need creative, efficient ways to solve these problems and develop builds faster, while ensuring that quality doesn't take a backseat.
Assessing the impact on essential industries
Manufacturing highly complex prototypes at high speeds while mitigating risks to maintain the highest levels of quality has always been a priority for designers and engineers; however, in a coronavirus-impacted world, reducing risks for mission critical manufacturing is more important than ever. Diminished visibility into manufacturing operations, stemming from less travel and more remote workforces, offers less visibility into manufacturing operations and limits debugging and testing capabilities.
One recent and pertinent example is in the medical device and technology industry, which have faced a growing need for innovative solutions that address the array of needs that the virus has driven, including the rising demand for ventilators, PPE, and diagnostics, surgical, and treatment-related devices. With the urgency and demand for these life-saving technologies to come to market, and virus cases still surging worldwide, it is critical that the prototype manufacturing is completed without any uncertainty regarding accuracy, process and timeline. Engineers and product designers working on these critical medical devices can't afford to add time to the product cycle or additional iterations.
Now, even non-essential businesses have come back online and are resuming business-as-usual, looking ahead to developing business continuity strategy for 2021 and beyond that will help them succeed amidst unexpected product and manufacturing challenges.
In fact, the March 2020 Deloitte report referenced earlier in this article also stated that, "in contrast to the parts shortage and unpredictability of supply chains dragging down the industry, software is a growth catalyst," supporting a software-first approach for electronics manufacturing.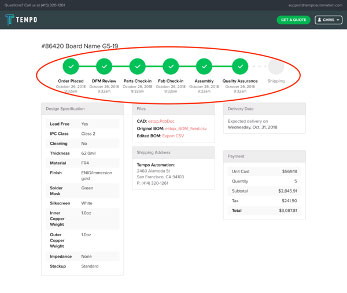 A software-first approach for first time right manufacturing
In the traditional manufacturing process, particularly in the electronics industry, the process is slow, opaque, and often low-quality. This is due in part to the fact that the machines and people are all analog and disconnected, making the factories islands of isolated technology. Without some kind of IIoT or software-based systems, factories cannot provide engineers with insight into the outcome of their designs prior to manufacture.
The industry standard for prototype printed circuit board assembly (PCBA) manufacturing is the deconstruction and reconstruction of data, with assumptions of design intent by different people at all stages and without clear communication between parties. This disconnect can often result in errors between each construction/reconstruction and version management. The critical failure of this model is that the data standard that the engineer is using is incredibly limited — there's so much that the eCAD tools can do that cannot be translated in the traditional Gerber file types and tools. Engineers and developers need a richer data format that includes and communicates design intent. Recent standards, such as IPC-2581, are a good first step. Proprietary software and systems developed by leading contract manufacturers improve the conveyance of design data and intent, using it to auto-program the factory in which the product is built.
By leveraging software in the PCBA manufacturing process, contract manufacturers can deliver on the most important pieces of the customer experience—transparency, precision, speed, and customization—while creating quality prototypes and product that are "first time right." Software automation also addresses new supply chain complexities and can be used to provide real-time supplier tracking, identify material alternatives, and more.
During the prototyping stage of product development, the ability to continually view and modify the design until the highest quality board is achieved is key to reducing errors and delivering product with less risk. Unlike traditional electronics manufacturing processes, in which iteration cycles can take weeks or even months due to manual, slow-moving processes, software-based manufacturing uses end-to-end software automation to expedite the build process, saving engineers time, money, and resources.
With no clear end in sight to the pandemic, electronics manufacturers across a wide range of industries are facing the need to pivot their product development strategy and drive efficiencies around cost, resources, and more. Leveraging a software-first contract manufacturing strategy is one tried-and-true method to eliminate the risks that typically come with electronics prototyping and help bring vital innovations to market faster.
About Author:
Brady O. Bruce is Head of Marketing at Tempo Automation. Serving for over 25 years in marketing, product management, and sales with global B2B and consumer technology companies, Brady's experience and perspective spans many industries and geographies. At both startups and turnarounds, he has built a record of with software and hardware products, cloud-based solutions, and services, across a range of market verticals.
Prior to Tempo, Brady was Chief Marketing Officer for InFocus Corporation, an industry-leading collaboration and learning manufacturer. He also served as Vice President of Marketing and Strategic Alliances at Jupiter Systems and has served in leadership positions at Promptu, PRISMIQ, NightFire Software, Radius, and VTEL Corp. Brady was also the founder and CEO of RedDotBlue and fatBubble. His record of value creation includes one IPO, five successful acquisitions, and raising over $200 million in venture funding.