Commercial real estate taking advantage of new technologies to optimize workflow for a post-COVID world.
Technology is advancing across all industries in an attempt to keep up with the digital transition in which our world is headed. Commercial real estate (CRE) has been neglected in this shift, which leaves this sector lagging behind the rest of the real estate industry. Advancements such as artificial intelligence (AI) and machine learning (ML) are excellent tools for tedious tasks involved in aspects of commercial real estate, like property underwriting and evaluations. Additionally, commercial real estate has to consider how to virtually present the true value proposition of properties.
CRE technology is quickly becoming outdated and is costing underwriters their time and the banks they work for, significant amounts of money. Underwriting a single property can take hours and sometimes weeks, depending on the situation. Most of this time is spent manually entering massive amounts of data and calculating accurate property analysis from each piece of information.
Is there a solution to this outdated problem? The answer is yes. Commercial real estate will benefit from a major technological upgrade as it continues to incorporate rising technologies such as loan automation, digital leasing, and organizational systems. Each of these moving pieces contributes significant value to the efficiency of CRE.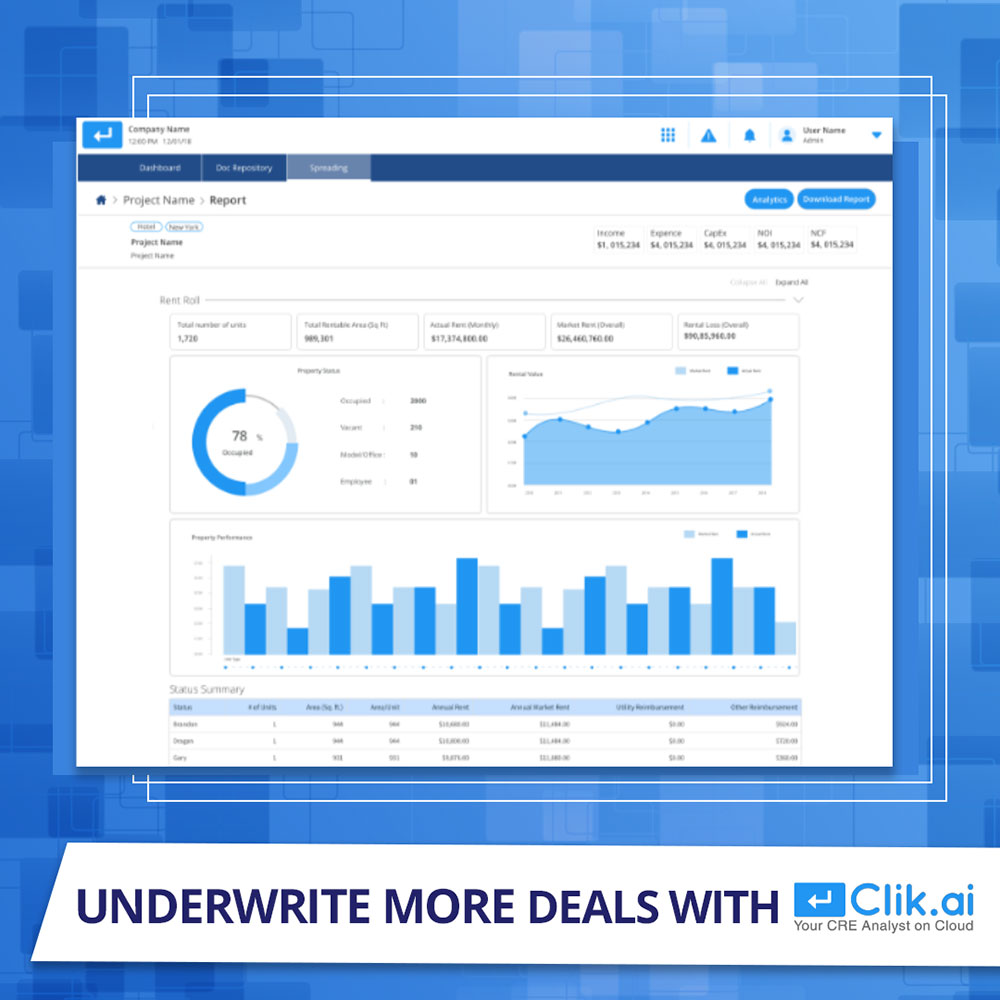 Underwriting efficiently
Loan automation is becoming increasingly popular and a useful tool for those who work to process large amounts of loans. Utilizing AI to expedite underwriting and loan evaluations will ultimately automate the long, drawn-out process to provide better outcomes for banks and analysts – all while increasing your ROI.
AI is typically incorporated into business due to its ability to manage big data. It breaks down each piece of information such as property details and categorizes it into manageable pieces for real estate finance professionals.
Automation tools such as Clik.ai can read and extract details from documents of all kinds (i.e. PDF, Excel, or scanned documents) to generate evaluations quickly and without the risk of human error. Integrating artificial intelligence in loan automation creates the ability for lenders to anticipate customer needs and analyze feedback for better performance overall.
Digitalizing leasing
Due to the COVID-19 pandemic, we are witnessing the rapid integration of a common (but not as utilized) CRE technology, digital leasing. Signing documents in person is becoming a thing of the past as most leases can be e-signed without the need for in-person office visits. By transitioning to a digital leasing process, leases can be easily customized and revised as needed. Additionally, lessees are able to access documents at their convenience and renew leases quickly too.
Organization systems
Organization is key in commercial real estate as there are many moving parts involved like rent roll, property income statements, tenant reporting templates, or mortgage/renting history. Incorporating the latest organizational technologies and tools can help companies maintain a competitive advantage which is especially important in the coming months. Additionally, adopting a system like a customer relationship management tool for organizing sensitive information allows for a better workflow and keeping renters as happy as possible.
While many of these technologies have been around for several years, commercial real estate aims to take advantage and unlock the capabilities of new technologies in order to make workflow more efficient and adaptable for a post-COVID world. The future of CRE is uncertain as many businesses are considering alternatives to single office locations for employees. However, with the right tools and organization, companies can push towards digitalization and work toward even more opportunities in a massive multi-billion dollar industry.
About Clik.ai
Clik.ai is a rapidly growing automated underwriting platform that serves over 20 North American companies in mortgage banking, servicing, and real estate with $1 billion in commercial real estate transactions evaluated every month. Four of the top ten real estate banking firms use Clik.ai to automate and optimize workflow for property valuation and transaction due-diligence. Clik.ai's simple plug-n-play cloud software tools assist deal makers in running their deal valuations and transaction due-diligence at 5X speed.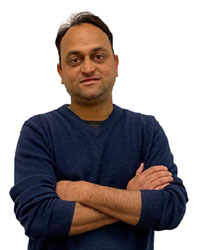 Parag Goswami
Parag Goswami is the CEO and co-founder of Clik.ai. He has 15 years of experience in software and technology development. Parag's expertise is in commercial real estate loan and mortgage underwriting. He began his career as a software engineer at iTrust Financial Advisors and shortly after, founded his first business – HouseThat.in. This was the first online property listing website that combined Google Maps in India – generating over $10 million in property sales in two years. Parag went on to found Integrand Analytics, a leading commercial real estate knowledge processing outsourcing company that supported $7 billion in loan and investment transactions across the globe in five years. Additionally, Parag is a member of Forbes Real Estate Council and provides insight from a data analytics perspective regularly.