Are you prepared? What steps are you taking to bring sustainable best practices to your business?
It's not a secret that the environment needs our support. It's been a topic of conversation for decades – but according to Forbes, 2020 marked a critical turning point for consumer's expectations around corporate citizenship.1 With a unilateral rise in pollution, an increase in natural disasters, and a global pandemic – consumers have finally hit their breaking point.
Environmental sustainability is no longer something consumers passively hope for – but instead, it's becoming an expectation for the products and services they buy with 68% of consumers saying they plan to put an increased effort into identifying brands that are actively working to reduce their environmental impact.2
For businesses, a commitment to environmental sustainability is the next wave of business transformation, and adoption isn't an option. 47% of consumers have moved away from products or services that went against their personal values – with environmental sustainability often cited – and with the millennial audience in particular, 81% expect companies to publicly state what they're doing to improve corporate citizenship.3 4
With that in mind, how can corporations begin to incorporate sustainability into their business practices? Where should you start?
Frank Fox, co-founder Sustainable Composites, a Pennsylvania-based materials science company, shared the top three things companies should keep in mind as they incorporate sustainable practices into their business model.
(1) Understand the Alternatives & What Benefits They Offer
Corporations aren't facing this business transformation alone. There are businesses out there specifically focused on creating more environmentally friendly materials for product manufacturers to leverage in their production processes. Sustainable Composites, for instance, takes recycled leather scraps and repurposes them into a new form of leather that looks and feels like the real thing. It's equally as durable, but offers companies an environmentally friendly alternative.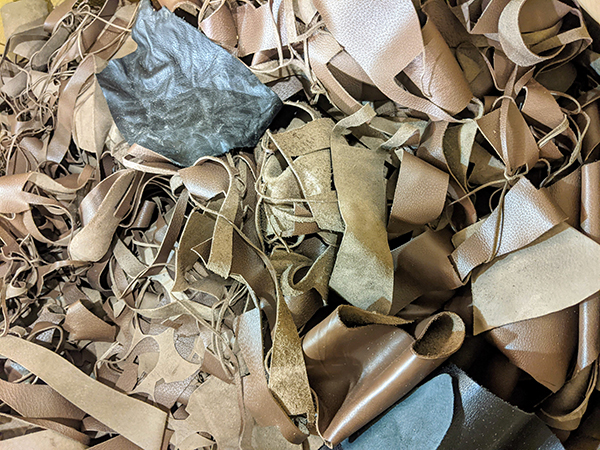 And there are benefits to seeking out and sourcing these environmentally friendly materials. 73% of millennials said they would spend more on products that come from a sustainable or socially conscious brand – so, from a financial standpoint, there are potential revenue benefits to incorporating sustainability into your business practice.5
In addition, businesses may see higher yields from environmentally friendly materials as compared to traditional alternatives. In the leather space, for instance, Sustainable Composites' Enspire leather is uniform in shape and gauge – making it easier to work with and providing much higher conversion yields than traditional leather, which ultimately translates to cost reductions.
Be Authentic in Your Search for Sustainable Solutions
However, cost reductions should not be the main driver for companies looking to incorporate sustainability into their business model. It's a fringe benefit, but companies must have an authentic desire to prioritize environmental sustainability. While sustainable business practices may lead to increased revenues and higher yields in the long run – there often are some initial costs associated with converting your manufacturing process to accommodate these new materials. If you're just looking for a quick marketing message or cost savings, using environmentally friendly materials might not be the right fit.
Which leads us to the second point – 86% of consumers cite brand authenticity as something they consider when deciding what products they like and, ultimately, will support. Authenticity, as the word implies, isn't something you can fake. If the only reason your company wants to incorporate more sustainable business practices is to increase revenues, you might want to reconsider.
Search for Low Hanging Opportunities
As Sustainable Composites has shown us, there are often creative ways to reimagine the waste that comes out of the manufacturing process. Right now, 26 billion pounds of textiles end up in landfills each year – but that gives manufacturers the opportunity to reimagine how those scraps could be used to create a more sustainable and environmentally friendly solution moving forward.6
"For manufacturers who use leather in their current product line – we've seen an increasing interest in converting the waste into our Enspire leather," shares Fox. "Instead of sending that unused leather away to a landfill, which adds to the problem, we give them the opportunity to help turn waste into something usable and create a circularity in their business model. These businesses are getting twice as much use out of their materials and it's an environmentally friendly solution."
These creative solutions also cater to buyer trends. 69% of buyers who consider themselves environmentally-conscious will pay a premium for recycled products and more than half are willing to change their shopping habits to reduce negative impact on the environment.7
Incorporating sustainable business practices into the manufacturing process is no longer optional. Consumers have come to expect and they're willing to pay more for products and services that prioritize it. They want to know that companies are focusing on becoming better corporate citizens. This isn't an overnight transformation, but as businesses go to explore bringing more sustainability best practices into their production processes – focus on the benefits, find the right partners, and build from there.
About the Authors
Both scientists and engineers, Frank Fox and Tom Tymon have an extensive history working in the materials industry. Having held executive positions at their former companies and working hands on in research and development, production, and management, they have always been concerned with efficient material utilization. They identified leather waste as an underutilized material that up until now has generally had an adverse impact on the world's environment. After 5 years and millions of dollars invested into research and development, Fox and Tymon founded Sustainable Composites, producing material from recycled leather scraps that is as durable and aesthetically pleasing as the hide that leather lovers adore.
1 https://www.forbes.com/sites/forrester/2021/01/21/empowered-consumers-call-for-sustainability-transformation/?sh=75f3e37c2042
2 https://www.forbes.com/sites/forrester/2021/01/21/empowered-consumers-call-for-sustainability-transformation/?sh=75f3e37c2042
3https://www.businessinsider.com/sustainability-as-a-value-is-changing-how-consumers-shop
4 https://www.forbes.com/sites/sarahlandrum/2017/03/17/millennials-driving-brands-to-practice-socially-responsible-marketing
5 https://luxe.digital/business/digital-luxury-trends/millennials-buy-sustainable-luxury/
6 https://www.businessinsider.com/sustainability-as-a-value-is-changing-how-consumers-shop
7 https://www.barrons.com/articles/two-thirds-of-north-americans-prefer-eco-friendly-brands-study-finds-51578661728