By Steve Menaker, Partner, RSM US LLP
Yet there are signs that growth is unevenly distributed among industry sectors and the future is being met with some uncertainty.
At the end of 2016, the Institute of Supply Management's report on manufacturing gave the industry a Purchase Manager's Index of 54.7 (anything above 50 PMI generally indicates the industry is expanding); this was the highest ranking for the year and the fourth consecutive month the industry has been showing expansion. New orders, production and employment were growing while inventories were contracting, leading to the highest reading since December 2014.
Despite slow growth in the U.S. economy overall as shown by Q4 GDP growth of 1.9 percent, the latest RSM US Middle Market Business Index is also encouraging, particularly with respect to capital expenditures, investments and compensation. This survey of more than 700 senior executives suggests that the worst of the inventory correction and decline in capital expenditures is in the rearview mirror.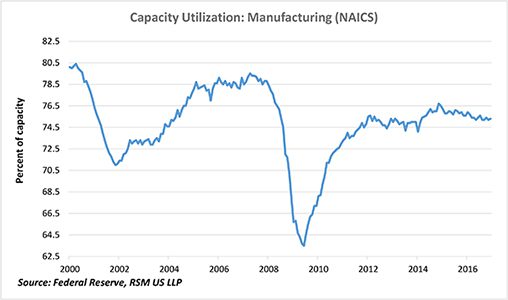 Capacity utilization for manufacturing spiked at the end of the recession (although in the past three years, it has been considerably less volatile).
According to the latest RSM Monitor survey, nearly 45 percent of U.S. manufacturers are planning investments in equipment upgrades and 51 percent plan to increase their investments in research and development.
Efficiency, quality and global competition are driving investments
Investments in technology continue to enable manufacturers to lower labor costs and drive productivity gains, in part through automating functions previously provided by skilled workers. Our research shows that just over 60 percent expected to increase their technology investments in the coming year.
Increasing global integration is also driving automation investments as U.S. manufacturers seek to improve quality in order to maintain a competitive advantage. A recent study by the Manufacturers Alliance for Productivity and Innovation suggests that manufacturers are being motivated to invest in automation technologies because of its use by competitors, customers and supply chain vendors.[i] It is expected that tasks such as predictable motion, heavy lifting, high-precision placement or repetitive activity in dangerous environments will be increasingly handled by industrial robots in place of human workers.[ii]
Digital disruption is, however, enabling the rise of microfactories, which encourage innovation that may lead to future products. General Electric started its own microfactory in Kentucky in 2014, eventually seeing some half-dozen products piloted at its test plant move into larger production.
While technology and automation are generally accepted as the primary reasons behind an overall increase in productivity, they also can lead to a loss of manufacturing jobs. Automation is enabling large manufacturers such as Dow, International Paper, Caterpillar and Ford Motor—as well as numerous smaller businesses—to realize further cost savings by reducing their workforces, closing or consolidating domestic plants, and evaluating foreign sourcing.
This employment decline is expected to continue in most sectors, but there may be a silver lining for some in the workforce. The number of job openings for manufacturers continues to be high, largely the result of not having the right, skilled candidates. And many of the occupations projected to add the most jobs in manufacturing are for machinists, mechanics and programmers—highly skilled roles that offer better compensation than typical assembly line jobs.[iii]
A time of transition and uncertainty
Despite calls coming out of Washington to create jobs in the United States, management executives know that strategic investments in production and jobs are based on market forces. Automakers, for example, will be reluctant to open up new U.S. plants to produce vehicles when sales are strong but not growing. Tax breaks and regulatory rollbacks designed to encourage hiring are not going to motivate manufacturers until demand supports the increased investment.
Massive infrastructure spending appears to be on the horizon, but it can be difficult to plan for projects that could be years away. Several hurdles―not the least of which include how to pay for these projects and who will maintain these improvements addressing inland waterways, ports, roads and bridges―need to be addressed first; that will take some time.
On a global scale, the relatively strong U.S. economy is attracting foreign direct investment, but it's a two-way street. As one chief executive officer of a global company recently put it, "Global capital doesn't have a social conscience. It will go where the returns are."[iv] If it pays to have operations offshore, companies will go offshore.
With so much at stake, any negotiations by the new administration regarding NAFTA and other trade policy—whether they address rules of origin, value-added tax or other facets of these agreements—are likely to be watched closely; expect concessions to be proposed on both sides of the border. Proposals on tariffs and border adjusted taxes are still in the early stages of development, contributing to the uncertainty that manufacturers undoubtedly feel.
Go with what you know
So what is a U.S. manufacturer to do? Some manufacturers are hoping that the anticipated tax and regulatory policies of the new administration—yet to be hammered out, let alone enacted—will help offset the tempered expectations that result from a strong U.S. dollar. But sitting on the sidelines waiting to see what happens will likely create challenges.
As manufacturers develop and implement their strategic plans, they should act on the fundamentals they know now, not the aspirations they hope will come. Stay connected to the issues, develop alternative plans, focus on top-line and bottom-line growth, and have a strategy for finding the right people. These strategies are helping the most successful companies succeed in our rapidly changing world.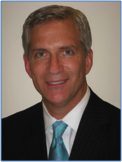 About the author
Steven A. Menaker currently serves as national consumer and industrial products industry leader for RSM US LLP. He has more than 30 years of experience in public accounting. RSM is the leading provider of audit, tax and consulting services focused on the middle market, with 9,000 people in 90 offices nationwide. It is a licensed CPA firm and the U.S. member of RSM International, a global network of independent audit, tax and consulting firms with more than 41,000 people in over 120 countries.
[i] Waldman, C. "Automation Investment in U.S. Manufacturing: An Empirical Picture" (June 10, 2016) MAPI
[ii] Mesnard, X., "What Happens When Robots Take Our Jobs," (Jan. 21, 2016) World Economic Forum
[iii] Torpey, E. "Got skills? Think manufacturing" (June 2014) Bureau of Labor Statistics
[iv] Schwartz, N., Rappeport, A. "Call to Crete Jobs, or Else, Tests Trump's Sway" (Jan. 23, 2017) The New York Times