Technology to increase visibility into your suppliers, and into your suppliers' suppliers, can be a life saver.
By Sundar Kamak, Head of Manufacturing Solutions, Ivalua
Supply chains everywhere are being tested as never before in the wake of COVID-19's global sweep. It has affected every link in those globally dispersed supply chains that begin with raw materials and then move on to Tier 2 and Tier 1 suppliers, to finished goods, to distribution centers, to retail outlets, and onto the transportation links connecting them all. But maintaining clear visibility into the totality of a company's supply chain and then mapping out its details to understand the capacity constraints and overall risk, was never easy. Now that the epidemic is here, it's harder than ever.
Abrupt production lockdowns, workforce quarantines, reduced transport options, border closings, reduced cash flows and upended financial arrangements have all taken place in a matter of just a few short weeks. It has been a pattern of disruption marked by inconsistencies from one jurisdiction to another with additional changes occurring almost daily. All of it has made the task of maintaining continuity in business operations hover somewhere between difficult and impossible for most manufacturing organizations.
But it's not just the economy's supply side that's undergoing upheaval. Changes in consumer behavior have also been massive. For example, prior to the pandemic, 54 percent of America's spending on food was at restaurants and other away-from-home locations1. That spending has dropped sharply with schools and restaurants now shuttered. Panic buying, hoarding, and a focus on more basic and inexpensive supermarket foodstuffs for home consumption have replaced it – at least for the time being – although no one knows for sure how long 'the time being' will last.
For producers of consumer goods, the coronavirus has triggered a domino effect among the world's supply chains. The auto industry is a prime example. In February, Fiat Chrysler Automobiles announced that it was temporarily halting production at its car factory in Serbia because it couldn't get essential parts from China. Hyundai suspended production at seven of its plants in South Korea for the same reason. Renault and Nissan have also had to idle some of their assembly lines2. New car dealerships have been ordered closed in many locations. And flights carrying international air cargo, which were responsible for a significant amount of trade in auto parts prior to the outbreak, have decreased by more than half3.
Ground Zero
According to Dun & Bradstreet,4 at least 51,000 companies around the world, including 163 of the Fortune 1000, have one or more Tier 1 suppliers in and around the Wuhan, China coronavirus hot zone and at least five million companies, which include nearly all of the Fortune 1000, have one or more Tier 2 suppliers in the affected region. Yet a lack of visibility into Tier 2 and Tier 3 suppliers, where major exposure to disruption can occur, is almost universal.
Essentially no one in any part of the world has remained untouched by the pandemic – whether on the supply or consumption sides of the economy. However, those businesses that have invested in collecting and analyzing information about the companies in their own supply chains are now better prepared to weather potential disruptions. They know which suppliers, sites, parts and products are at risk, giving them an important advantage in securing limited inventory and production capacity at alternate sites. Those which have not taken the initiative to learn as much as they can about their supply chains have found themselves poorly prepared for the pandemic's disruptive impact on their operations. In effect, at least in the eyes of the authors of a recent Harvard Business Review article on the topic, the coronavirus should have served as a wakeup call to supply chain managers6.
Of course, it's not the first time an upheaval has disrupted supply chain arrangements. But each time, whether it's been an earthquake, a tsunami, floods, hurricanes, volcanos, or civil insurrection, many manufacturers, instead of heeding the wakeup call, have elected instead to hit the snooze button. Some of that is understandable; collecting and fully mapping out a company's supply network really does require a lot of resources. HBR's report found that executives of a Japanese semiconductor maker needed to assemble a team of 100 people and give them more than a year to develop a detailed map of the company's supply network, looking deep into its many sub-tiers, after the 2011 earthquake and tsunami. The same authors found that 70 percent of the companies surveyed immediately after the COVID-19 outbreak in China were still manually collecting and assessing data about their suppliers – much of it in the form of anecdotes from personal conversations. Yet it can take years for company employees to get to know those suppliers well enough to hold such conversations.
In many cases, as the World Economic Forum notes, accounting for trade in materials, parts and components is still heavily reliant on paper-based processes such as bills of lading, which are required by law in many places. But the use of physical assets like paper can be seriously impeded when no one is allowed into the office to review them. So the greatest value of digitizing, the Forum report points out, is primarily for visibility and for managing supply chain risk.
The digital advantage
Their conclusion is consistent with the findings of a Forrester Consulting study, commissioned by Ivalua, that took place this past February involving 409 supply chain, procurement, and business finance leaders in North America and Europe. It found that the adoption of technology in digitally advanced procurement departments was instrumental in helping them build competitive advantage. It did so in several ways; first, by aligning procurement with business objectives, and second, by adding value in areas such as risk management. At the same time, however, the survey found that digitally advanced companies were a distinct minority.
Only 29 percent of the respondents reported that the procurement function was seen by their colleagues as a key business partner. Only about half the respondents thought that regular collaboration with suppliers provided value, and just 58 percent claim to regularly review supplier performance.
There were notable distinctions between advanced and beginner procurement teams. Among the advanced ones, 97 percent said their procurement strategy was well aligned with the company's overall business strategy while only 14 percent of the beginners said the same. Just over half of the advanced departments measure their suppliers' performance at least once every two weeks; but only 26 percent of the beginners said they do so. And 94 percent of the advanced companies proactively monitored suppliers' contracts for expiration and risk, versus only 16 percent of the beginners.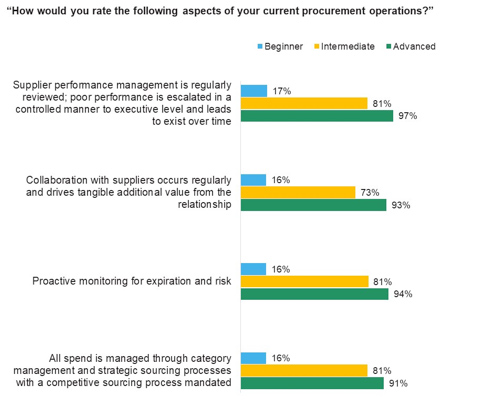 The study findings indicate this gap is set to grow, with already advanced procurement teams planning to increase spending on technology at a faster rate, and address more of their challenges in the next 12 months than less mature organizations. These less mature procurement organizations are increasingly putting their organizations at a competitive disadvantage.
What lessons should procurement and supply chain leaders draw from these findings? First, digital technology can be a high-value investment, not just an expense. It can help the procurement function become a strategic enabler, going beyond cost reduction to building a competitive advantage by untapping innovation from suppliers, improving sustainability and uncovering new revenue opportunities. Leaders must upskill their teams and upgrade their technology to support such strategic objectives.
Digitization is also essential to effective risk management. Leaders should take a portfolio view of their supply chains, assessing not just the risk exposure of Tier 1 suppliers, but their entire supply chain that their tier 2/3 suppliers. They also need to ensure risk diversity among alternate suppliers, so the same risk event does not impact supply continuity from all available sources.
It is also key to enabling the agility required to react when crisis strikes. Technology provides access to information, the ability to run scenarios, plan and execute on contingency plans, and engage suppliers collaboratively.
As with most major disasters, nobody saw COVID-19 coming. Sadly, though, it won't be the last unwelcome surprise businesses ever see. But it's one that every business can and should learn from to increase its resilience against the next bombshell development.

Sundar Kamak is a 20+ year Direct Materials and Supply Chain Management veteran practitioner with Solutions/Customer Marketing, Product Management & Engineering experience interacting with customers globally. Prior to joining Ivalua, he held various Solution Management and Product Strategy positions at BirchStreet Systems and SAP Ariba. Earlier, Sundar spent a number of years with Covisint, an eBusiness automotive marketplace, in their Strategic Sourcing and Supply Chain Solution group where he led large Strategic Sourcing and eBusiness Transformation initiatives for Automotive OEM's. Sundar also worked in Manufacturing and Supply Chain in a variety of roles for Aerospace and Automotive companies. Sundar holds a Master's Degree in both Materials Science & Engineering and Mechanical Engineering from Wayne State University, Detroit, MI.
References: