JM Performance Products & The Reshoring Initiative® analyze the crisis with an eye on future technology, training, production, and preparedness trajectory.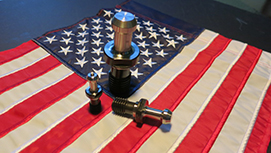 Fairport Harbor
In March 2020, the World Health Organization (WHO) officially declared the novel COVID-19 (coronavirus disease) outbreak a pandemic. Manufacturers are dealing with the fact that the virus has exposed the fact that many domestic (North American-based) manufacturers rely significantly upon China for fulfilling some, part, or nearly all, of their supply chain.
Participating in the second part of this "COVID-RESHORING-OPS" Q&A are two representative entities with vested interest on the subject−JM Performance Products, Inc. (JMPP: Fairport Harbor, OH) President, John Stoneback, and the Reshoring Initiative® (RI: Kildeer, Illinois) Founder & President, Harry Moser.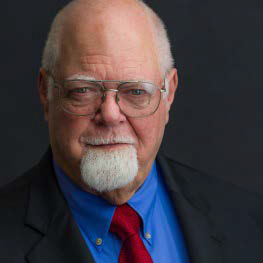 JM Performance Products, Inc. is a leading manufacturing innovator of CNC mill spindle optimization products since 2009. Their Patented High Torque Retention Knobs overcome a critical "loose-tool" design flaw inherent in CNC v-flange tooling that was responsible for costly CNC milling and boring issues industry wide−in terms of production, time, and tooling.
An essential element of the patented design is a knob that is longer and reaches a little deeper into the holder's threaded bore. As a result, all thread engagement occurs in a region of the toolholder where the diameter is large, and where there is correspondingly more material to resist deformation.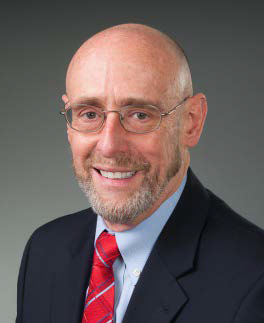 The Reshoring Initiative, founded in early 2010, takes action to bring five million manufacturing jobs back to the US by helping manufacturers realize that local production, in some cases, reduces their total cost of ownership of purchased parts and tooling. The RI also trains suppliers how to effectively meet the needs of their local customers−giving the suppliers the tools to sell against lower priced offshore competitors. The RI is a nonprofit organization that offers a number of free tools to advance their mission.
Moser was inducted into the Industry Week Manufacturing Hall of Fame 2010, participated actively in President Obama's 1/11/12 Insourcing Forum at the White House, and is also on the Commerce Department Investment Advisory Council.
1. What are the health implications of offshoring?
MOSER: Yes, but not to a high degree. The economic disaster we are facing as a result of our being caught off-guard by this pandemic with no safety nets can drive mental health on a downward spiral–think about depression, suicides, opioid addiction, etc.
2. What is JMPP doing for safety precautions as a response to COVID-19?
STONEBACK: We have progressively implemented all recommended precautions as set forth by the State of Ohio and the CDC. A full Covid-19 statement is available at:
(http://www.jmperformanceproducts.com/Member/jmperformanceproducts/Images/ImageGallery/Covid-19%20update.pdf)
3. What will be the short-term/long-term costs and benefits of reshoring post COVID-19?
MOSER: Balancing the trade deficit could be a 10-20 year process as a long term solution. Ideally, reshoring a half a million jobs a year would be the goal in the short term so we need to get started. If we can reshore more manufacturing jobs in the short term, we can show it works and build the confidence that jobs are coming back via the facts of more orders, jobs, and profitability!
In the long term, by eliminating the $800 billion trade deficit, we can avoid the collapse of the US Dollar. We will also strengthen recruitment of a skilled workforce, stabilize the military industrial base, fix income inequality, and enhance innovation.
4. How can products like JMPP's HTRK help the COVID-19 crisis in the short-and-long term?
MOSER: Any product innovation like JMPP's patented knobs that are proven to reduce costs, and improve quality, is a boon to US reshoring across the board.
STONEBACK: Removing issues from the manufacturing equation in the short term will open up opportunities for companies to improve their efficiencies moving forward. This will allow them to sustain profitability and a continued competitive position in the market place.
5. How does training/education come into play for employees/workforce in machining, etc. post COVID-19?
MOSER: It's essential that we invest in better education, more training, and apprentice programs that inspire and recruit more young people to become skilled toolmakers, engineers, etc.
STONEBACK: Producing reliable results without constant monitoring will free up highly skilled workers to be able to help further streamline operations. The focus is rapidly changing to robotics aided manufacturing with an emphasis on 'lights-out' manufacturing. Future workers need to be able to support the systems and technologies that will allow the highest efficiencies without impacting the quality of the products.
6. What is JMPP doing for preparedness of resuming/ramping-up to full facility capacity?
STONEBACK: Designated an essential business, JMPP did not implement any changes in production and have maintained full facility capacity throughout the COVID-19 crisis. Key employees who were working from home have now returned to the office, so the Company is poised to move ahead at full capacity as the nation progressively emerges from this Pandemic.
7. Will there be new legislation for manufacturing or government mandates for stockpiling as a result of COVID-19 that could affect reshoring?
MOSER: We need action at the federal level, and legislation is already on board to mandate driving medical product production back to the US to be more self-sufficient. We also need to jump on the band wagon of a better understanding of production stockpiling needs beyond medical components; i.e.-military, clothing, etc. Ultimately, there needs to be a US components supply chain system set up to prepare us for a future crisis like COVID-19.
Other, out-of-the-box legislation should be explored to make purchasing US manufactured products more attractive. The fact is, the US dollar has risen 300% in the last forty years globally so we are expensive…just compare the prices of some of the same things in other countries. A senator in Wisconsin has a Bill in progress that recommends reducing the dollar by 20% to make US manufacturing more competitive globally.
8. How does the TCO (Total Cost of Ownership) come into play for reshoring moving forward in the post COVID-19 landscape?
MOSER: The Reshoring Initiative offers the Total Cost of Ownership (TCO) Estimator. It's a free, online software that helps companies make better sourcing decisions about offshore vs. domestic sourcing, and is also used to sell against imports. The tool asks the companies to look at what products are causing "pain" via "hidden costs." They can use the TCO to find the products where the hidden costs are greater than the price gap. (http://www.reshorenow.org/tco-estimator/)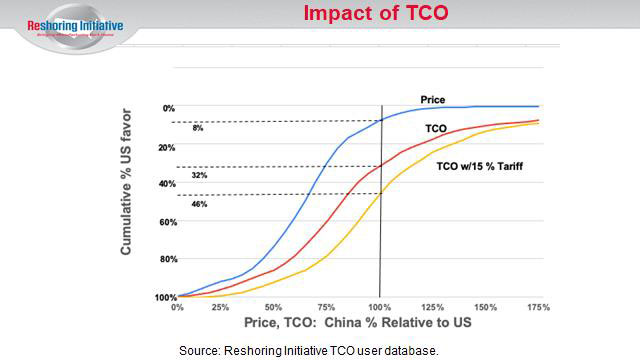 The chart shows how the % of products for which the U.S. is competitive vs. China surges from 8% to 32% or even 46% when sourcing shifts from price to Total Cost.
It's been used by hundreds of companies and recently, The Morey Corporation (Woodridge, IL) used it to show that even though its price was higher than their Chinese competitor, its TCO was lower. Ultimately, it revealed the real difference in costs and helped save a $60 million order.
We also offer an Import Substitution Program (ISP). It identifies major importers of what you produce, and leverages the TCO to prove-out % savings and profits that convince the importers to reshore and source from you. (http://www.reshorenow.org/isp/)
Finally, we offer a Supply Chain Gaps Program (SGCP) that identifies products with high imports and no domestic sources. (http://www.reshorenow.org/supply-chain-gap-program/)
9. Does JMPP have any special programs to assist with reshoring?
STONEBACK: Even though manufacturing costs and the costs of raw materials have escalated, we have held 2017 pricing in place. The Company made the decision to absorb the additional expenses until other companies are able to recover from the COVID-19 setbacks. We are confident that this decision will allow manufacturers to take advantage of the product's benefits at yesterday's price.
We also offer a free ROI calculator which can assist manufacturing entities in identifying key cost analysis and projected annual savings in converting to the High Torque knobs. It starts with a simple equation−at a conservative minimum of 10% productivity increase using the High Torque knobs vs. conventional knobs, how would it affect the health of your company?
It works by taking the number of mills in your shop and multiplying that times the number of hours per day you run. Now take that number and multiply it by the number of days per week that you're running the mills. Multiply that number by your hourly billable rate. Now multiply that number by 52 weeks. The number you calculated is your unadjusted yearly revenue. Now, take that yearly revenue figure and multiply it by 10%−that's the number that represents your annual lost revenue.
For example: 1 mill x 8 hours per day=8 hours; 8×5 days per week=40 hours; 40 hours x billable rate of $100=$4,000/per week; $4,000 x 52 = $208,000 annually. $208,000 x 0.10=$20,800 lost revenue per year.
10. How can reshoring help potential future pandemic situations?
MOSER: The mission of the Reshoring Initiative® is to bring good, well-paying manufacturing jobs back to the United States by assisting companies to more accurately assess their total cost of offshoring. Shifting their collective thinking from offshoring is cheaper to local and reduces the total cost of ownership. Conclusively, a commitment to reshoring will allow the US to build an essential stockpiling system and be more self-sufficient.
STONEBACK: The lack of medical equipment and supplies at the on-set of this pandemic illustrated just how unprepared our Nation was–making our flawed and broken supply chain evident to everyone. The people of this country are demanding changes so that we are never in the position of having to be dependent on offshore resources again (to the extent that we have been). By severing the dependencies now, this country will ultimately be able to respond more quickly should another pandemic arise.
"COVID-RESHORING-OPS" Q&A CONCLUSION:
The COVID-19 crisis has negatively permeated the US manufacturing community at every turn and will continue to do so until a vaccine is found–and beyond. Progressively addressing the challenges and that are at the forefront of this pandemic, however, can create opportunities that pave the way for a stronger, more sustainable US foundation for the future–and reshoring is the essential bedrock.
Finally, both Stoneback and Moser encourage companies to participate in the National Metalworking Reshoring Awards. Companies are eligible to apply that have successfully reshored products, parts or tooling made primarily by metal forming, fabricating, casting or machining, including additive manufacturing. Applications must be submitted by June 30, 2020. To view award details and enter to win, visit: www.amtonline.org/reshoringaward
For more detailed information contact: www.jmperformanceproducts.com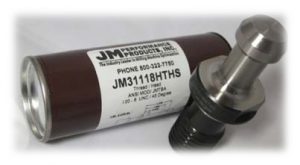 CORPORATE PROFILE:
Established in 1966, JM Performance Products, Inc. (JMPP) has firmly established itself as a leading manufacturer of CNC mill spindle optimization products. Across a myriad of markets, JMPP is dedicated to reshoring with over 500 styles of patented Retention Knobs for BT, DIN, ISO, and CAT toolholders from 30 taper to 60 taper−all manufactured and material sourced in the United States! All products in the integrated suite are engineered to optimize milling machine performance including: improving finishes, eliminating run-out, reducing chatter and harmonics, decreasing set-up times, extending tool life, and increasing spindle performance.
Author: John Stoneback / JM Performance Products, Inc. / 440.357.1234 / jstoneback@jmppinc.com
Editorial & Photo Contact: Ray Farrar / Method Media LLC / 216.861.0862 / rayf@methmedia.net
Additional Photos Provided by: Jason Borden