Companies need to develop leaders from their existing staffs.
By Paul K. Steck
All business has become increasingly complex in the 21st century. Consider the explosive growth and sheer volume of new companies, the continuing ramp up in the regulatory environment and the high velocity of technological change requiring ongoing upgrades and training. How can anyone stay on course or get ahead of the curve in this business climate?
In particular, today's manufacturing companies face unique and unprecedented challenges not faced by their predecessors. Add to all of the above the increased need for robust cybersecurity protection and the theft of intellectual property and you, as owners and operators, have a steep mountain to climb. You only have so many hours in a day and days in a year, so how do you manage it all?
The reality is that company principals need to create leaders within their ranks. Leadership training followed by delegation is a must. You simply cannot do it all—nor should you. The degree of your success will ultimately fall on your ability to create a viable management structure populated by adept and empowered leaders—those who can take the reins and free you up to work on the business at your own level. Your role should remain focused on growing the company—and little else.
Research is paramount as you focus on how to build your executive force. It is important to get off the shop floor—and sometimes, get out of the office. Learn what other leaders are doing. Speak to industry colleagues and peers in parallel businesses. Listen to suppliers and vendors. Find out how all of them are rising to meet these challenges. Be humble and be vulnerable. Ask your customers how they are handling their own challenges.
Where will you find tomorrow's leaders? Chances are, right within your own organization. Developing leaders from within benefits your company in several ways. First, it engenders confidence in the staff, knowing they are working with their peers rather than with outsiders. Second, employees are motivated when there is opportunity for growth. Third, it jumpstarts the process, since your existing staff already knows your company and your industry and only needs training in leadership and refinement of their natural skills. Fourth, it proves to be more economical to develop management from within. According to a May 5, 2019 article in Forbes, hiring outsiders is typically more expensive, and costs will ultimately continue to rise.
For example, we created a career path for our entry level, basic wage employees just coming on board. Our top people started in these fundamental jobs within our operation. It afforded an opportunity to learn each and every position in the company. I began my own personal journey in my industry by sweeping the floors in the family factory. Why is that so important? Cross-training of skills is critical when disruptions occur—such as the recent COVID pandemic. This is the one time when you need your leaders to work at a lower level. The rest of the time you want them to also be able to delegate down the line and stay focused on managing and leading within their respective departments. Leadership expert Erica Peitler previously ran a one hundred-million-dollar division of a pharmaceutical company before coaching C-suite executives on leadership. The author of the book and podcast Leadership Rigor, Erica cites this as one of the crucial points for leaders to understand and to master. Too often, as she indicated during an address to the Institute for Supply Management, they are working somewhere below their level of expertise instead of delegating and managing downward. This failure hinders and prevents the growth of your enterprise.
The Business Development Bank of Canada (BDC) has an interesting perspective on strategies for developing leaders within your company. The bank believes that the ability to develop talent from within gives your business a long-term competitive advantage. However, a common mistake is that employees are too often promoted because of their job skills, not their readiness to lead. Extensive training and evaluation are required before one is placed in a position of empowerment.
BDC offers six simple ways to develop a management team from within:
Learn to recognize potential by pushing people out of their comfort zone and observe how they rise to accommodate difficult situations. Leaders exist on all levels of your organization.
Make existing leaders accountable for identifying and developing future leaders.
Clearly communicate your vision for the business. Give your workers a shared sense of the company's mission so future managers might see a key role for themselves.
Make sure the company has a leadership development program with the support and coaching needed for prospective managers to excel in their new roles.
Put in place an appraisal and incentive system that fairly evaluates performance and rewards excellence. Work together to improve their results.
Support through a coaching program. Help emerging leaders refine their abilities and address their weaknesses.
We mentioned empowerment. All the skills training you can provide will become useless if your supervisors and your managers are unable to act without reservation when the situation demands. As you embark on your own personal development, or while you are out of the office or the shop gathering intel or promoting your business, you need the gears of your well-oiled machine to keep turning in your absence. You need to trust that your leaders will see to it that the work gets done, done right, done on time and on budget.
As a top-tier executive, you must have unconditional trust in the judgment and abilities of your management team. If you do not, it is necessary for you to either train them, coach them, or in the harder case, replace them with those you truly believe in, for the sake of the business.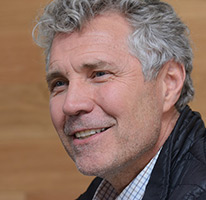 Paul K. Steck is the President of Exothermic Molding, Inc, a third-generation family business in specialty plastics molding for a variety of industry verticals. Exothermic is headquartered in Kenilworth, NJ. Visit: www.exothermic.com