An insight into how to create portable clean and decent changing rooms on a construction site.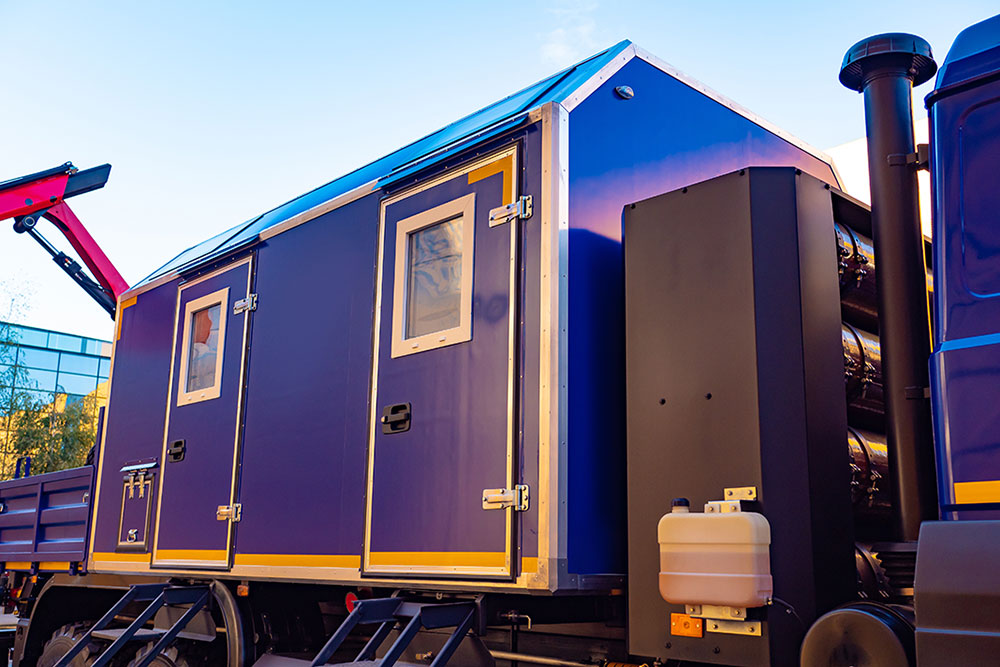 One of the requirements of construction sites is to provide clean and decent changing rooms for construction workers. Ensuring that all workers can change to proper construction gear is important for their safety. An easy to access and portable changing room provides comfort to ensure everyone is ready for the day's work.
This article offers insights on how to create portable changing rooms in a construction site.
Use a Shipping Container
You can use a shipping container and convert it into a construction site portable changing room. Shipping containers provide a spacious private area where your staff can gear up and keep their personal belongings.
Portable shipping containers can be purchased as ready-made changing rooms, or you can hire a professional to set up customized changing rooms for your construction site. Check the following benefits of using shipping containers as portable changing rooms:
Great Features: Using a shipping container as portable changing room offers several features like wall mounted reverse cycle air conditioner, exhaust fan, lighting, bench seating, coat hooks, strip heater, lockers, fire extinguisher, and electricity.
Mobile: A portable changing room can be set up in different locations. This provides ease especially when transferring from one construction site to another.
Versatility: Changing rooms made of shipping containers can be combined with other portable buildings, creating a totally portable building solution.
Cost-Effective: The construction industry also experiences financial constraints. With portable changing rooms made of shipping containers, you can save money in the installation and demolition of on-site changing rooms. You can avail of shipping containers with wheels, so they can make changing rooms which are easy to tow when transferring to another construction site for your future projects.
Wooden Changing Rooms
It is crucial that the changing room you'll build promotes an altogether safe construction site. Using wood for your changing rooms is a great option. You can use plywood and pallets to create changing rooms for your construction site.
Building wooden changing rooms is easier than galvanized steel-framed changing rooms. All you need are spare wood pieces and plywood, nails, hammer, or power tools like pneumatic nail gun and cordless drill.
Wooden changing rooms allows for safety during installation as they're not made of heavy-duty materials. Also, after the construction project, wooden changing rooms can be easily disassembled and used again for your next project.
Here are some tips when building wooden construction changing rooms:
Use Spare Materials: You can repurpose things to make a useful changing room in a construction site, such as 1×4 ft mahogany boards or cedar boards left over from a previous deck project and scrap plywood.
Framing: Buy some 2×4 studs to frame the cedar and enough boards to build a decent size changing room. The doorway should be framed on one side against the front wall. Lumber can be used for the frame, such as 2×3 in thick lumber nailed to wooden post material.
Building the Walls: Wooden walls can be made of plywood for easier installation. Nail them to the wooden frame.
Building a Bench Seat: A bench seat can be built on the other side of the wall, where a shower curtain can be installed for privacy.
Use Camp Tents
Camp tents are easy to assemble, and they make spacious changing rooms for construction sites. They come in different sizes and can be installed with fans and electricity powered by generators. Camp tents make a great break area or sleeping quarters for workers too.
Here are the essential things to consider when choosing camp tents as changing room:
Size: A camp tent measuring 60 to 70 square feet can accommodate four adults. On the other hand, a 90 to 100 square feet camp tent can accommodate six people. A spacious tent measuring 130 square feet can accommodate up to eight workers.
Space: If the camp tent is only intended as changing rooms, then you'll need to consider a bigger tent. You also need to consider workers' privacy by installing individual covers made of canvas, tarpaulin, or any strong material.
Maintenance: Choose a camp tent that's easy to clean. The fabric should also be waterproof to protect workers from extreme weather changes. Nylon and polyester require less maintenance and are cheaper than other camp tent fabrics.
Conclusion
When creating portable changing rooms in the construction site, you have different options. You can make changing rooms out of shipping containers, wooden materials, or even camp tents.
Shipping container changing rooms come with a lot of advantage such as mobility, versatility, and cost-effectiveness. Wooden changing rooms are easy to install using repurposed materials from previous construction projects. Camp tents comes with the advantage of ease in installation as they are light materials.
Whichever option you take, make sure to provide safety and spacious quarters for your workers.
Cynthia Hernandez has been a blogger for more than twenty years now. Most of Cynthia's content talk about health and wellness, parenting, and business.