Among the many consequences of the COVID-19 pandemic there are a few that stand out in relation to industrial companies.
By Nigel Stacey, global lead of Accenture Industry X.0
Many organizations brought forward digital programs to help during the crisis. For instance, technologies including industrial internet of things, artificial intelligence, robotics, 3D printing and digital twins have been rapidly adopted by manufacturers as they adapt to new requirements, such as the production of medical equipment. The crisis has also highlighted the importance of collaboration. Mirroring wider society, industrial companies have seen that working together is the best way to navigate uncertainty.
These impacts are essential because industrial businesses currently stand at a crossroads in the digital story. Down one path lies the rapidly successful reinvention of industrial practices. Down the other, stalled digital projects and diminishing value.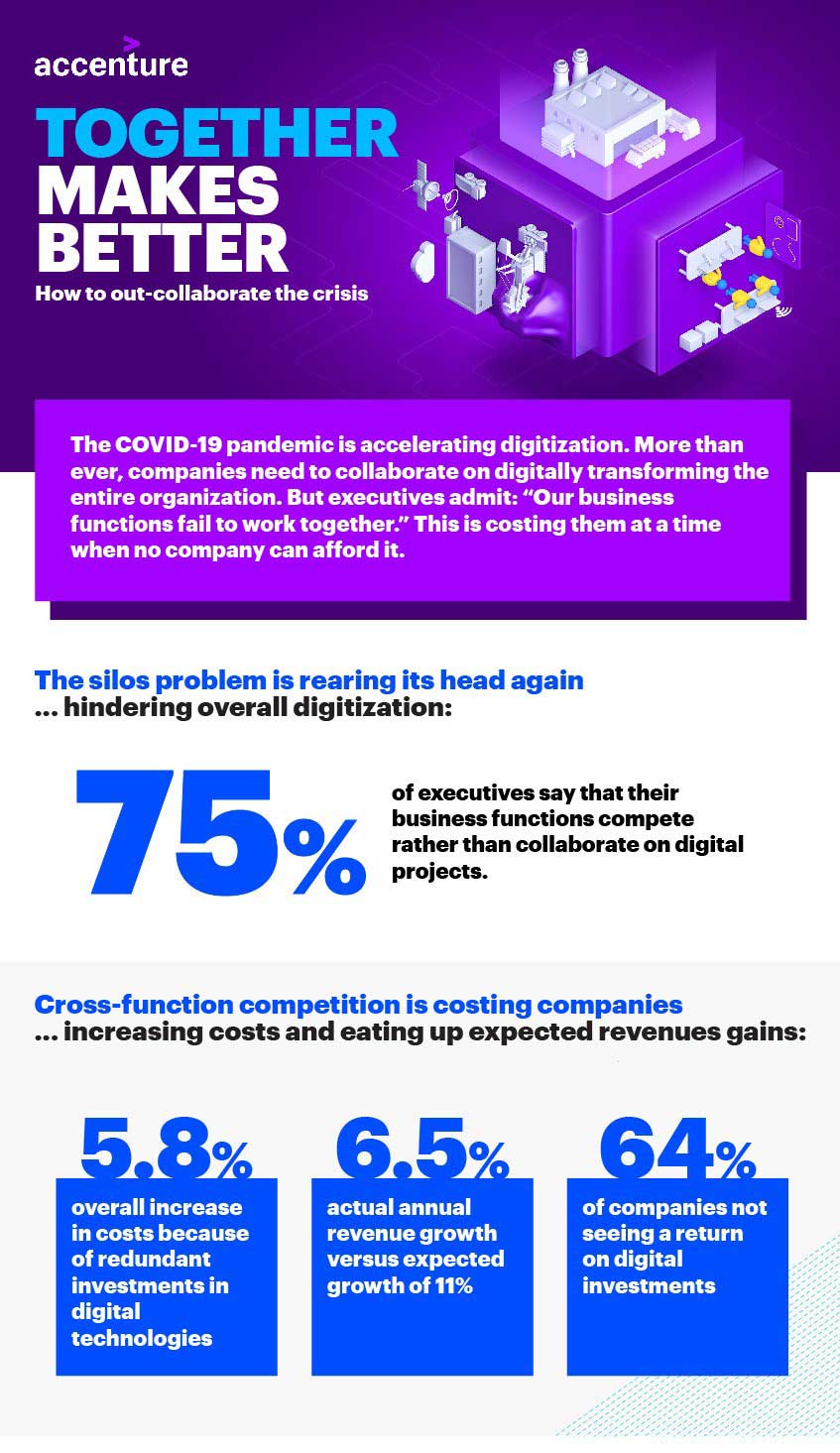 Why compete
The crux of the issue is that while companies have shown a remarkable capacity to collaborate externally during the crisis, they have been less able to do so internally across business functions. This challenge predates the pandemic and will be a long-term barrier to successful digital projects if not addressed.
Accenture Industry X.0's 'Together Makes Better' report, based on research carried out just before the pandemic, lays bare the scale of the challenge. Seventy-five percent of senior executives at industrial companies worldwide reported that internal business functions (e.g., engineering, R&D, marketing, finance, production and operations) are competing against each other on digital projects.
Cross-functional competition arises when companies have not yet eliminated organizational silos. Indeed, these silos often serve to hedge against risk during digital transformation because if a project fails, the damage is limited to one department and offset by wins in another. In either case, departments can see what their peers are doing and apply these lessons to their own areas of the business.
The dangers of internal competition
The reality is that cross-functional competition limits the value of digital programs. Without a unifying principle of value creation, firms find themselves repeatedly making inconsistent and redundant investments.
For example, we have observed situations where finance looks to take ownership of data analytics projects with the rationale that organizational number crunching falls under their purview. Meanwhile, other business departments look to run analytics because they feel that they are 'closest' to the data. As a result, each department sets up its own analytics project, duplicating efforts and resources in the process, thus driving up costs.
Cross-functional competition damages the bottom line. According to our research, the practice increases the cost of digital by 5.8% for affected businesses due to redundant investments Additionally, organizations expected to see 11.3% revenue growth each year, stemming from digital investments by function leaders, whereas the actual number was just 6.5%. Alarmingly, 64% of the executives reported that their digital investments were not boosting revenue in any noticeable capacity.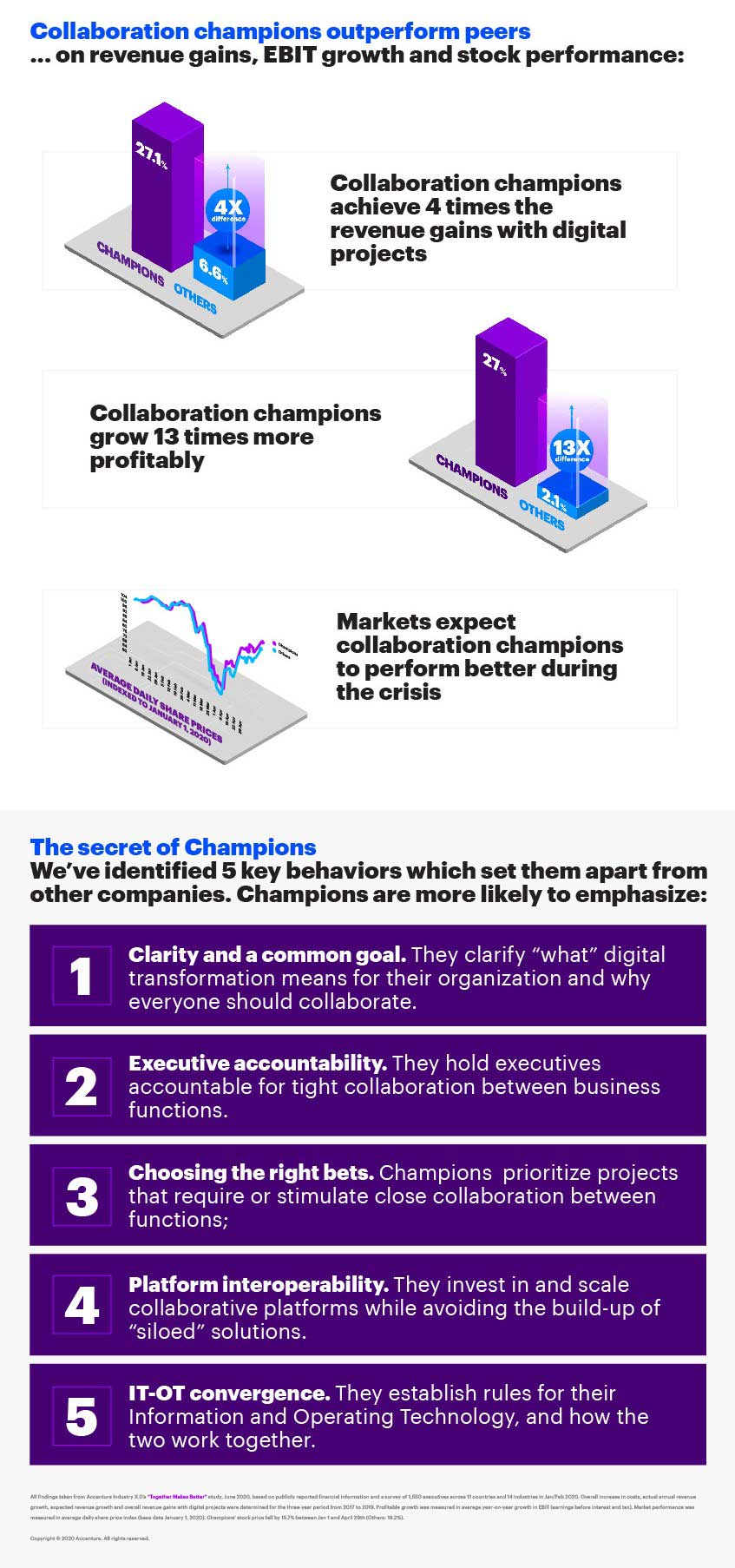 Collaboration, not competition
The solution to this challenge is simple. Businesses must apply the lessons they learned during the pandemic response around collaboration to their internal business functions. By integrating those and tackling digital as an enterprise-wide transformation program, industrial businesses will unlock far greater value.
Some firms have already demonstrated collaboration and as a result have experienced four times higher revenue growth than the average. Our research identified a set of such collaboration 'Champions'. Amounting to just 22% of the total, these businesses have invested 1.5 times more than their peers on digital transformation. These leaders secured 27% EBIT (earnings before interest and tax) growth between 2017-19, whereas the rest only managed to drive 2.1% growth. Since COVID-19, we tracked the share-price movements for the companies in our survey and found that the markets are expecting the Champions to perform better during the crisis.
These figures make the case for breaking down business silos a a prerequisite for successful digital transformation.
To start, such businesses can organize with clarity around a common goal and hold their executives accountable for tight collaboration between business units. They should prioritize projects that further enhance collaboration and invest in interoperable technology platforms that enable seamless collaboration. Champions of digital transformation have cracked the code on getting their Information Technology and Operating Technology working together and can, therefore, operate more effectively.
To fit the mold of a Champion, companies must ensure that each department builds in conjunction with, and on top of, the value created within others. It's a common-sense approach to digital, but one which commits to organizational change. Even before COVID-19, the revenue boost for companies made this effort more than worthwhile. The pandemic has made it doubly so. In this current crisis, digitization is the one thing not taking a pause, and in the emerging economic downturn, each investment in digital will be put under the microscope. Make sure yours counts.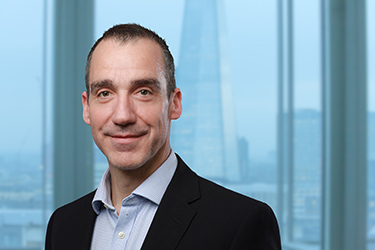 Nigel Stacey is the global lead of Accenture Industry X.0, the part of Accenture that uses digital technologies to improve how companies design, engineer and manufacture products and services, and operate industrial facilities. A veteran strategy consultant and industry executive, Nigel has been spending more than 25 years working across a variety of industries from aerospace and defense to consumer electronics in three core roles: leading global operations and supply chains, building new business start-ups, and heading strategy, mergers and acquisitions.