Research shows Chief Supply Chain Officers are delivering hard results by focusing on something "soft."
By Kris Timmermans, Senior Managing Director – Strategy & Consulting – Global Accenture lead for Supply Chain & Operations
Chief Executive Officers (CEOs) are laser-focused on the type of innovation that leads to growth. And with their usual pragmatism, Chief Supply Chain Officers (CSCOs) have climbed aboard that train.
As they look to scale innovation in their operations, more than half of supply chain leaders cite a lack of change-ready culture as their biggest impediment to success.
As they look to scale innovation in their operations, however, more than half of supply chain leaders cite a lack of change-ready culture as their biggest impediment to success. Put another way, hard results could easily be derailed by something many operations executives might consider "soft."
Leading CSCOs are not letting this challenge take them off track. Instead, recent Accenture research finds they're ahead of their peers in the sales function, surpassing them in scaling the type of digitally-enabled solutions that enable innovation. This, despite sales teams' reputation as digital pioneers.
Lack of change culture is already impacting return on digital investments. CSCOs who claimed a lack of a change-ready culture as their biggest hurdle achieved a lower return, roughly 20%, compared to CSCOs who don't have a cultural issue (approximately 24%).
Getting teams to embrace change
Our research shows the leading supply chain executives are changing their culture in two main ways. They are empowering their people with automation and new-skilling. And they're insisting on collaboration from the outside in.
Two major areas of culture change by leading CSCOs:


CSCOs are leading change within their organization by empowering their people through collaboration. Both actions support making digital a daily main course, versus an optional side dish. New-skilling creates a comfort zone for supply-chain employees, allowing them to work more creatively and efficiently with their new coworkers—intelligent machines. And collaboration with non-traditional ecosystem partners like competitors and customers creates a culture that focuses more on innovative new outcomes, versus the status quo.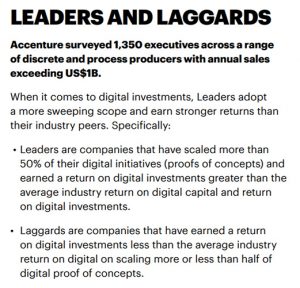 Leaders vs. Laggards
We saw an interesting dichotomy between supply chain Leaders and Laggards in our recent research. Leaders are significantly more enthusiastic about investing in automation at scale and skilling their people for the digital world. The dual investment sets the stage for humans and machines to work together to unlock greater value than either could alone.
While Laggards see the need for investment, they are not jumping in with both feet when compared to Leaders. As a result, Leaders investing in new skilling their talent enjoy a 3% bump in return on their digital investment.

The good news is that the very technology requiring humans to have new skills can be used to help train them. Artificial Intelligence (AI) allows companies to capitalize on the exploding amount of available data for learning and performance support—and they can do it near real-time. Not all new aspects of digital supply chains can be addressed by new skilling, however. CSCOs will need to hire data scientists for supply chain analytics across the function, value chain architects skilled at working with the front office and product development teams, and orchestrators who specialize in scenario modeling and simulations.
Bringing the outside in
While automation and new-skilling are key to supply chain innovation, they are not enough alone to create a change culture. Digital is not , simply a technology, but a way of doing things. It's a culture of collaboration—and a key part of that culture of collaboration is embracing external partnerships. As ecosystems drive so many competitive advantages, supply chain Leaders are not just joining them—they're orchestrating them. Eight out of 10 Leaders (78%) embrace becoming an ecosystem orchestrator.

In a collaborative culture of continuous learning, in addition to developing their own talent, CSCOs are sourcing digital talent via their ecosystem to secure skills in new ways. Then, they ensure their teams work with this talent in a deliberate culture of experimentation and openness. Combining these external partnerships with internal partnering across functions, they make the right customer outcomes a priority. They don't work in traditional siloes—instead they band together from the outside in for the innovation that will help them grow as a company. It's a new culture for most supply chain organizations, but one that will take them into their post-digital future.
Revving the innovation and growth engine
CSCOs are reinventing their cultures for the post-digital age. Through new-skilling their existing teams and fostering collaboration with innovative ecosystem partners, they are focused on enabling innovation, growth and a better customer experience . No longer simply an efficiency engine, they are earning their seat at the C-suite table.
Change culture has become a competitive advantage—one worth the investment. As innovation and growth drive markets, supply chain executives play a key role in ensuring their companies have the speed and confidence to achieve competitive agility even in times of disruption.
About the Author
Kris Timmermans is a senior managing director and global lead for Supply Chain & Operations at Accenture. His role focuses on assisting clients to develop dynamic supply chains and service operations capabilities to more rapidly respond to changing customer demands and market opportunities.