Supply chain management is a constant tug-of-war. With so many different individual companies involved – each bringing with them their own set of business goals and objectives – the idea of working together and being transparent about activity and performance with one another can seem daunting. Every level of the chain has its own complex processes and ensuring everyone is doing their part to boost efficiency and, therefore, driving profits for the chain as a whole is a significant undertaking.
Looking to improve supply chain performance, there's no doubt that businesses should strive for a flexible structure that allows them to adjust to changes in customer demand. Ultimately, this creates a business model that boosts profitability for the supply chain itself, as well as creates a positive experience for the end-user. The idea of a demand-driven supply chain is nothing new, and many organizations think of this model as the way to improve overall business performance. However, putting these demand-driven initiatives in place isn't easy. How can these companies work together to ensure their operations and goals are aligned? And how can they pinpoint customer needs and behaviors in order to optimize end-to-end processes to best serve them?
At each level of the supply chain – from suppliers to distributors to retailers – valuable data is being collected that can be leveraged for better answers on how to improve supply chain performance. Achieving a successful demand-driven supply chain is a balancing act. By looking to their vast pools of information, businesses can make valuable correlations between relevant data to anticipate demand and improve synchronization. In short, this means increasing transparency up and down the value chain.
Balancing inventory with expected demand
The most complex part of the equation is actually understanding demand. Looking to historical sales, inventory turns and relevant insights related to other variables in the supply chain – such as staffing information, travel timelines, shipping details – businesses can gain an accurate visual of market demand at any given moment. Take for example a grocer that is preparing for an influx of customers ahead of big storm later that week. In order to ensure the store has enough stock of the right products, managers should look at the data from its POS system around the time of the last big blizzard. Seeing that the most purchased products were loaves of bread, bottled water and milk, the grocer can then look to place extra orders for these items so they're in-store the day before the expected storm. Leveraging this transaction-level information, businesses can take a data-driven approach to optimizing their product portfolio in order to effectively meet expected demand and balance inventory.
What's even more prudent is that bringing this information into a performance management system will allow businesses to become more agile. Having quick access to timely information encourages business managers to make real-time changes to their supply chain strategy based on this feedback. In the end, it's these granular adjustments that will have a major impact on eliminating out-of-stocks and overstocks, reducing waste, and driving profit margins.
Improving synchronization between sales and operations
Digging deeper into this data (whether from a business-to-business or business-to-consumer perspective), companies can gain insight on sales variances and, in turn, develop a valuable understanding of how to optimize the relationships between sales and store operations. For example, in the grocery supply chain, understanding performance of fresh produce can be a tough equation because these products have a short shelf-life and slow sales can mean lost profits. By looking to their data – from information on how long it takes to get from the supplier to the retailer, to details on how long it typically takes for a grocer to sell a full case of oranges – each business can gain insights that allow them to adjust their strategy to create synchronization between business operations and sales. Ultimately, aligning inventory turn ratios against volume and product turnover will lead to an overall more efficient supply chain.
Increasing supply chain transparency, therefore improving business relationships
On a larger scale, successful implementation of a demand-driven supply chain allows the engaged businesses to be more open and transparent with each other. In order to actually achieve this kind of transparency, these businesses must work together and share knowledge to drive smoother and more productive processes.
Suppliers, distributors, retailers, and every business in between must work together to create a successful demand-driven strategy. Specifically, retailers can share detailed insight on inventory turn and consumer demand based on data from their POS systems, while distributors can offer valuable information regarding how long shipments typically take and insight on specific products in their portfolios. By combining all of this data and making accurate correlations, businesses will start to establish a high level of transparency that allows them to optimize operations throughout the supply chain. Building this comprehensive view of end-to-end business operations will make for a well-oiled machine.
The fact is that all businesses in a supply chain have one primary goal – to drive profits for their company. However, this goal can be achieved by working together to implement more efficient processes that drive better performance. By making data-driven incremental adjustments to supply chain operations, businesses can maximize efficiency and drive profitability.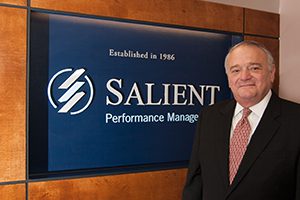 About the author:
Guy Amisano Sr. is the founder and CEO of Salient Management Company, a provider of performance management solutions with experience developing industry-specific strategies for businesses in retail and wholesale distribution markets.