Connected Packaging can generate tremendous value for brands and consumers. What hurdles, real and imagined, must we overcome to get there?
We are living through a time of unprecedented change, both for individual consumption habits and for the consumer-packaged goods (CPG) brands supplying them. With major shifts in favor of e-commerce purchasing and subscription models, now is the time for brands and retailers to take decisive action to test and launch connected packaging for real-world use.
Launching innovative products comes with some risks, and it's critical to distinguish the real risks from the boogiemen. My hope is that you'll come away from this article feeling equipped to make smart decisions about smart packaging.
Myth: Connected packaging is only for high-value goods.
High-priced packaged goods (like high-end spirits) have pioneered smart packaging, but this is typical of new technologies early in their adoption curve. Connected packaging is now poised to cross the chasm to mainstream acceptance, with applications that deliver value to consumers on an ongoing basis.
One such application is use-based auto-replenishment, in which a durable device or dispenser can monitor use of a household staple and automatically re-order more exactly when it's needed, driving increased wallet share and customer lifetime value for years. A recent consumer survey from April 2021 found that 79% were interested in auto-replenishment services for consumer packaged goods (up from 63% in January 2020), with their top categories being home care, personal care and pet care. These are all staples that are highly valued – meaning it's a serious problem for the customer to run out of it – but not necessarily highly priced.
Myth: Packaging manufacturers are unwilling to incorporate smart packaging solutions.
Some packaging manufacturers see connected packaging as an opportunity to differentiate themselves and impress their customers.
Westrock has partnered with Digimarc and Evrythng to enable invisible digital barcodes to link paper packaging to the cloud. Ball has innovated on printing methods to imprint cans with scannable marks linking to interactive content. Jabil Packaging Solutions (my employer) is a packaging division within a large manufacturer of electronics, who sees smart packaging as an opportunity to play to strengths in software development, front-end design services, device manufacturing and supply chain management, in addition to packaging capabilities.
Myth: Connected packaging systems are too risky.
Everything new comes with some risks. But in a shifting market, inaction brings its own big risks. For those who choose to act, there are some great methods for mitigating new product risks.
Iterative prototyping and evaluation are invaluable to de-risk new product development. The idea is to get the product in front of users, at all stages of maturity, to receive early, actionable feedback to maximize chances of product/market fit at launch. This starts with just a handful of users, to identify and fix any obvious technical or functional mismatches. Subsequent stages for connected packaging could encompass connected trials with hundreds of consumers, gathering point-of-use data along with surveys and interviews, to hone in on the value and usability of the system. From there, a commercial pilot or production launch can be undertaken with confidence that the product has a sustainable business model.
Myth: A connected packaging system will be hard for brands to manage.
The real myth is that brands need to manage the whole system themselves. Sometimes the best way to get a connected product off the ground is simply to use a managed service where the hard work has already been done.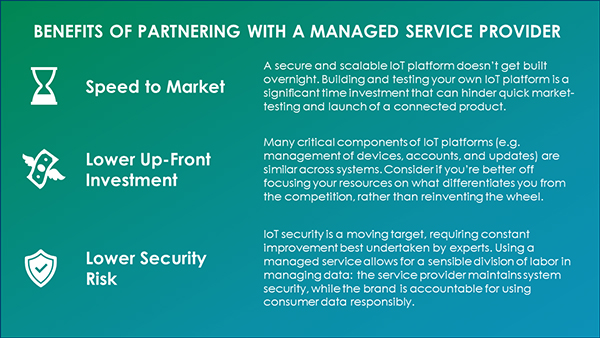 With the right service provider, brands can reap the benefits of connected packaging with minimal management headaches, while reducing their risks in time-to-market, non-recurring engineering costs and security.
Myth: Consumers don't want to download more apps.
Recent research on connected packaging and direct-to-consumer communications suggests otherwise.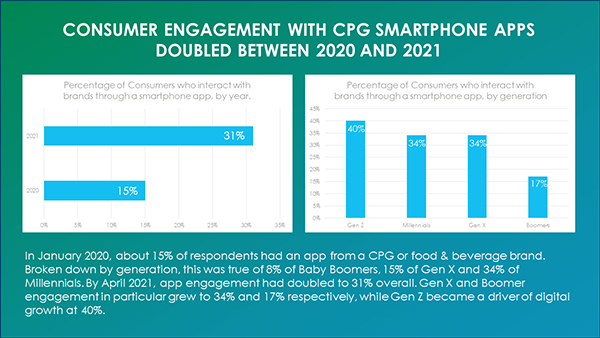 Ultimately, whether an app creates a barrier to entry is largely a matter of thoughtful design. Does it make the user feel in control of when, and how much, they engage? Sometimes the best user experience is none at all, when our technologies disappear into the background and take care of things for us.
Consumers value the goods they can't do without.
Lower risk by nailing the customer value proposition with iterative design and testing.
Managed IoT services let you focus on the differentiators that will make consumers remember your brand.
Help your users feel in control.
The world is ready for connected packaging. I hope that, after reading this article, you feel ready for it, too.
About the Author
Dr. Amanda Williams leads Jabil Packaging Solutions' Connected Packaging platform and capabilities. In this role, Amanda works with customers to bring to life daring new concepts in intelligent, connected packaging. She has also previously worked with hardware startups to bring their designs to production.
In the past, Amanda has founded businesses focusing on consumer electronics, as well as design and development services. She has worked as a designer and researcher in Human-Computer Interaction at Xerox PARC, Adobe, Intel Research, and Microsoft Research. She has a PhD in Information and Computer Sciences from UC Irvine.
Contact: https://www.jabil.com/industries/packaged-goods/connected-packaging.html