How an intelligent elevator distribution system can help buildings increase passenger security and tenant satisfaction.
By Eric Lazear
The need for flexible and efficient movement of people through buildings is not just tied to the current health and safety landscape of COVID-19. For decades, high-rise buildings have become increasingly taller, with more floors and tenants to serve. Improved lobby and elevator traffic management needs have led to the development of an intelligent elevator distribution system known as Destination Dispatch or Destination Control.
Destination Dispatch is a traffic-optimization system deployed in multi-elevator buildings to create various efficiencies, by grouping passengers riding to the same floor into the same elevators. This differs from traditional systems, where all passengers call and wait for an elevator, press a button for their desired floor inside the car, often experiencing a ride with several intermediate stops – which can be frustrating and time-consuming.
The technology is typically used in commercial, multi-elevator buildings that serve various tenants on different floors and was designed to improve life for building owners, managers, tenants, and visitors. It offers an opportunity to not only adapt to changing health and safety guidelines, but also allows for the flexibility needed to efficiently handle peaks and valleys of traffic throughout the working day.
How Does Destination Dispatch Work?
Buttonless Calling
A Destination Dispatch system uses input devices such as keypads, touch screens, or contactless proximity cards. All floor selections are made before the passenger is guided to the appropriate elevator, and the car then travels directly to the correct destination. Per code, for ADA (Americans with Disabilities Act) compliance, the system can include a hardware button to open the door, as well as allow voice commands.
Passenger Grouping
Elevator passengers are grouped based on their pre-selected destination floor. This means that the individual can enter an elevator without having to press any buttons inside the cab, knowing that they will be moved quickly to their destination floor without waiting for people to get on and off.
Smart Routing
An efficient Destination Dispatch system analyzes the elevators' traffic data and learns from it, using the intelligence to improve traffic flows and significantly reduce the overall travel time compared with traditional systems.
Top Benefits of Destination Dispatch
Managed access and safety
With a destination system, tenants can expand their space anywhere in the building – not necessarily on adjacent floors. The system can route people and manage their access using key cards or codes, and it often also integrates with security systems like gates or turnstiles.
Increased capacity
Buildings can increase the handling capacity of their elevators without having to increase the number of elevators, replace the existing cars, or change their speed.
Improved hygiene
The system naturally leads to reduced crowding in elevator cars, and passengers don't need to shuffle around to access the button panel inside the elevator. This provides enhanced safety and confidence for passengers who want to limit proximity to others.
A customized passenger experience
For passengers with impaired mobility, a destination system offers better accessibility as it can allow them to move directly to a designated elevator. The system can also be set up with customized features such as a VIP service or pet service, using individual passenger preferences programmed into their keycards.
Energy cost savings
The system enables significant energy savings due to more efficient distribution of passengers, a reduced number of floor runs, and fewer energy-demanding stops and starts.
Communicate smarter
With the use of central communications screens, the building can share enhanced communications with passengers about building management updates, safety issues, or staggered arrival and departure times.
Improved tenant satisfaction
Fewer stops and shorter travel times lead to reduced stress during heavy traffic periods. This in turn promotes tenant satisfaction and can help to enhance the reputation of the building – increasing market value of the property and rental space. An upgraded traffic service can create the opportunity for better rent rates and making the building more attractive to new tenants at a time when occupancy rates are subdued.
Reduced construction costs
For new construction, a destination system allows for more efficiently configured elevator banks, with potentially smaller and fewer elevators and lobbies. With a smaller building core, it's possible to reduce construction costs while increasing rentable space and tenant capacity.
Converting to a destination system is a custom project and requires a thorough, detailed assessment to establish the suitability of your building and elevator equipment. However, every opportunity to upgrade means countless benefits waiting for your building as well as your tenants including far less crowding, more orderly traffic, and quicker arrivals to their destinations. There will be many cost factors to consider when modernizing elevators, but you should expect to pay an additional 15-20% for the benefit of full destination dispatch functionality.
For more information on how Destination Dispatch could improve your building's passenger traffic, speak with your elevator maintenance company for advice or visit americanelevator.com/solutions/traffic-management for more details.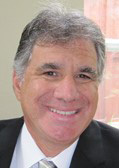 Eric Lazear is VP of Business Development at American Elevator Group, where he oversees all sales and business development programs across the group of companies. Having spent more than four decades in the elevator manufacturing and service industry, Eric brings a wealth of experience and knowledge to customer conversations – allowing him to assess and meet the vertical transportation needs of building owners and managers.