Kristin Ruehle, Global Procurement Business Process Services Lead at Accenture explains why this must change.
The past ten years have seen huge changes to the way businesses serve customers, market their offerings and enhance their supply chains. Digital transformation has brought unprecedented levels of efficiency, service personalization and process automation, creating a new set of industry leaders and catapulting digital disruptors into the big time.
However, in the midst of all this change one area has remained largely unaffected: procurement. While some businesses have invested in eProcurement services and shiny new cloud procurement tools, fundamental transformation has not occurred. What we've seen is a sort of digital white-washing where the core processes beneath the technology have remained resolutely analogue. As a result, few businesses have enjoyed the many benefits that come with true digital procurement.
Outcomes-based procurement
Where are businesses going wrong? For me, the key thing that needs to change is the philosophy of procurement. Once you have the right mindset in place, the technology will follow. What's vital is that enterprises adopt an outcomes-based approach to procurement. Focus on the business objectives you want to achieve through your transformed procurement function and then work backwards to the technology and operational changes you need to achieve your vision.
From my work with customers that have transformed their procurement in this way, I believe there are several core benefits that most businesses will see. These include cost efficiencies, brought about through the automation of repeatable and time-consuming tasks; increased AI-enriched insights into procurement that help the business make better strategic decisions; newer and smarter ways to fuse data models to enrich day-to-day operations; and, perhaps most importantly, new ways to build stronger relationships with suppliers and other third parties to innovate new business models and collaborative relationships.
By putting data at the center of the procurement universe and deploying AI-enabled analytics combined with intuitive interfaces, organizations can benefit from increased control, better procurement experiences and a point of market differentiation.
In essence, firms that successfully transform their procurement are applying the same techniques that Amazon have employed but to the world of industrial procurement; building systems that are more complex and intelligent than ever, but also easier to operate.
Five steps to success
However, as is often the case with large- scale technology transformations, success isn't assured. If enterprises are to guarantee their digital procurement function delivers on its promise, they must follow five key steps:
Ensure you're sourcing data from as wide a pool as possible from both inside and outside the organization. Significantly, procurement must ask the right questions of this data: so, don't simply look at what was purchased and at what price, but also look at why it was purchased.
Make sure you're putting in place the technologies that help make sense of the data and draw out critical insights in a format the business can act on. This will include AI, natural language processing, analytics and bots.
Create new, intuitive user experiences. The easier it is for a person to use a new tool the more likely they are to use it and to exploit all its functionalities.
Build a cross-functional team comprising data scientists, AI specialists, category experts and IT & design professionals. True digital transformation requires a new skill set and the race is already on for organizations to secure the talent they need.
Ensure that all your procurement policies & procedures are outcomes based. Conduct a full review of procurement policies and procedures and your operating model, and then ensure everyone understands their new responsibilities.
Get your transformation underway
Let's be clear: the digital transformation of procurement won't be easy. It will take time for a business to collect the necessary data and develop the systems needed for digital transformation. As a result, few businesses can afford to delay: you must act now if you want to ensure your procurement function is still competitive in a few years' time.
What's more, the digitalization of procurement is only the first step in an ongoing journey for industrial enterprises. Over the course of the next few years digital leaders will expand their data collection activities, opening to a wider range of data sources, many of which will come from outside their immediate ecosystem. This approach will allow them to enhance corporate decision-making and innovate new business models that will allow them to win greater market share. Our advice to all businesses is clear: you can't afford to delay; start your procurement transformation immediately to avoid disruption in the near-future.
For more on the digital procurement visit Accenture.com.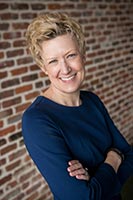 Kristin Ruehle leads the Procurement BPS offering globally for Accenture Operations. In this role, Kristin helps guide the development and enhancement of Accenture's end-to-end Procurement BPS capabilities across the globe, including sourcing and category management, and procure to pay. Most recently this includes envisioning the next generation digital procurement. Kristin is passionate about helping companies architect their own procurement transformation and, prior to her role as the offering lead, she led large source to pay transformation programs across a variety of industries including retail, pharmaceuticals, public sector, and financial services.