Industry 4.0 capabilities are indispensable in helping protect supply chains, customers, and employees during a disaster.
By Judy Cubiss
Some manufacturers didn't wait for the Defense Production Act of 1950 to compel them to expedite and increase production of medical supplies during the COVID-19 pandemic. As talk of invoking the 70-year-old law was getting serious in March, certain companies were already busy recalibrating their factory operations, collaborating across industry lines and shifting their workforces to meet the needs of customers and communities, compelled to do so by their own survival instincts and sense of corporate responsibility.
Among them was Ford Motor Co., which indicated it was lending its engineering expertise to help 3M scale production of powered-air purifying respirators using a combination of 3M and Ford parts. Fellow automaker General Motors was collaborating with Ventec Life Systems on a similar mission, with Ventec leveraging GM's logistics, purchasing and manufacturing resources to quickly make and distribute ventilators to meet spiking demand. Even Bauer, a Canadian company that makes hockey equipment, was reportedly poised to enter the fray by pivoting its operations to mass-produce visors for medical personnel.
The pandemic not only exposed vulnerabilities in even the most diligently modeled and tested contingency plans, it also put a premium on manufacturers' ability to collect, analyze and promptly act upon fresh data from across an enterprise and across a supply chain when disaster strikes. Besides enabling companies to overcome supply chain disruptions to meet the needs of their customers, these capabilities also empowered certain manufacturers to pivot their businesses in ways they may never have imagined pre-COVID-19.
During the pandemic, the handful of Industry 4.0 digital capabilities listed below have given certain manufacturers a clear advantage. Don't be surprised if these capabilities are in even higher demand for their ability to strengthen manufacturers' contingency planning as well as their responsiveness during a disaster:
Real-time supply chain visibility to connect manufacturers with rapidly changing market signals. With the ability to gather real-time supply and demand information at every point in the supply chain, right down to the point of sale, manufacturers and their supply chain partners gain the critical insight they need to inform their production and logistics decisions amid fast-changing circumstances. A high level of supply chain visibility can enable manufacturers to bolster production in response to surges in demand for certain materials, components/subcomponents and products, as companies like GE Healthcare did, ramping up production of CTs, ultrasound devices, mobile X-ray systems, patient monitors and ventilators.
With the ability to communicate and collaborate with one another in real-time on a digital platform, as GM and Ventec and Ford and 3M apparently were doing in concert with government entities and healthcare providers, a manufacturer and its supply chain partners could coordinate a timely response and cooperatively manage logistics based on what the data was telling them, so products could get where they need to be, quickly.
Intelligent factories and connected supply chains enable pivots in a pinch. Despite suspending many of its automotive production activities, Volkswagen's engineers were far from idle. Instead, in March the company reportedly was investigating how to produce ventilators using 3-D printers. With sensor-equipped and Industrial Internet of Things (IIoT)-connected factory assets, including 3D printers, VW was contemplating pivoting its operations to produce the goods communities needed. With a connected digital supply and logistics network, once it gained access to the blueprints, Volkswagen could collaborate with suppliers to get necessary materials and components, and with government entities and healthcare providers to see how they can help get products where they needed to be in a timely manner.
Factory automation to minimize supply chain disruptions. For their ability to continue producing goods with minimal reliance on human beings, automated production capabilities are critical to disaster response. In certain segments of manufacturing, full automation — lights-out production — is not only possible, it's practical. Automated equipment on the factory floor can be connected to ML- and AI-equipped asset-monitoring and management tools, and monitored remotely to ensure production continues with virtually no human intervention. This in turn frees people to focus on the higher-priority tasks that inevitably arise during a disaster.
With more manufacturers likely to consider re-shoring production to North America, factory automation also helps to compensate for the higher labor costs of doing so.
Premium predictive capabilities. Disasters tend to magnify the negative impact of manufacturing equipment failure/downtime. With powerful ML-driven predictive analytics tools used with digital twin capabilities, a digital representation of a specific asset or system, manufacturers can digest huge volumes of data quickly to predict maintenance needs, so they can keep assets and factories functioning optimally. Digital twins modelled as part of an entire supply chain could be used to identify strengths and vulnerabilities, and predict performance and behavior when certain variables are adjusted.
Empowered people. As important as digital capabilities are to contingency planning and disaster response, human beings and their skill-sets remain a manufacturer's most valuable asset. It's vital that manufacturers find ways to keep their employees ready, willing and able to mobilize during and after a disaster.
As became clear during the COVID-19 crisis, Industry 4.0 digital tools can help manufacturers in that regard. To meet demand for certain equipment, GE Healthcare hired additional manufacturing employees and shifted current employees to where they were most urgently needed. It also indicated it was monitoring the health of its field service engineers and providing personal protective equipment for them when servicing devices, as well as increasing remote diagnostic and repair capabilities.
Companies that treat employees like the invaluable resources they are — during a crisis and otherwise — will be best positioned from a talent perspective to hit the ground running when business returns to some level of normalcy. Let's hope that happens as soon as possible.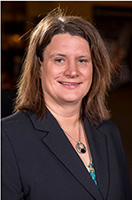 Judy Cubiss is the Global Marketing Lead for Industrial Manufacturing and Automotive Industries at SAP. She can be reached at judy.cubiss@sap.com.