A new survey shows that many manufacturers face digitization challenges and are still in the early stages of their transformation journeys.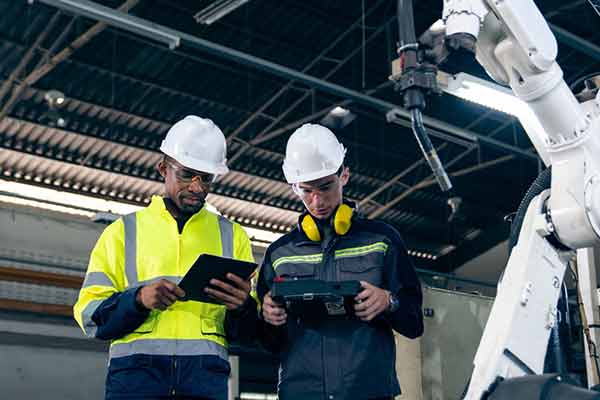 Manufacturing and supply chain organizations are increasingly recognizing the importance of embarking on a digital transformation, acknowledging that digital operating systems and holistic supply network digitization is key to ongoing competitiveness.
However, in a recent worldwide, multi-industry survey of manufacturing and supply chain companies, 46% indicated that they are still in the early stages of their digital journeys and a quarter are unsure where to start. The survey was conducted by Competitive Capabilities International (CCi), the people behind the TRACC continuous improvement solution. "We found that there is some way to go before most manufacturers will start to unlock the benefits and full potential of digital transformation," says Jacques Matthee, CCi's Products Director & Chief Technology Officer. "The business case for investing in digital transformation and the critical mix of planning, process, technology and culture to achieve transformation objectives is not yet widely understood."
Technology integration is a hurdle
The survey indicates that capex resource is not the biggest obstacle to digital transformation, with practically no respondents expressing reservations about the financing of technology investments. This correlates with industry spend tracking reports and forecasts, reflecting that organizations strengthened digital investments in response to the pandemic, and that these will accelerate further at a 16.5% compound annual growth rate (CAGR) in the three years to 2024.
Significantly, however, 35% of respondents identify the integration and consolidation of technologies and digital platforms as their biggest obstacle. It's clear that the adoption of converging technologies, including automation and robotics, 3D printing, artificial intelligence and machine learning, is being implemented in a relatively ad-hoc basis. "A coherent technology strategy, including prioritization and phasing, is critical," Matthee advises.
He adds: "However, it's important to remember that trying to solve tech issues first can lead to failure. Once the business case has been approved and the necessary funding made available, the next step to a successful digital transformation is building a culture that supports it. Once you have agile, self-organising teams in place, tech problems will be more readily resolved."
Culture as the transformation catalyst
Even those organizations well down the migration path continue to struggle with key issues. One is the digital dexterity and overall capability of the workforce and the design of an ongoing program of training and upskilling.
Linked to this is the need to embed a culture attuned to change, problem-solving curiosity, and innovation. Paradoxically, digital transformation is first and foremost about people, because culture is the most important part of any change management initiative.
The survey reveals that around half (52%) of organizations will be treating culture and change management as a primary focus for the remainder of 2022, and a third intend to prioritize skills development and training. Matthee supports this focus on culture and skills development. "Digital skills are not only required to deliver technology solutions, they are also vital in the new world of work where teams are going one step further and leveraging digital technologies to become more client-centric, learning-oriented and self-organizing,'' says Matthee.
The role of leadership
Overall, the survey data indicates a degree of inertia on the part of manufacturing leaders. Matthee attributes this, in part, to a lack of digital experience. To overcome this, his advice is to balance a technology-led transformation with a market-led development of their existing strategies. "Look at digital transformation as a step-by-step process. Make sure the foundations are in place, plan each phase, and synchronize its execution."
In addition, Matthee stresses the importance of committed, ongoing leadership engagement with the transition process. The discipline and behaviors of leader standard work will help to root the appropriate culture and create impetus in making the transformation a success.
Driving value creation
The digital paradigm of manufacturing is rich with opportunity. But to capitalize, organizations will need to prioritize their transformation agendas. The status of many, as yet, is not primed for the digital context requiring revitalized connections between people, processes and technology. Only by expanding their all-round digital capabilities will they be able to remain competitive, innovate for growth – and be prepared for new waves of change.
Manufacturers with existing operational excellence programs in place will also find that their strong culture of continuous improvement and solid best practice foundation is helping them successfully execute on their digital transformation plans.
As Matthee says: ''Without the enablers of a successful CI culture — such as empowerment, data-driven decision-making and cross-functional teams — most organizations will struggle to leverage the benefits of digital transformation."
"Conversely, organizations that are demonstrating a commitment to transforming and embracing the new world of work are fast becoming employers of choice. Attracting and retaining top talent is critical in this time of post-COVID-19 recovery — digitally savvy employees want to work for progressive businesses that give them the freedom to deliver without bureaucracy. Ultimately, people are still our greatest asset and the cornerstone of a successful digital transformation initiative."
For further information and advice on coordinating your people, processes and technology for a successful digital transformation, contact CCi to book a demo.
CCi is a privately held global company that enables organizations to deliver sustainable results across the value chain using TRACC, a solution for continuous, integrated improvement.
Issued by:
Isabella Meyer (External Communications Manager)
Competitive Capabilities International
Cell: +2783 601 9097
E-mail: imeyer@ccint.net
About Competitive Capabilities International (CCi)
Established in 1987, CCi is a privately held, global company that enables organizations to deliver sustainable results across the supply chain through a continuous improvement solution called TRACC. With its core experience residing in manufacturing and supply chain best practices, CCi's goal is to 'unlock greatness' in organizational capability through proven experience in World Class Manufacturing (WCM), Total Productive Maintenance (TPM), Six Sigma, Lean and Supply Chain Optimisation.
Learn more:
ccitracc.com