By Smitha Singh, Digital Transformation Leader for Manufacturing, Virtusa
A robust manufacturing sector is the backbone of a healthy economy. Digital is here to stay and the manufacturing industry, already a leader in leveraging IoT, analytics and other technological innovations, can accelerate the pace of adoption to create more opportunities and better outcomes.
Global developments such as Industry 4.0 and the Industrial Internet accentuate the need for innovative solutions. The changing expectations of consumers influence the entire supply chain, directly affecting manufacturers themselves. Moreover, manufacturing decision makers have different expectations regarding the level of enhanced efficiency, cost reduction and, in more mature stages, innovation, as well as the development of new revenue sources.
With all the talk about digital across businesses, how does a manufacturer know if they are headed in the right direction? How can one be sure they are following the correct path towards digital transformation? Are they working on a right diagnostic and maturity model that evaluates "readiness" and identifies the "roadmap" for digital transformation?
Questions like these reflect an urgent need to imbibe "Digital First" as a character rather than random actions aimed at quick fixes to current issues. Although, understandably, the path will evolve, one thing is for sure – the direction taken needs to be the right one, aligned towards the right "North Star" that will identify what the right results are and knowing which approaches will produce them.
To achieve this goal, here are seven core attributes manufacturers need in order to be truly effective:
Customer experience: It is now an accepted fact that majority of buyers will pay more for a better customer experience. This really means that during each interaction with the organization, either during the buying cycle and/or more importantly for service management, the customer expects their customer experience to be convenient, easy and speedier with the ability to seamlessly switch between channels.
Operational excellence: Significant operational excellence can be achieved as an outcome of digitization. There is also much improved employee enablement through initiatives like mobility and operations on cloud for ease and convenience, thereby improving performance considerably. Nearly 40 percent of organizations cite complexity as the greatest barrier to improving operational excellence. Digitization needs to be focused on complexity reduction with innovative solutions to deliver higher throughput per dollar spent.
Performance tracking: A manufacturer is only as good as the machines that produce its products. Machines break down over time, parts wear away, and replacement costs can easily run into thousands of dollars. Performance tracking can enable preventive maintenance that aims to enhance machine utilization. It may include automatically signalling the repair of a broken part and reducing the load on the faulty machine. This is critical in ensuring all machines operate at maximum efficiency.
Analytics: This provides reasonable insights on trends, needs, and likes and dislikes, both internal and external, providing a complete view of the operations and its bottlenecks. Manufacturing can generate a comprehensive view of their processes to identify trends and events that seem to reoccur with an effective data capture and analysis. Furthermore, underlining systems can analyze data in various forms and structures from across sources, including social media.
Risk management: The pace of changes in business needs requires organizations to act fast on risks mitigation and take corrective actions to stay ahead in the race. Planning for risk allows companies to anticipate change, respond to potential threats, and be prepared to face business uncertainties.
Integration: Digitization is not possible without a well-integrated environment. A great digital experience is made possible only through seamless integrations across the technology ecosystems, not just internal but also with external entities like suppliers, vendors, financial institutions, and statutory bodies.
Security: Organizations have to take all precautions and cover themselves from security perils that come along with the convenience of transacting anytime and anywhere, and from across channels. Digital security, at various levels, is necessary, including applications, infrastructure level and all internal and external integration points.
Understanding the traits of digital enterprise is imperative for recognizing the accuracy of the path followed towards this goal. The above framework encapsulates these traits in the form of seven attributes. Irrespective of where the organization may be in the transformation journey, these can be reasonable parameters for assessing digital effectiveness overall.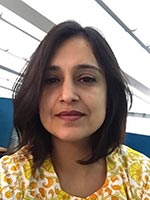 Smitha Singh, a vice president for Virtusa, heads the company's Infor Solutions-led Digital Transformation initiatives for Manufacturing business unit, comprising Aerospace & Defense, Industrial Manufacturing & Hi-Tech Manufacturing & Automotive Industries.
Prior to this role, Smitha held many responsibilities at Polaris Consulting & Services, building the Infor competency as well as managing global delivery for leading clients in Manufacturing business unit. She has defined and led winning strategies to build and expand the wallet-share of Polaris with these clients. Earlier, she also led many client relationships in the Banking space which included the second largest Client of Polaris.
Before joining Polaris in 2001, Smitha has worked for global organizations like Toyota and Sona Group in the Automotive Industry, building and expanding their business footprint in India.
Smitha hold a Master's degree in Business Administration specializing in International business from IFIM Bangalore.