Volume 22
| Issue 3
| Year 2019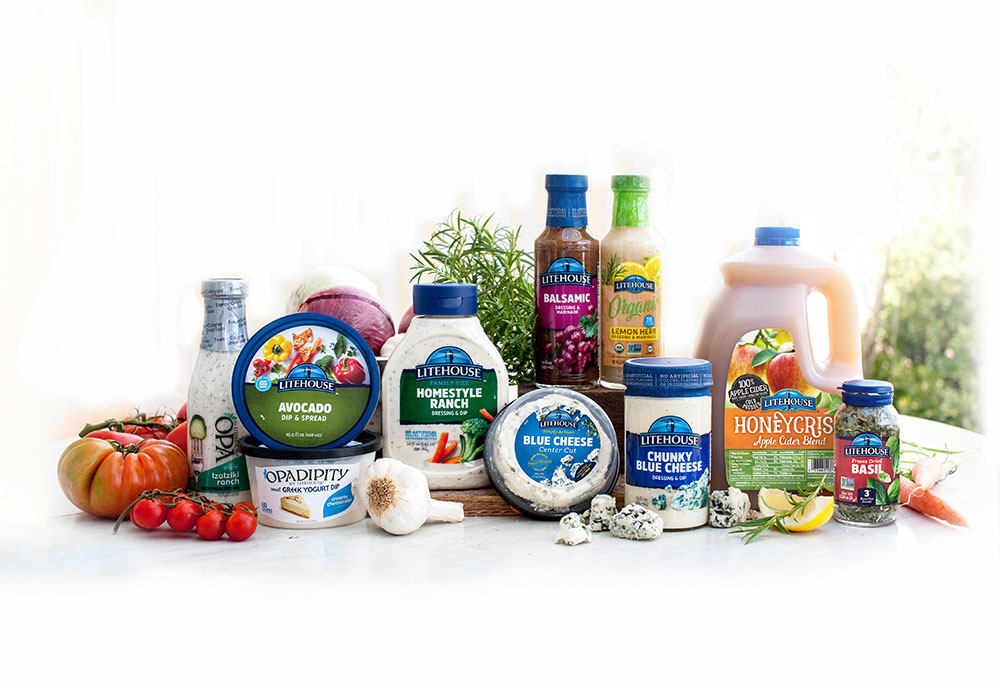 Click here to read the complete illustrated article as originally published or continue below to read the text article.
In addition to making the number one selling refrigerated salad dressing in the U.S. and Canada combined in 2018, and the number one so far in 2019 in the U.S. alone, Litehouse Foods is perhaps most proud of being a 100 percent family owned business. Though originally the family was that of founder Ed Hawkins, beginning in 2006 Litehouse made the transition to a completely Employee-Owned Stock Ownership Plan (ESOP) business. So the company tag line of "From Our Family to Yours" literally encompasses a family of employees wholly invested in making the best products available.
Now these products not only include a variety of more than 138 retail dressings, dips, herbs, cheeses and apple ciders sold to grocery retailers and foodservice companies, but with the recent acquisition of Sky Valley Foods and its Sky Valley® and Organicville® brands, an additional range of organic shelf-stable dressings, condiments, marinades and sauces.
Litehouse has grown over the some sixty years since its inception, mostly in response to increasing demand as well as by adding innovative new products sold throughout North America, as well as Mexico, Central America and the Caribbean. However, as Kelly Prior, President of Litehouse points out, "We have acquired companies when the synergies aligned with our own commitment to high quality and real ingredients. The Sky Valley acquisition was a particularly great fit not only to add a complimentary line of center-store, clean label and 'real food' grocery products, but to expand our manufacturing capabilities to better serve our east coast customers."
He points out that the company's various brands—Litehouse®, Opa® by Litehouse® and Opadipity by Litehouse®, Instantly Fresh® herbs and Litehouse Simply Artisian®- -represent only one tenth of the products on the grocery aisle. "The alignment with Sky Valley is a great way for us to get a little more shelf space," Prior says.
Headquartered in Sandpoint, Idaho, Litehouse conducts manufacturing at five locations variously located in Idaho, Michigan and Utah. With the Sky Valley acquisition, Litehouse adds 132,000 square feet of manufacturing capacity in Danville, Va., with the potential to create 160 new jobs over the next five years in an estimated $46 million investment.
Prior emphasizes that in addition to continuing to make the Sky Valley and Organicville brands, the Danville facility will add the Litehouse brands to its production lines. "For about the last three years we've been looking at potential sites in the southeastern seaboard," Prior explains. "When Sky Valley came onto the market, everything fell into place. Not only was their product line an extension of ours, but Danville is strategically located within a days' drive up and down the east coast, but also into the Tennessee Valley. In addition, Danville has all the infrastructure, from the necessary utilities to a skilled workforce, to make it very attractive for us to operate there. Danville has been struggling over the past years as the textile and tobacco industries have declined, but they are definitely on the rebound. We're excited to be a part of it."
Danville Support
The city of Danville received a $600,000 grant from the Commonwealth's Opportunity Fund to support the Litehouse project, as well as a $340,000 loan and $220,000 grant from the Tobacco Region Opportunity Fund from the Virginia Tobacco Revitalization Commission. Additional support for employee training is to be provided by the Virginia Investment Program.
While manufacturers are struggling to fill job slots, Prior is confident Litehouse can recruit the necessary people. "We pay well, we offer good benefits, and being an ESOP is a huge attraction," he says. "Employees who have a sense that they have some skin the game are more motivated workers. Also, as a company, we want to help ensure our employees are prepared for their retirement, and as an ESOP we are in a better position to do that."
In addition, prior notes that, "While we've implemented automation in our manufactur ing processes to be more efficient and reduce production costs, we still require skilled labor. We're particularly proud to be a company that not only appreciates and values employees, but puts their interests first. That's why we are the organization of choice for the people who work for us. And its why we continue to grow as a company, because of the dedication and hard of our employees."
Commitment to R&D
Another crucial component of the continuing Litehouse success story is its commitment to research and development. "R&D is a multi-million dollar investment for us," Prior says, "that is absolutely mission-critical to support our customers and grow new sales. It's one of our key differentiators, to continually determine what consumers want and deliver innovative products in appropriate packaging that addresses those desires."
Indeed, these efforts were recognized by Food Processing magazine, which awarded Litehouse its 2018 R&D Teams winner in the medium-sized category. The award noted that the R&D department launches six to eight new products monthly, most for private-label customers. In 2017, R&D created or modified 712 product formulas, a 34 percent increase over the previous year.
Litehouse makes increasingly popular organic and non-GMO varieties of its products, as well as striving to improve nutritional content in all its dressings and dips. "Plant-based, dairy-free foods have considerable health benefits, such as reducing blood sugar levels," Prior points out.
Equally important to its constant improvement of the food content itself is how it is packaged. Case in point is a new 20 ounce squeezable package that Prior says is selling very well. "It's an easy way to dress a burger or pizza or salad," he says. "Another new value- added product is we're partnering to provide our dressings as part of a salad kit. You've got all you need to make a salad or a coleslaw in one bag. Retailers like it because it satisfies the growing trend for convenient packaging that consumers are increasingly looking for ."
Looking forward, Prior expects to integrate all its brands into the new Danville facility within the next 18 months. "We continue to aim to provide world-class service to our customers, partner with other manufacturers where the right synergies exist, maintain our focus on packaging that is both consumer- and environmentally friendly, and above provide the quality and innovation in a family of brands that consumers have come to depend on as tasteful and healthful choices for their own families."