Manufacturers using scheduling technology can effectively scale their workforce to market fluctuations and uncover areas for cost savings.
By: Steve O'Brian, chief marketing officer, Shiftboard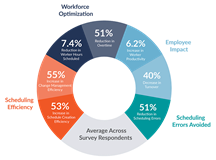 Today's agile manufacturing environments have led to complex workforce scheduling needs. Scheduling managers must balance multiple shift schedules across several locations, while also accounting for varying roles and worker preferences.
In addition, most manufacturers would like to optimize their workforce to meet production demands, but often encounter roadblocks. These include staffing to the necessary production levels, reducing labor costs with improved productivity, leveraging overtime and contingent workers, and maintaining compliance with labor laws and collective labor agreements (CBAs).
Typical Workforce Scheduling Challenges
Scheduling a manufacturing workforce has unique challenges, such as aligning the best-fit employees to meet production requirements, maintaining regulatory and union compliance, and balancing employee schedule needs and preferences with business goals. Adding to the pressure are current trends in turnover rates.
Studies show that employee turnover costs manufacturers hundreds of thousands, if not millions of dollars, annually. One report finds that two of five manufacturing companies (43 percent) report an average of at least 20 percent annual turnover. Many companies underestimate the high cost of turnover. To replace an hourly employee, a report found that turnover can cost employers nearly a third of an individual's salary, for instance, roughly $15,000 for someone earning a median salary of $45,000.
Depending on the workforce size and the skills required, turnover can result in a sizeable expense and will likely negatively impact production and morale.
The Antiquated Approach No Longer Works
Historically, a production manager manually scheduled employees for shifts based on skills, certification and seniority. Often this involved plugging employees into an Excel spreadsheet, printing the spreadsheet, and hanging it on the wall for employees to reference. Unfortunately, some manufacturers are still using this antiquated approach to workforce scheduling today.
Manual paper-based employee scheduling methods, however, are tedious and time-consuming, unable to quickly adapt to same-day scheduling changes, prone to errors, not equipped to manage overtime and hard to share with employees.
Furthermore, if a manufacturer relies on a specific skillset and one worker calls in sick, there can be a negative domino effect on the entire production line. Supervisors sacrifice time looking for a replacement, other workers are asked to cover their shift (potentially leading to burnout and tapping overtime pay) and the production line will move slower while tired or less experienced workers fill in for the missing employee.
Without an automated system to track sick days, quickly identify qualified replacements, and manage overtime, manufacturers experience a strain on quality, efficiency and productivity, ultimately impacting the bottom line.
Why Automated Workforce Scheduling is the Solution
An advanced workforce scheduling system can help manufacturers save money, lower turnover by catering to employee preferences, and ensure alignment with company policies to remain compliant. By automating complex, time-consuming scheduling processes while being conscious of vacation and overtime, employers can offer fairer and more equitable schedules. Furthermore, according to Harvard Business Review, by demonstrating fairness, managers and companies are more likely to be trusted by key stakeholders, including their workforces.
Intelligent and strategic employee scheduling is proven to alleviate top drivers associated with employee turnover. Shiftboard's studies found that companies experienced a 40 percent reduction in hourly worker turnover by leveraging their workforces with greater effectiveness. Shiftboard also found that improved responsiveness to fluctuations in labor demand can lead to a 7.4 percent reduction in labor hours and a 6.2 percent increase in productivity.

Most employee scheduling technology providers also deliver mobile access to users, which gives the workforce a more convenient and timely way to access or influence their schedule – a current trend in workforce preferences. Through a survey of 2,000 hourly employees, Shiftboard found that almost half would be willing to take a pay cut in exchange for more control over their schedule, and 55 percent claimed they would leave their jobs if they lacked control over schedules. Delivering on employee scheduling preferences can increase productivity and decrease turnover, all while boosting production results.
Employee scheduling technology also supports company-defined compliance rules and automatically applies those rules, making it easy to schedule only the most qualified person for the job. Additionally, automated scheduling can ensure employee schedules adhere to union, HR and other organization policies, leveraging the workforce in a way that makes sense for both the employee and employer.
Streamlining production and reducing costs are always top of mind for manufacturers, yet they may be overlooking a significant drain on the company: workforce scheduling. As manufacturing organizations dedicate themselves to finding and implementing an intelligent workforce scheduling software, they will see greater employee retention, increased productivity and better overall company performance.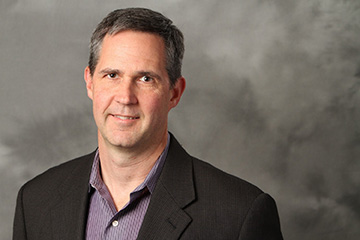 As the Chief Marketing Office of Shiftboard, Steve is responsible for defining the company's market strategy, growing demand for its workforce scheduling solutions, and accelerating brand awareness. He has more than 20 years of experience in building go-to-market strategies, driving demand generation, navigating corporate acquisitions, and launching new products.
Prior to Shiftboard, Steve was the VP of Marketing and Customer Success at Chronus, where he was instrumental in the company's evolution from early stage startup to market leader. He also helped double revenues while leading marketing at University of Washington Professional & Continuing Education. Before UW, he was VP of Marketing at startups Troika Networks (acquired by QLogic) and GraniteEdge Networks. He also spent 10 years in product management/marketing at McDATA and 3Com.
Steve holds an MBA from Westminster College and a BS from the University of Utah. An avid outdoorsman, Steve enjoys spending time hiking, biking, and skiing in the Cascades with his family and friends. https://www.linkedin.com/in/steve-obrian/