Oklahoma-based Gemini Coatings utilized its funds to remodel their facility into a hand sanitizer assembly plant during the pandemic.
During the unprecedented time of COVID-19, the Oklahoma Department of Commerce initiated the Reboot Program during April, 2020. The Reboot Program was designed to further support businesses who could significantly contribute to the fight against the virus. The awardees of the funds were primarily manufacturing companies who were provided the financial support to retool and develop new products and/or expand current capabilities to meet current and pressing needs within the country. The state program provided between $25,000-$150,000 to 37 eligible companies out of the 349 companies that submitted applications. One such company was Gemini Coatings, an Oklahoma-based wood coatings manufacturing company.
On a typical day, Gemini Coatings would be producing water based and solvent based wood coating products for interior and exterior wood furniture/fixtures. Chris Hicks, President and CEO of Gemini Industries, has seen his operations team take the initiative to convert a portion of one of their two manufacturing sites into a hand sanitizer production facility which was made possible by financial assistance from the Reboot Program.
This transformation required adding stainless steel piping, stainless equipment, enlarging the Deionized water system and more. Once ATF and FDA approvals were given, the facility began production of the hand sanitizer at an extraordinary 12,000 gallons a day production rate. The product is then transported to a different site to be bottled and later distributed.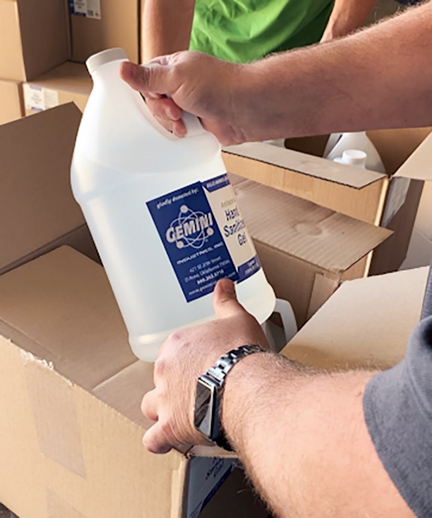 With the pandemic hitting close to home, Hicks wants to express his gratitude toward those fighting the battle on the frontlines; including his sister who is a nurse at Christus St. Michael Hospital in Texarkana, Texas, his brother who is the Deputy Fire Marshall in Texarkana, Texas and his eldest daughter who is a social worker at Methodist Dallas Medical Center, a county that has been hit hard with the virus. The company is donating a portion of their hand sanitizer products to first responders.
"Nobody wrote a handbook on how to run a company during a pandemic." stated Hicks. "Thanks to the Reboot Program, Gemini Coatings was able to overcome economic challenges, keep its staff employed and most importantly deliver a highly needed product that will help save lives in Oklahoma and across the nation."