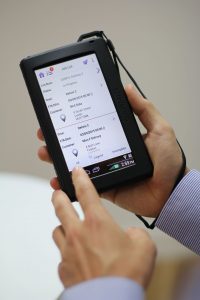 One way a retailer or field service operation can differentiate itself from the competition is to improve the customer experience it offers by offering a wide range of convenient delivery windows, accurate ETAs and timely communication. Every encounter a customer has with a business creates an imprint in their mind of the experience: if the experience is good, they will buy from that vendor again; if not, they will move on, and will probably tell their friends about it.
Customer expectations of good service are continuously changing, making delivery options like overnight or same-day delivery a common demand. This has proven to be problematic for logistics providers who have been forced to seek new ways to ensure they can fulfill their delivery promises. Real-time visibility of the delivery process using electronic proof of delivery (ePOD) systems brings transparency to logistics operations, allowing organizations to be proactive in providing customers with the best possible experience.
However, many logistics managers and drivers still rely on paper-driven processes to report their work progress. Paper-based, manual processes can detract from an otherwise good customer experience with inefficiencies created by human error, poor communications and workflow errors. Using an ePOD system, drivers view orders and customer details, including special instructions and can transmit the data collected at a job in real-time, speeding order fulfillment, lowering costs and improving customer service.
Replacing paperwork with a proof of delivery application ensures customers receive a professional and consistent on-site experience leaving them with a better lasting impression and confidence in the supplier. Electronic data capture can also make processes quicker, particularly important for customers who have taken time away from work or have paid a premium for specific delivery slots.
There are also a number of advantages for the delivery operation itself. These include:
Simple-to-use
ePOD applications prompt users with simple instructions, guiding workers through predefined workflows that remove the need to remember infrequently used procedures, allowing them to remain professional in front of customers at all times. These applications are easy to learn so mobile workers will quickly adopt them, making daily tasks easier and removing the frustrations of delivery paperwork. This ease of use means drivers are less likely to make errors on forms, reduces the need to call headquarters or the dispatch office with a question and can lead to the completion of more jobs per day.
Deter Disputes
ePOD applications deter disputes with customers by allowing drivers to take pictures of delivered items and capture GPS time stamps, proving a delivery occurred, what state the product was left in and where the items were left. This accurate information reduces the likelihood of any dispute occurring. When a delivery has a non-standard outcome (such as 'item damaged') workers can follow pre-defined instructions to take steps for solving the problem immediately.
Reduce admin time
An electronic proof of delivery system can speed up various internal processes. Job data is automatically transmitted between order management, ePOD and/or invoicing systems to further improve productivity. With an advanced electronic proof of delivery system, companies can also automate pre-delivery customer notifications which can lower required administrative resources. Replacing piles of paper delivery notes with a real-time electronic data stream cuts out the hours that office-based staff spend manually inputting proof of delivery details.
Improve communications
With ePOD, drivers electronically capture all of the necessary information they need whether it's notes, signatures or decimal values, making the on-site encounter both quicker and easier for them. An electronic proof of delivery application guides drivers through consistent on-site processes so that each customer service offering is the same for every customer, every time.
Drivers can be prompted to complete added-value services, such as installation or packaging removal. Messages can be attached to specific jobs to alert drivers directly of any changes in customer or order details.
Flexibility
With an advanced proof of delivery application, managers can specify the order in which drivers complete jobs to ensure costs savings from any optimized routes are realized. Drivers can also skip a job, capturing all of the relevant details, such as a photograph of the front door when a customer is not in, and if appropriate, return later in the day to complete the delivery reducing lost time in their delivery schedule.
Management screens and reporting
Centralized management consoles provide office-based staff with overview screens that are easy to understand with visual representation of daily progress, including job status and driver location. By being able to monitor the real-time data stream, managers can proactively monitor and manage mobile teams. Business specific electronic questionnaires can be completed by drivers out on the road, setting off alerts if data falls within certain parameters. If managers receive an alert, they can drill down into job details to answer customer queries or rectify issues quickly. A reporting dashboard allows supervisors to review information for trend analysis, performance management and continuous improvement.
Customer expectations of the delivery experience are higher than ever. Profitably providing a no-hassle, professional service with clear communication throughout the process can be challenging. With an ePOD system, customer service improvements are easily implemented alongside operational efficiency enhancements, cost savings and productivity increases.