In July 2017, the National Paper Trade Association (NPTA) established the Emerging Leaders Network. The program gives emerging industry leaders from within NPTA member companies a voice and provides opportunities to connect and build relationships through education, networking and involvement with projects that directly impact NPTA's leadership. The goals of the program, as defined by the Emerging Leaders Network Task Force, are to:
Create a forum for emerging leaders to network with other emerging leaders in the industry
Create an opportunity for emerging leaders to network with NPTA's leadership
Provide educational opportunities
Create a working group for actionable NPTA initiatives
Create a pool of future NPTA leaders
The program launched at PRINT17 (Graph Expo) in Chicago, IL on Tuesday, September 12. The inaugural class, consisting of 13 people, participated in NPTA's Paper School, a half-day program that teaches important topics in paper. Paper School kicked off with a guided tour of the PRINT17 trade show floor which highlighted some of the most advanced printing equipment in the world. The tour was followed by six educational sessions taught by industry leading experts from top paper mills and merchants; session topics included paper manufacturing, paper and the environment, uncoated papers, coated papers, digital printing primer and a distributor presentation. After attending Paper School, the inaugural class of the Emerging Leaders Network was equipped with a solid understanding of the fundamentals of paper therefore allowing them to better understand the value their companies provide. An in-person meeting and networking event succeeded Paper School where the inaugural class was able to meet the NPTA board and lay the foundation for meaningful relationships.
"I'm honored to have been nominated for this program by Brooke Lee, CEO of Anchor Paper Co.," said Emily Dusold-Kroeger. "After our initial meeting in Chicago, I am confident that my participation in the Emerging Leaders Network will allow me to meet even more important colleagues outside of my company and support NPTA, an organization that serves as a voice for our industry."
In addition to their meeting at PRINT17, the Emerging Leaders Network will have organized, in-person meetings at the following events*:
Paper Distribution Conference (PDC) – January 23-24, 2018 in Naples, FL
Meeting will run concurrently with NPTA Board of Directors meeting, and Emerging Leaders will be able to participate in conference programming and networking events.
University of Innovation Distribution (UID) – March 11-14, 2018 in Indianapolis, IN
Emerging Leaders will be able to participate in the educational programming and a group networking event.
*Registration and housing as well as air and ground transportation is the responsibility of each participant.
If you would like to nominate a colleague for the January 2018 meeting, visit www.goNPTA.com/EmergingLeadersNetwork.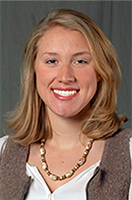 Claire Sereiko is the Senior Marketing Coordinator for the National Paper Trade Association.