Volume 3
| Issue 3
| Year 2007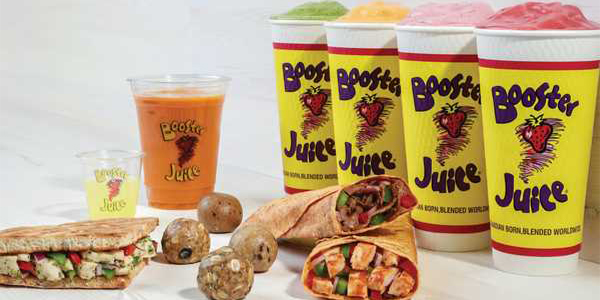 Leave it up to an electrical and mechanical engineer to invent and market a leading beverage product that boosts your metabolism, your health and your spirit via various minerals and vitamins.
What, you say? Engineers created Booster Juice, that popular franchise that has grown across Canada and the United States in eight short years? Well, according to co-founder Jon Amack, it makes perfect sense. The various disciplines and processes that go into engineering can be smartly applied to the realm of business. Outside of that, common sense and believing in your product helps.
And it doesn't take, well, an engineering degree to recognize that health beverages, along with health foods, have experienced solid growth in the last several years. But Booster Juice might be healthier than most: every smoothie contains an added boost – hence the name – which, depending on its particular mix, loads you up with essential vitamins and minerals.
The first boost
The venture began in1999 when Amack and his partner, Dale Wishewan, both of whom owned an engineering company, were separating from a recent annual outing. They were in Portland and Wishewan was preparing to head back to Edmonton. "I took him to a juice bar and asked him if he'd ever seen one in Canada and that kicked it off," Amack recalls. From there the pair worked quickly: They formed their business plan in August that same year and had opened 17 locations by 2000.
Using a Regional Development model in the U.S. to expand to 25 locations by the end of 2006 and 75 locations by the end of 2007 in the U.S. market, Booster Juice is today Canada's largest smoothie chain through steady and strategic growth in both store sales and count. The partners plan a smooth expansion further across the U.S., Canada and internationally, with 200 locations by the end of this year and more than 300 locations in 2008.
"It was important to us in Canada to start in markets where people weren't familiar with a juice bar," Amack says. Applying an engineering study on the evaluation of statistics got the duo its name: A group surveyed favored Booster Juice with the highest score.
The two entrepreneurs were perhaps right in sync with this emerging trend in 1999; after observing the trailblazing dominance of Starbucks, many were trying to duplicate the chain's success and coffee concepts, Amack says, "were coming out of the woodwork." Those who were opting for juice bars, he adds, "were failing by the dozens – they were under-funded; people didn't look completely at all the angles." This forms the core of Amack's basic business tenet: "You have to decide who you are and go for it."
"You can't sell what you don't believe in, and that culture comes from the top down," he asserts. Further, the partners initiated their venture with no bank loans, which made their business easier to sell and allowed them to grow "with a social conscience."
At the same time Booster juice was getting its start, Entrepreneur Magazine was calling the Juice and Smoothie Bar industry one of the top 10 new business trends for the year 2000; since the concept has witnessed annual growth at a rate of 30 percent. Talk about a nice boost in the right direction.
Booster rockets
Amack says that Booster Juice's concept is geared toward active lifestyles; with 80-plus carbs, these drinks suffice for meals on the run, power breakfasts, energy enhancers, workout snacks and afternoon treats. The Booster Juice bar's atmosphere is bright, energetic, and Amack guarantees, "You'll be in a better mood when you walk out."
The juice menu was created by the partners who "just started developing recipes, with the concept of what we could put in them to get good nutrition." They both knew they needed something that would sell … even when the temperatures dip to the same degree as the smoothie. "We were selling smoothies at 30 below when we opened the doors," Amack recalls. "We knew we had to offer something substantial."
Given the punch that these drinks pack, substantial might be an understatement. If you're feeling a bit run down, choose the Cold Warrior Booster with Echinacea and Goldenseal – two of the best herbs for building your immune system. Needing a bit of extra energy? Go with the Energy Booster, a blend of Korean ginseng and bee pollen. Other boosters that can be added to your favorite smoothie include:
• Power Booster™: A high-powered metabolite that regenerates your muscles' ultimate energy source; specially designed with Creatine;
• Protein Booster™: 9g of soybased vegetarian protein;
• Combo Booster™: A food supplement with something for everyone; a complex blend with Flaxseed and Rosehip;
• Thermo Booster™: Control hunger with this blend of Kola Nut and Hawthorn;
• Booster™: A natural source of calcium;
• Wilderness Booster™: A wild blend of Spirulina, Barley grass, Wheatsprout and Alfalfa
• Fiber Booster™: A blend of Wheat Bran and Fiber;
• Brain Booster™: With Gingko Biloba and Bilberry Leaf;
• Super Boosters: Whey Protein Super Booster™ has 12 grams of the perfect whey isolate and concentrate blend;
• Matcha Super Booster™: Known benefits include improved mental alertness, stress reduction, and increased metabolism. Over 137 times more nutrients than steeped green tea.
In addition, Booster Juice is planning a new pomegranate booster that it will soon introduce, in line with growing awareness on this super fruit's benefits. And Booster Juice sells more than smoothies with its various boosters: You can also get an assortment of wraps and paninis, which, paired with a smoothie, makes a great meal combo.
So being a team of engineers has effectively aided the pair in its business plans and while they didn't start out in the food service industry, Amack and Wishewan certainly have been able to apply a certain amount of common sense and engineering aptitude to their expanding juice bar business; in fact, as Amack says, owning a restaurant franchise is nothing if being all about processes, a fundamental principle in engineering. As Amack brags, " We can get a smoothie out in one minute, 20 seconds – if there's one thing we can do, it's process. Engineers are processed based. As a franchisor and as a restaurant owner processes are important."
To those it teaches its processes to, a.k.a. the franchisees, Booster Juice offers a 12-day, two-week franchise-training program in Oregon, and also employs regional developers in major markets. Currently all of its activities are paying off: The company has seen double-digit growth and year over year, a 36-percent increase from February to March in the U.S.
So perhaps Booster Juice's founders can teach others the fundamentals of engineering as applied to the restaurant business. Or perhaps they can just provide some good basic know-how: "You're store has to be convenient and easy to access," Amack says. "You have to believe in what you're doing so that you're customers believe in your product."