As the COVID-19 pandemic rages on, how can we continue to support those who have worked through its many risks and unknowns?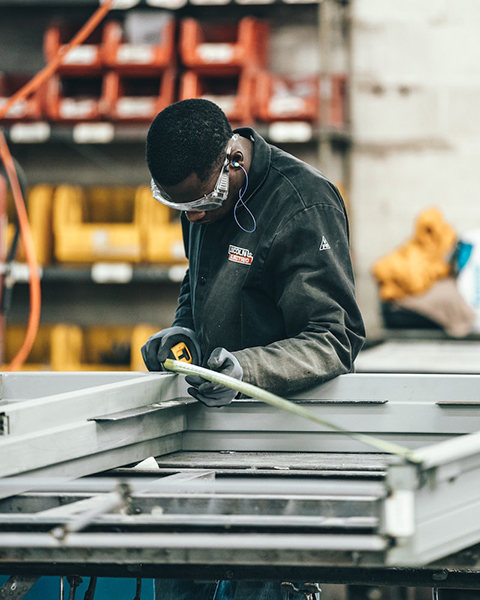 The COVID-19 crisis brought stress to everyone's life, but for some people, work didn't move indoors. Those on the front lines of manufacturing still had to go out, taking health risks while also working in an industry in the throes of a crisis.
Although mechanisms to protect employees' physical health were rolled out quickly, support programs for mental well-being were slower to emerge. Only around half of manufacturing employers have surveyed their workers to better understand what kind of mental health support they would like to see, for instance. And unfortunately, just under one-third of their workers believe their employers view their mental well-being as a true priority. All of this — and considering that more than one-third of workers who use substances say they've recently increased their usage to help themselves cope — is proof that much more needs to be done.
The consequence? Employee engagement in the manufacturing industry is waning.
What Today's Challenges Look Like
What are the main stressors driving this mental health crisis? Workplace challenges have appeared in four distinct phases:
Inception: The initial impact of the crisis was sudden and shocking — lockdowns, immediate financial implications, health and security concerns. Workers saw a reduction in shifts and unpaid leave or layoffs, raising concerns that they could be impacted next.
Coping: The pandemic-era workplace has been hostile to front-line workers due to fears of contamination, financial insecurity, increased workload due to reduced staff numbers and, in some cases, lack of access to healthcare.
Losses: As the virus raged on, more and more people experienced death and loss. They were grieving or worrying about loved ones while still at work.
The next normal: As yet another variant spreads across the globe, businesses must embrace the "next normal." Meanwhile, the combined effect of a prolonged pandemic and compounded trauma is increasing stress levels further.
We are now in a state of collective trauma — and businesses are certainly seeing the effects of this on their employees. According to a Kronos study, 51% of workers feel unmotivated. On top of that, absenteeism and turnover have reached new heights. If employers can gain back this lost productivity, they could save collective billions per year, not to mention reduce stressors in the workplace and make employees happier.
How Executives Can Create Meaningful Connections With Front-Line Employees
In order to help and motivate front-line workers during this difficult time, those in the C-suite must address their unique concerns. Here are three steps to boost employee well-being today:
1. Adopt better communication practices.
Open lines of communication can mean the difference between an engaged employee and a disaffected one. In fact, workers who feel heard in their company are 4.6 times more likely to do their best work. So what does this mean? Good workplace communication is regular, transparent, and patient. If there's a problem within an employee's team, leaders should address it not in abstract, but directly.
This includes mental health concerns — to talk about them is to destigmatize them. And remember that effective communication always goes two ways. Talk to employees, but also let them talk to you as often and for however long they need.
2. Get serious about wellness.
Lip service won't make anyone feel better for long. Manufacturing companies need to implement comprehensive wellness programs that include support surrounding financial literacy, physical health, and mental health (as well as substance abuse). These are real challenges impacting the lives of people at work. As such, wellness programs should be crafted in consultation with employees and be confidential so that employees do not feel worried that using them will harm how they're treated at work.
Another way to address employee mental health is to also create a healthy work culture. Train managers on how to deal with stress. Additionally, give workers the tools to manage their own mental health, including resilience and stress-management education, meditation opportunities, and mindfulness training.
3. Make employee benefits truly supportive.
Companies also play an important role when it comes to supporting employees outside of work. Businesses have a critical responsibility to look after the well-being of their employees by providing them with comprehensive health insurance, for example. These plans should also cover counseling, medication, and telemedicine so that employees feel fully cared for.
Besides this, companies should consider giving employees ample paid sick leave. The quicker workers can get the care they need, the faster they will be able to get back to work. Paid leave sends a message to stressed employees that everything is OK — you don't have to choose between burnout or your job. It also has the potential to reduce absenteeism and turnover, as workers feel healthier and respected and have a greater sense of belonging.
Better insight into the state of employee well-being and a playbook of strategies for reducing stress in the workplace will lead to higher levels of performance — whether that's for you or your employees.
Sinazo Sibisi is the managing director of the Africa, Canada, and Australia regions at Wyzetalk, a leading digital employee experience platform that enables employee communication and improves employee engagement for front-line and nondesk workers. With more than 30 years of executive experience, Sibisi has a passion for socially responsible business and innovation.