by Brian Trombley, National Sales Director, Data Conversion Laboratory
Some of you might remember when the nightly news used to intro or outro their segments with an important audio reminder: "It's 11 o'clock, do you know where your children are?" The intent was to make you stop, think, and come to the quick conclusion that your children were tucked away safely in bed.
The same question could be applied to your valuable marketing assets. Hopefully you have them tucked away safely in a repository of some sort where they are carefully preserved and used for maximum business benefit. But even if you have secured these important pieces of your business' communication, they only have value if you can find them. You should be able to locate exactly the asset you are looking for at the time you are looking for it. Moreover, just because you have them secured in some sort of repository, typically a Digital Asset Management System (DAM), that does not mean you can easily find what you are looking for – unless you have clean, complete, and consistent metadata to search on.
One of the world's largest private companies recently reached out to Data Conversion Laboratory (DCL) for assistance in getting their metadata right so that important content assets could be easily found for their global marketing effort. When you are a company whose products and services touch 80% of the food products on the shelves of any store anywhere in the world, making sure your marketing is on point and easily managed is paramount.
For this client, many of the day-to-day assets, tens of thousands of them, were not correctly and adequately tagged with descriptive sentences and keywords. DCL analyzed the task at hand and found that there was no way to automate, even partially, the process, which is preferred for speed and consistency. But even so, the client had faith in DCL's ability to deliver the same quality of work in a manual process as in an automated process. DCL's unique capability to customize their process for this client's specific needs was essential to the project's success.
DCL rolled up its sleeves and took on the challenge of manually reviewing and updating the descriptions and keywords for each of the assets. Sometimes there is no way other than brute force and intellect to get through this type of effort. DCL assembled a small team of knowledgeable resources that reviewed the information on each asset and then updated, corrected, and enhanced the metadata over a few months period.
The results speak for themselves: The marketing staff for this gigantic corporation can now find exactly what they are looking for quickly and painlessly, making it easier to get on with the important task of moving their brand forward.
The success of this project led to a second project for this company integrating marketing assets from a recently acquired company. These assets had some keywording that needed to be maintained, including some non-English local language keywords, but required descriptive sentences and additional English keywording. There were also some keywords and phrases that needed to be added to all of the assets. Because there were rules around how some of the keywords should be applied, DCL crafted a hybrid work model consisting of manual effort and some automation.
The importance of proper metadata and keywording is critical in driving efficiency and cost reduction and avoidance in global marketing efforts. Many hours and real dollars are lost searching for and recreating assets that already exist. Many times, DAMs are implemented quickly and without adequate budget to address proper search and retrieval aspects. We hear all too often – "We'll go in and clean up the metadata later. We just need to get everything into the system now." The thing is, "later" rarely happens and the investment in that new DAM never plays out to its full potential.
Getting it right the first time is critical in a world where marketers need to turn on a dime to defend and grow their share of the pie. Don't ignore or skim over any aspect of your DAM implementation. And if you have made that mistake, seek expert guidance on how to get on track to become fully competent in your digitally-driven marketing efforts.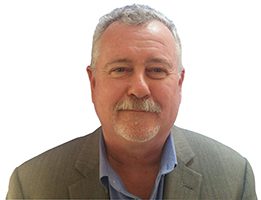 About the Author
Brian Trombley is National Sales Director of Data Conversion Laboratory (DCL). Since 1981, DCL has been a leader in helping organizations maximize the value of their content and data assets through digitization, organization, reuse, and providing greater accessibility. Contact him at btrombley@dclab.com.