From ERP to iERP
Manufacturers continue to make substantial investments in enterprise resource planning (ERP). In 2017, IDC forecasts that worldwide spending on ERP in the manufacturing industry will exceed $14 billion, with year over year growth of 6.3%. Manufacturers are shifting away from customizing ERP applications, and instead are looking to the next wave of ERP – intelligent ERP (iERP) – to support their requirements for increasingly integrated operations and digital transformation. iERP essentially leverages the power of 3rd platform technologies, such as big data and analytics, cloud, mobile, and social today. At its peak, iERP will also take advantage of innovation accelerators that include IoT, artificial intelligence, and next gen security, to provide a necessary foundation for manufacturers' business decisions and processes.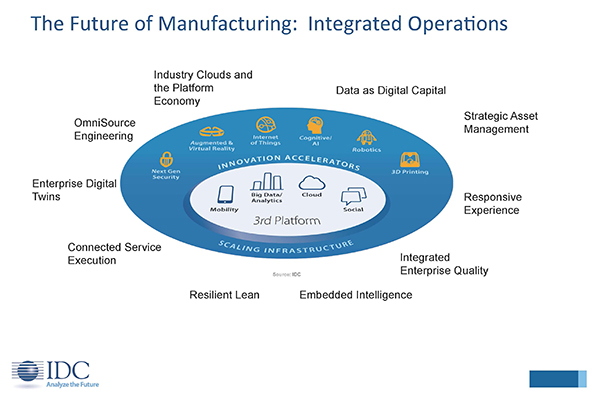 iERP: Integrated Operations and Information Transformation
In IDC FutureScape: Worldwide Manufacturing 2017 Predictions (IDC #US41837317, November 2016), we predicted that by the end of 2020, 50% of manufacturers will derive business value from the integration of supply chain, plant operations, and product and service life-cycle management.
ERP can be the anchor for integrated operations and is often called the system of record. But we're in a transition stage where systems of record are being replaced by new systems of intelligence. These new systems of intelligence or intelligent ERP (i-ERP) retain the core "systems of record" capabilities while layering in new technologies.
Manufacturers also want their ERP systems to help them manage an ever increasing volume and variety of data. While transaction data is the historical focus, an increasing amount of analysis incorporates machine/sensor data, GPS data, and unstructured data from social networks. This will also expand to incorporate rich media (audio and video).
Unfortunately IDC estimates that less than 10% of data is effectively used; yet we also estimate that manufacturing companies that take advantage of their data — in other words, undergo an information transformation — have the potential to raise almost $400 billion more in revenue compared with their peers, through the creation of products and services that their customer want and are willing to pay for.
i-ERP applications will act as intelligent systems that learn from exceptions and adapting business rules, allowing users to discover insights, better predict and plan for outcomes, recommend next best steps, and automate processes. i-ERP applications will also leverage machine learning, cloud deployment, and predictive analytics to leverage data in the right context. The user experience will assume mobile first and support collaborative and social means to get business processes done.
Some of the changes we're already seeing in ERP applications as they evolve to iERP include:
Enhanced user experience with more custom workspaces, personalization, configuration, and ease of use (in the office, on the road, and in the plant)
Simpler integration, deployment, and configurability
Integrated processes that rely on data from machines and sensors, coming from connected shop floor equipment, wearables, tools, and other mobile devices
Our guidance for this transition to iERP and increasingly integrated operations include:
Assess how well an ERP system can support your industry-specific requirements out of the box and review the vendor's roadmap for iERP and the adoption of 3rd platform technologies, especially in terms of cloud, big data and analytics, and IoT.
Use any investments in ERP as an opportunity to review your business process requirements, as well as the efficiency of your current processes. Consider this recent comment from a manufacturer: "Poor processes plus new technology equals expensive, poor processes."
Apply your ERP investments toward creating a system of intelligence that supports flexible, integrated operations and your digital transformation.
Finally, be sure your perspective of ERP changes as you shift to i-ERP. i-ERP should enable the flexibility to adapt and create new business processes necessary for digital transformation. Manufacturers depend on their ERP applications to support their core business processes and contain valuable business data. Their applications must be ready to bring them into the future.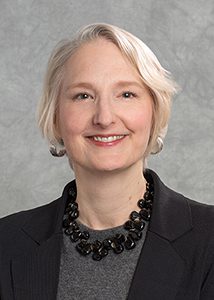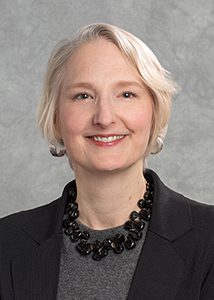 About Kimberly Knickle
As a research vice president in IDC Manufacturing Insights, Kimberly Knickle is responsible for research and analysis of business and IT issues for manufacturers. She leads the IT Priorities & Strategies program, which focuses on hot topics and technologies that are changing the way manufacturers buy and use IT, such as digital transformation, big data and analytics, cloud, IoT, mobility, and 3D printing. Knickle also contributes to the Product Innovation, Service Innovation, and Connected Products research. Follow her on Twitter @kimknickle