Factors you should consider to ensure you choose a system suited to your needs.
There are a lot of factors that come into play when selecting the right commercial refrigeration equipment for your business. Whether you're running a supermarket, grocery store, or a 5-star restaurant, the right refrigeration system is fundamental in preserving the quality and taste of your products.
If you're looking for new commercial refrigeration equipment for your business, here are some of the factors that you need to consider to ensure you choose a system perfectly suited for your needs.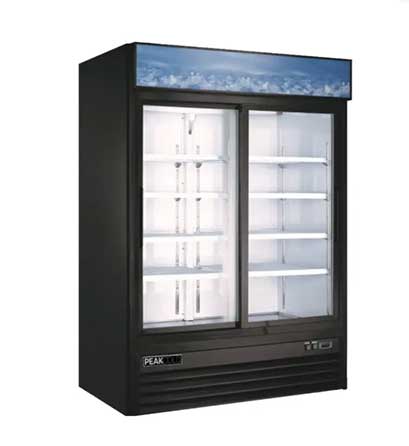 Size
When it comes to refrigeration space, size always matters. The larger your business, the larger your refrigerator needs to be. Although this is the golden rule when it comes to refrigeration, another important factor to consider is the rate of food usage.
If the food has a fast turnover rate, although you may be serving large amounts of food, you will not necessarily be storing all of the food at the same time. If you're confident in the efficiency of operations in your business, you may be able to get away with a smaller fridge.
Likewise, it is important to evaluate your current and future potential storage needs as it's always useful to have room to grow.
Functionality and Ease of Use
A refrigerator's ease of use, particularly in light of a grocery store setting, is not only essential for customers, but for the staff that need to maneuver shelf packing/ unpacking, cleaning, temperature controls, etc.
Doors should be easy to open and close well to avoid unnecessary energy losses. Other aspects, such as a simple interface controlling system, should be well-tailored to your specific needs.
Functionality and ease-of-use are foundational to any purchase and are not factors that should easily be compromised.
Brand
A part of buying anything is to measure up the quality of the product against its cost as you want to ensure that you get what you pay for. The same thing applies to refrigeration, except in most cases you need to be willing to pay for quality to minimize the risk.
If you are in the food business, the stakes are high and the quality of the food that you're serving is not something that you want to gamble with. In this case, buying a reputable brand, sometimes at a higher cost is in your best interest.
Energy Usage
When it comes to refrigerators, the largest cost may not lie with the appliance itself, but it's associated with long-term energy costs.
As energy costs continue to rise, choosing a more energy-efficient model is a good choice. While these tend to be on the more expensive side, they can help save you money in the long run. Energy usage varies from brand to brand so make sure that you consider this when looking at different models.
Style
One of the most important factors to consider when finding the right commercial refrigeration equipment is the style. You need to make sure that you get a system that is best suited for your business.
For example, commercial outlets or grocery stores need refrigerators that display all the items for customers and are easy to open and close. Alternatively, if you need refrigeration equipment for long-term storage, then you may need a walk-in freezer.
Sometimes, your specific needs may call for a combination of refrigeration equipment so make sure that you find a company or brand that can provide you with everything you need.
Lifetime Maintenance
Buying a commercial refrigerator is an investment and should be treated as one. When buying this equipment, you want to make sure that it performs well for as long as possible. This places emphasis on buying quality products upfront, and prioritizing maintenance so that you can use them for many years.
Periodic servicing should be done by a professional – either by the retailers of the product or a reputable servicing company.
The Bottom Line
In the food industry, the need for good refrigeration is undeniable. You have to be willing to make the best purchase for your business from its inception to avoid paying for it later. Be well informed and investigate a range of products to ensure that you are not simply making a purchase, but a company investment.
Trevor Crivello is the owner of Iron Mountain Refrigeration & Equipment in Bristol, Wisconsin. His company focuses on providing a vast selection of refrigeration equipment and supplies for business owners with commercial needs.