by Tommy O'Shaughnessy
The CMI 2017 content marketing report takes on the manufacturing industry
The Content Marketing Institute (CMI) is renowned in the marketing industry for producing high quality surveys, studies and research for content marketers. Each year they send out an annual survey to a sample of marketers across different industries to better understand the content marketing industry as a whole.
CMI's manufacturing report, Manufacturing Content Marketing: 2017 Benchmarks, Budgets, and Trends— North America, surveyed 201 North American marketers who indicated they worked in the manufacturing industry. 87 percent indicated they produced products and services for businesses (B2B), and 13 percent indicated they served both businesses and consumers (B2B and B2C). The report is jam-packed with great information (and I highly recommend you read it yourself), but there are five standout takeaways worth delving into further that speak to the state of the industrial content marketing industry.
Only 19 percent of content marketers in manufacturing believe their content is sophisticated
At first, this statement might come as a shock to anyone familiar with the concept of content marketing. The whole point of content marketing is creating valuable, educational content that speaks to your buyer at different stages of their buying process. However, speaking from personal experience, this is one of the biggest challenges industrial marketers face.
The industrial buying process is usually not simple, and more technically-minded buyers are going to come into that sales process at some point. Longer sales cycles with multiple influencers necessitate some content be written for that technical buyer. This is not to say that every piece of content needs to be full of equations and technical jargon. Start by really digging deep into each buyer persona's pain points and determining what questions they need answered. Develop concise, well-thought-out answers to each question, and sophisticated content will follow.
Every piece of content doesn't need to be groundbreaking research, but every piece of content does need to speak to your target audience in a meaningful way.
85 percent of manufacturing marketers are using content marketing
This data point took me by surprise. Our agency works exclusively with industrial companies, and a lot of those industrial companies happen to be manufacturers. Most of the manufacturers we speak with are using traditional marketing channels: print ads, trade shows and the like. However, the data seems reliable, and it's interesting to see content marketing take hold of more traditionally-minded marketers.
The data implies the bigger issue for most manufacturing marketers is effectively developing strategy and measuring results. Take a look at the statistic below.
Only 31 percent of content marketers in manufacturing have a documented content marketing strategy
While there seems to be a move toward digital and content marketing, only 1 in 3 manufacturing content marketers have a documented content marketing strategy. This is a big problem for doing effective content marketing. Content marketing is more than simply writing content for your buyer and magically seeing results. Content marketing needs to work hand-in-hand with data analysis to determine what's working and what is not. Data analysis starts by carefully documenting your strategy, executing and measuring results. This process needs to be cyclical, centered around quarterly reviews where results can be analyzed and efforts adjusted.
Start by defining your goals: "We want to increase revenue by 10 percent from content marketing efforts in the first half of 2017."
Then work backwards: A 10 percent revenue increase means $100,000 in sales. Our average customer buys $10,000 worth of product, which means we need 10 new customers. Our sales team closes 1 in 3 qualified leads, which means we need 30 qualified leads. 1 in 4 leads from the website are qualified, which means we need to generate 120 leads in the first half of 2017 to meet our revenue goal.
Having a clear goal in mind helps your content marketing efforts be laser-focused: Cut the fluff from your marketing and determine what will get results based on what has worked in the past.
71 percent of content marketers in manufacturing say content marketing increases leads, but only 53 percent say they can demonstrate sales revenue
This data point ties into the argument made above: Start with a sales goal in mind, rather than a lead goal. Measuring the quantity of leads is a good micro-goal, but understanding lead quality is missing from this metric. A better metric is the number of qualified leads, and the next step in truly understanding ROI is sales revenue. Understandably, this is a hard metric to obtain; you need complete buy-in from all sales reps and distributors to achieve a perfect ROI calculation. The sales team needs to share lead quality and sales data with the marketing team in order to close the loop.
Once the C-suite buys off on an investment in content marketing, make sure to inform the company from the top-down what you're trying to achieve. If done properly, content marketing means more qualified leads for your sales team, which can be a pretty convincing sell, and they'll be obliged to work with the marketing team on improving results.
82 percent of content marketers in manufacturing prioritized brand awareness, while only 62 percent prioritized sales
While brand awareness is definitely an important goal, a lot of marketers don't understand the power of a CRM that integrates with a marketing automation software. With the right tools in place, marketers can identify exactly what piece of content customers first interacted with online, which marketing channel they came from, what downloads they viewed, what content nurtured them, when they became sales qualified and much more. With this data, marketers can inform their own marketing efforts, as well as the sales team on what content different buyers find valuable.
This is why sales revenue needs to be the top priority for anyone investing in content marketing. Brand awareness can lead to sales, but knowing how many sales were made from content marketing can inform decision makers at a company which marketing channels they ought to reinvest profits into. Content marketing is about more than increasing brand awareness: it's about moving the bottom line in the right direction.
You can learn more about how Gorilla 76 helps manufacturing marketers generate leads and close sales by visiting our industrial marketing strategy learning center.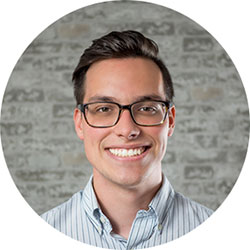 About the Author
Tommy capitalized on being a digital native by diving into the SEO world in college. Realizing get-rich-quick style SEO died long ago, he decided to round himself out by learning the ins and outs of online marketing. Tommy maintains a digital strategist role at Gorilla 76, a B2B industrial marketing agency.