From e-paper's very humble beginnings in the 1970s right through to the boom of the eReader, it's no exaggeration to say that EPD technology has had an interesting history. With an initial lack of understanding around the technology, e-paper was once perceived as a gimmick, so much so that companies were hesitant to integrate it into their products.
However today, electronics engineers and product design teams all over the world are embracing the technology and are acknowledging it is as a worthy alternative to glass. While glass is cheaper, flexible plastic e-paper offers wider-ranging benefits. Its rugged, lightweight, flexible, daylight-readable and low power functionalities are known to combat common user frustrations, making it a compelling option for displays across a range of sectors and vertical markets.
Inspiring innovation with e-paper
Devices, terminals, gadgets of all shapes and sizes are adopting flexible plastic e-paper displays in their droves, with wearables, digital signage and smart cards a few of many applications that are doing so.
Wearables
From smart jewellery and watches to clothing and backpacks, e-paper is already widely used in the wearables industry. The flexibility and innovative potential offered by plastic display technology can elevate simple wearable products into head-turning, fashionable ones that allow individuals to customise and personalise to reflect their personality.
The Tago Arc from L!BER8 is a good example. It's an elegant no-charge smart bracelet featuring a flexible display that adapts to a wide range of patterns and designs depending on the wearer's mood and style. To an end user, the robust, low power, lightweight and daylight readability functionality ensures that the e-paper display works for practicality as well as comfort.
Digital signage
Digital signage needs to be robust, legible and always on and e-paper displays tick all of these boxes as a superior alternative to LED, OLED and LCD.
Unlike LCD and OLED, which are hindered by bright sunshine, e-paper is daylight readable, in all conditions. It is also thinner and more lightweight, and still remains extremely durable, robust and shatterproof, which is perfect for applications where displays are exposed to wear and tear, for example in logistics and shelf edge labelling.
The bi-stable nature of e-paper displays, (i.e., energy is only required when updating the display, but not to maintain information on the display) is a particular power advantage since maintaining an always-on screen can be extremely energy intensive. Dresden Elektronik's 'deZign' e-paper transport timetables are a good example of e-paper displays used for outdoor signage where their low power, weatherproof, vandalism-proof and low maintenance functionality is superior to traditional electronic glass displays.
The smart card phenomenon
From healthcare and retail to security and FinTech, the smart card has become an integral part of our day-to-day life. But, rather than just stopping at embedding a computer chip, integrating a plastic e-paper display can offer huge benefits to businesses in terms of flexibility, improved security and wallet slimming.
Several financial services companies are also developing credit cards with a flexible e-paper display which allow the same card to be used for multiple providers e.g. Amex, MasterCard, Visa etc., so that the cardholder doesn't have to carry around multiple cards. The Fuze Card from BrilliantTS is a great example of this, allowing users to toggle between up to thirty cards using the lightweight and durable plastic e-paper displays.
While there has been a surge in demand for smart card applications of late, 2018 will see the first mass market adoption of new types of payment/smart cards that incorporate flexible e-paper displays, transforming what has been a fairly static product for a number of years now.
The Asian market will continue to dominate the market share in smart card applications, but at Plastic Logic we predict the smart card phenomenon to be a global one. The smart card is the future and we foresee that every credit card will have an e-paper display in the next few years.
Limitless possibilities
EPDs are permeating an increasing number of industries, much faster than ever before, particularly as new use cases for the technology are being discovered daily. For many applications, like wearables, digital signage and smart cards, these displays have a very powerful business case and can enable companies to tap into and explore exciting new opportunities for market growth, differentiation and competitive advantage.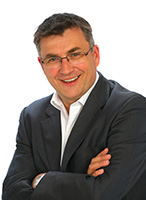 Tim Burne
Tim Burne joined Plastic Logic Germany as Chief Strategy Officer in September 2013, but less than 18 months later, he took on the position of CEO.
Tim has a proven track record in restructuring organisations to meet market demand and stakeholder expectations, as well as building and managing both domestic and international sales, engineering and operations teams from his previous roles at Sangoma Technologies and Sharedband.
Since becoming CEO, Tim has worked closely with his board of directors on the smart restructuring of Plastic Logic's Dresden factory. He has also created a new leadership team to build and position the company as a design and manufacturing powerhouse.