Volume 10
| Issue 3
| Year 2007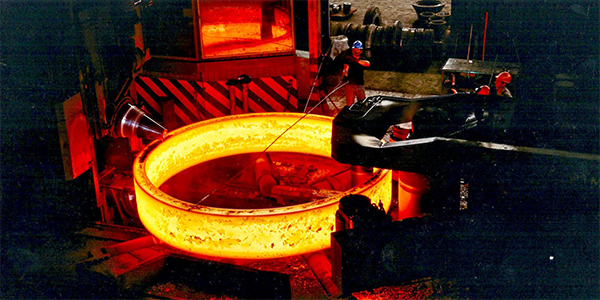 Founded in 1972 to service the specialized needs of niche markets requiring exotic metals with quick delivery requirements, All Metals & Forge, LLC has always been ahead of the curve. In 1989, it adopted processes to qualify for ISO: 9000 certification at a time when the metals industry as a whole saw such certification as an unnecessary intrusion of European thinking on American manufacturing; today, major customers not only embrace ISO certification, but have developed their own standards based on ISO and require suppliers to adhere to them. Now, with the launch of its new Web site, All Metals & Forge taps into the Internet to combine product marketing with an unprecedented comprehensive industry knowledge base. Whether it's for information about unusual metals and alloys or how to obtain them, www.steelforge.com is a valuable asset – for All Metals & Forge and for its customers.
According to Lewis A. Weiss, president of the privately owned Parsippany, N.J.-headquartered company, "Back in 1992, I went to this conference in Washington, D.C., a three-day session in which the government was talking about turning over this thing they called an Internet to private enterprise. I really didn't know what they were talking about, everything was in 'geek speak,' but when I came back from it I remember telling people if this is what I think it is, it's going to be unbelievable."
Weiss notes that when the company started its first Web site, "We did it because we wanted to be different. Of course, today, everyone has a Web site, but the primary purpose is to show products. Anybody can do that." In launching the fifth iteration of its Web site, containing over 1200 pages, Weiss again wanted to accomplish something different. To achieve it, All Metals & Forge brought in two top-notch specialty firms.
After an exhaustive search, the company selected Don Johnson Design (www.donjohnsondesign.net), a SEO and design firm (to create the pages and optimize them for organic results in search engines), and NetMark International (www.netmarkadvisors), a business strategy and advisory firm to manage the project. "At the time we started, it was very difficult to find an SEO company that understood design, or a design firm that truly knew SEO, but Don Johnson Design was highly skilled in both. Then there were the complexities of gathering, organizing, condensing, and conveying the strategic and tactical content of the business for maximum marketing impact, which NetMark managed for us," said Weiss.
"All Metals vision was to provide a single portal of information resources about metals and the metals industry," he explains. "Right now there are more than 300 technical articles up, along with a news feed from both business and international reporting services. There are also links to a host of industry resources, providing everything from the periodic table of elements to a glossary to a list of trade associations to international metal specifications. We've gathered over 40 years worth of data into a comprehensive conduit for details on metal purchasing, material specifications, industry news and white papers."
Weiss notes, "Right now the metals industry is dealing with fluctuating price spikes and scarcity of some materials. Anything we can do during these tough times to add value to our customers helps differentiate us and generate additional good will among our longstanding accounts, as well as generate new business. Sharing information is critical during a time when metal pricing is literally changing from one day to the next, particularly in nickel and titanium."
In addition, the site provides details about the company's products and services, as well as press releases and downloadable brochures. "I used to print up 250,000 catalogs each year and 'shotgun' them out to potential prospects. Printing and mailing cost me about a half million dollars. Now, I've got a 38-page pdf (portable document format) on the Web site that, if anyone's interested, they can download any time they want. That's a strategic marketing change that paid for all my Web costs with capital left over."
Net Hit
The Web site (www.steelforge.com) is a hit by the measure of hits it has recorded since it went live in early April. "The first 10 days we had two million page views," Weiss says. "Normally we'd have 200,000 over 30 days. Normal traffic on our previous site was around 100,000 visitors a month. I'm looking to do 150,000 without tinkering any further with what we currently have on the site, and in three months time I expect the number of visitors to exceed 200,000. On the old site, we'd get between 3,000 to 3,500 inquiries. With the increased traffic, we're projecting 5,000 to 7,000 live inquiries. That's a substantial increase in potential business."
Weiss is quick to add that the benefits of technological innovation to attract and service customers notwithstanding, old-fashioned person-to-person communication remains essential. "The sales staff is very much focused on helping customers determine their needs so we can figure out how we can best help them. You can't maintain pro-active customer relationships if you take the human element out of the equation. Technology is a wonderful thing, but it's as an adjunct to, not a replacement for, people working with people. You can never eliminate that, nor would you want to."
All Metals & Forge is an ISO: 9001:2000/AS9100 and EN9100 registered and certified company with 27 employees that services a unique metals market niche. "We're a metals service center that also has a forge facility, a custom melting operation, and hand-roll bar capability," Weiss explains. "That provides a flexibility to manufacture products in relatively small quantities with quick delivery times; we also specialize in metals and alloys that in today's market are hard-to-get."
Metal products the company supplies include alloy steel, aluminum, carbon steel, cobalt, copper, magnesium, molybdenum, nickel, refractory metals, stainless steel, super alloys, titanium, tool steels, tungsten and zirconium. These products are available in all mill forms, including flat, round, hex, hollow and square bar, extrusions, fittings, flanges, foil, sheet, strip, plate, pipe, wire and tubing, as well as forged discs, hubs, blocks, shafts, sleeves, cylinders, flats, hexes, rounds, plate and some custom shapes. The company can also produce flat, round, square and hex bar in custom sizes up to 3-inch or 76.2 mm cross section. It has the capability to melt from 250 to 25,000 pounds of obsolete, hard-to-find, or custom chemistry metal.
Weiss points out that "if you're looking to acquire a certain quantity of metal a year from now and you need a price for bidding to submit for a project that'll be completed three years out, we're not the company to do this for you. However, if you have the project and need firm pricing for three years, then we're the company for you, because we will put metal on the floor now and release it as you need it on an LTA (long term agreement) and make sure you don't run out of metal during that contract."
Strategic Purchasing
All Metals & Forge customers are largely in the aerospace, power generation, automotive, defense and manufacturing industry segments. They comprise both OEMs and the OEM subcontractors. "Our client list includes General Electric, Boeing, Pratt Whitney, Siemens, all the big names, as well as all their subs," Weiss says. "Given the volatility of metals markets, these customers started to look for ways to acquire materials outside of the traditional contract bids. They set up what are typically called Global Strategic Purchasing departments that are focused on making quick buys, usually in small quantities. To give you an example, we just got a call from a company that needed $150,000 of titanium delivered in four months. Titanium is selling for $50 a pound, so that's not a big order in terms of weight.
But we're unusual in that we have the resources to obtain it and get it out not in four months, but in eight to 10 weeks.
"In addition to supplying the raw material, we can work it closer to the customer's final need. In forgings, we provide a near-net shape product. In mill products, it may include heat treating or other value-added services that reduce the amount of time working or processing the material. That directly translates into reduced time, costs and improved profits for the company working the material and making the finished part."
While the company has been addressing this niche since its inception, it has become particularly valuable to customers in the context of the current metals market."Suppliers today are working at 110 percent of capacity. The prevailing attitude is, "this is the price, take it or leave it. And if you want something that's a little out of the ordinary, they'll tell you they can't do it, if they can be bothered to return your call at all," Weiss says. "We, in contrast, not only return your calls, we specialize in meeting difficult deadlines and responding to emergency material needs. If you've got a blueprint for an obsolete alloy, we can melt it. We've always concentrated in exotic metals, and in today's market, there's a lot that isn't commercially available because the suppliers are getting out of any alloys that don't have a regular inventory turn."
The Web site is an extension of this overall commitment to meeting customer needs, when they need it, how they need it. "Our intent is to combine the best aspects of a metal service center, a forge facility and a producer of customer materials, with resource information and knowledge base that we share with the industry to save time and costs associated with getting and working metal for their particular needs. We intend to continue to add to the breadth and depth of information for our customers and the engineers, purchasing agents, metal buyers, specifiers and craftspeople in the metalworking industries around the globe so that our business grows because they can get more than metal from us."