By digitizing and automating your supply network, you increase efficiency and obtain end to end visibility of what is going on in each step.
The industry is transforming from supply "chain" to supply "network" – but why? "Chains" have stress at multiple points. Instead, forward thinking industry leaders are viewing their operations as "networks" where, instead of stress felt by individual links, stress is handled by multiple faucets, relieving pain points and smoothing operations.
The supply chain industry has evolved into a much more complex global network. The many different technologies across partners creates disparate systems that struggle to share data. Here are some specific initiatives companies are making to create a more resilient supply network.
Connecting your systems to your partners
Within your four walls, you have complete control over what tools, systems, processes and technologies you use. But, without connecting to your network partners and fusing in their information, the data will always be limited by those walls. Extending a system outside of your network and connecting information across partners is more difficult, but the key to future supply chain success.
To start, all of your "three letter" systems should connect from the transportation management system (TMS) to the yard management system (YMS) to the enterprise resource planning system (ERP) and warehouse management system (WMS). Next, shipments in transit need to connect with the driver who is delivering the products and the shipper, so they know what to expect, when. Unfortunately, these systems aren't all built on a common data format, causing interoperability issues. Whileshippers, carriers and retailers work together on developing an industry-wide standard, companies are using robotics process automation, business process outsourcing, OCR and data translation solutions to connect external systems and share data with their partners.

Eliminate paper records
While the supply chain has moved to forward-looking technology like artificial intelligence, automation and the internet of things, a few remaining elements that have stuck to manual entries are dragging the industry down. One in particular, bills of lading (BOLs), is especially important. The BOL documents are an important contract that protect all parties involved in the chain of custody as freight moves.. However, due to the various types, formats, and pieces of information on each across thousands of companies, digitizing this document has been a major challenge for supply chain partners.
Moving to an electronic BOL (eBOL) doesn't just help your data, it also keeps drivers in their trucks and increases efficiency of pickups and deliveries overall. By moving paper BOLs to digital files, you can add SKU level details to ASNs, leverage EDI as well as plan better for the receiving of the freight.
Transit meets technology
Drivers are suffering from app fatigue and often don't want to embrace a new technology or app. By connecting the shippers or retailers systems to the carriers or 3PLs TMS and/or telematics systems, drivers get all of the information they need in one system without having to toggle between different apps. This takes the burden of technology off of the drivers shoulders so they can focus on driving safely.
By connecting a transport management software to your system, drivers can communicate in real time, giving great visibility to the overall supply network. Accuracy is also improved and drivers have less to handle manually. When drivers can spend more time driving and less time on administrative work, everyone wins.
Stopgap measures
Until an industry-wide standardization occurs, there are ways to help connect the supply network in the meantime. While these efforts won't lead to optimal data connectivity, they can help as a stopgap measure to share information across disparate systems for the time being.
One such option is implementing a mobile capture or document imaging solution, which scans paper documents and pulls out key information. While not a final solution for the interoperability problem, it's an easy way to extract data from paper into a system of record. While a full standardization is developed, there are solutions that can help digitize manual events so that all supply chain partners can have a digital paper trail of what truly happened in the field with indisputable evidence, improving transparency, traceability and collaboration.
When you take a step back and look at all of the manual actions it takes to place an order, schedule a pickup, check someone in and out, verify trucks, documents, seals, temps and loads, as well as assign docks and dispatch, you can see where issues arise.
Connected data is only as powerful as the actions it inspires. By digitizing and automating as many of these tasks as possible, you increase efficiency with milestone timestamps which can be shared with your control tower, providing end to end visibility of what is going on in the field.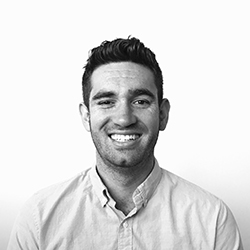 About the Author:
Brian Belcher is COO and co-founder of Vector, a contactless pickup and delivery platform that ensures supply chain partners get the right load to the right place at the right time. Prior to Vector, Belcher led Customer Success at Addepar, a wealth management platform, which manages more than $2 trillion in client assets. Before joining Addepar, Belcher co-founded Computodos, a socially-minded supply chain solution that helps source, transport, and distribute recycled computers to developing countries. Brian has seen first-hand the inefficiencies within supply chain stemming from a lack of collaboration, and the potential that technology has to transform the industry. Belcher holds a Bachelor's degree in Business Administration from Santa Clara University.