Biodegradable, compostable and bioplastic packaging have key differences, and they can all impact the sustainability of your supply chain.
by Luke Rodgers, Jabil's Senior Director of R&D, Additive Manufacturing
Packaging industry professionals and consumers alike have sustainability on the brain. They're looking for packaging options with improved end-of-life journeys that contribute minimal greenhouse gas emissions to the atmosphere and reduce the amount of plastic waste in landfills and the natural environment.
For many consumer packaged goods (CPG) companies, biodegradable, compostable and bioplastic materials seem to fit that bill. According to Jabil's 2022 Sustainable Packaging Trends Survey of 186 packaging decision-makers, conducted by SIS International Research, nearly half of respondents (48%) said they are incorporating biodegradable or compostable materials at a product level. Additionally, 42% said the highest priority of their sustainable packaging program is to incorporate biodegradable or compostable materials, the second highest of all sustainable packaging priorities.
The issue lies not in CPGs using these materials but with consumers understanding the differences between them and how each of them should be disposed of. There is a common misunderstanding amongst consumers that "compostable," "biodegradable" and "bioplastic" are synonyms and can be treated the same. In fact, not all bioplastics are compostable, not all compostable plastics are biodegradable, and not all biodegradable plastics are bioplastics.
Making progress in the sustainable packaging space will depend on brands educating consumers about the strengths and limitations of these materials. Let's first start with their definitions and functions. Bioplastics are plastics made from plants and are an example of sustainable resource management — where the focus is on the material origin. Biodegradable and compostable materials are those that return to their original building blocks and exemplify sustainable waste management, or end-of-life.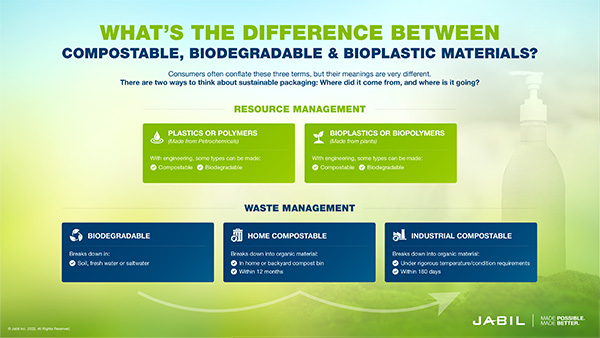 WHERE BIODEGRADABILITY, COMPOSTABILITY AND BIOPLASTICS OVERLAP
The confusion is understandable but can be reduced to a few syllogisms, like the ones we learned as children. We learned that all apples are fruit, but not all fruit are apples.
In general:
All biodegradable materials are home compostable.
All home compostable materials are industrially compostable.
Biodegradable, home compostable and industrially compostable materials can be made from either a bioplastic or a petrochemical.
Bioplastics can be compostable, biodegradable or neither, depending on what type of bioplastic it is.
These statements may be true and apply to a specific polymer but potentially not apply to the actual material being used to create packaging. Sometimes the addition of additives needed to create packaging with the characteristics customers require — like high tensile strength or strong barrier protection — may result in natural biodegradability being lost along the way in the engineering process, yielding a polymer that is only compostable. These differences can be seen even within different grades of the same polymer family or different form factors.
By focusing on a sustainable end-of-life from the beginning, though, it is entirely possible to design packaging that meets both the necessary performance requirements and the desired compostability or biodegrability standards. Making clear the importance of a product's compostability or biodegradability from the start of design is critical when working with bioplastics.
Brands and manufacturers cannot fall into the trap of believing all bio-polymer materials have an inherently sustainable end-of-life and simply assume that they will quickly return to the earth. Brands looking to reduce their use of petrochemicals should also be diligent in their sourcing of compostable or biodegradable materials. These materials are often oil-based.
To determine which sustainable packaging option fits your needs, consider a few questions:
How do I want to source my packaging materials?
What do I want to happen with my packaging materials after consumers finish using them?
Considering I can only choose one of the following options, would recycling, composting or biodegrading work best for my packaging?
The choice of one material over another can impact not just the sustainability of an individual product but also the sustainability of your overall supply chain.
BUILDING SUPPLY CHAIN SUSTAINABILITY
When selecting a biodegradable, compostable or bioplastic material, consider the sustainability of that material's overall supply chain. For example, in the case of bioplastics, what is the feedstock for your material of choice? Does it grow relatively close to a plastics facility, or will it need to be shipped overseas — thus negating any carbon emissions offset during the growth process?
Say you choose a biodegradable or compostable option made from petrochemicals. The greenhouse gases released during the oil drilling process, as well as those generated by the logistics required to move the oil, can be a significant contributor to a company's scope 3 emissions. Reducing emissions in each link of the supply chain is critical to improving the chain's overall sustainability. But according to Jabil's sustainable packaging trends survey, it's not always a consideration brands take. Only 29% of respondents said they always calculate the carbon impact of products when evaluating packaging options.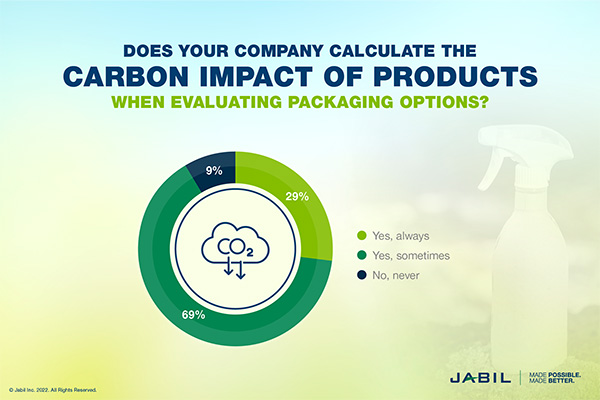 No matter your material selection, gaining visibility into its entire supply chain is crucial for understanding its true sustainability. With this visibility, you can better determine whether a sustainability gain in one area (compostability, perhaps) might compromise work done in another area (say, emission reduction).
Maximizing the benefits of compostable, biodegradable and bioplastic materials begins with understanding the opportunities and challenges they each present, as well as developing strong supplier relationships to learn how best to leverage each material for your specific needs.
Working closely with suppliers to sustainably source materials from corn, starches, legumes or other plants, manufacturers can then use materials science and engineering to maintain or create compostable or biodegradable resins. As the bioplastic materials return to the earth at the end of their life to feed the creation of new polymers, sustainable waste management — and sustainable supply chain — is established.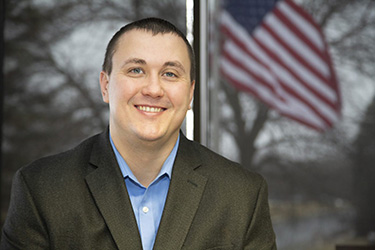 Luke Rodgers has over 10 years of experience in additive manufacturing and 20 granted patents in the technology space. Rodgers is currently the senior director of R&D for Jabil Additive Manufacturing and leads the Jabil Materials Innovation Center in Chaska, Minnesota. Learn more at jabil.com/industries/packaged-goods/sustainable-packaging.