How leaders can cope with disruption in 2022.
By Sachin Lulla
It's no secret that most manufacturing companies sourced their critical component supplies from the Far East and Southeast Asia the past decade. Taking the lowest cost/highest risk option was always a gamble, but in most cases, it paid off. Until last year.
While the COVID-19 pandemic may have been a black swan event, the CEOs I speak to these days see whole flocks of ominous birds on the horizon. From natural disasters to the shifting global trade rules, original equipment manufacturers (OEMs) anticipate more disruptions ahead and they are loading up their safety stocks. What was once seen as "unprecedented times", has become "just another Monday" that manufacturers need to be prepared for.
Now, EY teams are working with EY OEM clients to move to a supply chain model that takes critical data from one end of the supply chain to the other to better balance cost, risk, and service in every sourcing decision. Of course, all parts cannot be sourced locally, and you still must minimize cost as much as possible. However, everyone realizes now that cheapest isn't always best, particularly if it increases risk so much that it ultimately jeopardizes service.
Coping with disruption
Computer chips, for example, are an important case in point. All the automotive OEMs were completely reliant on imported microchips going into 2020, and the disruptions that arose during the pandemic created critical shortages. Now, every OEM is looking to redesign its supply chain to incorporate local sources for essential parts, such as microchips, so make it less vulnerable to long lead times. A few of the major players in the electric vehicle industry, for example, switched to local chips that are manufactured closer to the US.
The second change that the US EV industry made was to reprogram the firmware to design, manufacture, and operate their vehicles considering the capabilities and configurations of these new chips. Custom programming combined with locally sourced chips has given the companies that were able to do this a huge advantage over its competitors.
Other companies are creating analytic "control towers" that give them more visibility across the entire length of their supply chain, giving them the insight that they need to make better decisions. In one case, EY teams are helping to apply real-time satellite images of backed-up ports to give OEMs early warning about looming bottlenecks. Such advanced notice can help them respond proactively while their lines are still running, rather than letting a stockout force a shutdown. At the same time, EY professionals are working with EY clients to design more resilient networks and local sourcing that better balances cost and risk.
Digitizing Processes to Further Relieve Supply Chain Pressures
Unfortunately, the challenges go beyond sourcing and shipping. Many manufacturers are still struggling to digitize their factories. Boards hope to drive more value from digital transformation in a way that helps them address the needs of their customers better. It's a tall order – no wonder that when EY teams surveyed 305 CEOs from the Forbes 2000 (many of them manufacturing companies), 65% said they planned to spend more on transformation over the next three years compared with the last three years.
At the EY-Nottingham Spirk Innovation Hub in Cleveland, Ohio, which opened its doors in October, we have thought a lot about these challenges, and believe that to get up to speed, manufacturers must do more than automate. Many companies are significantly behind in the levels of automation because they've grown primarily through acquisition. Catching up with leaders will require not just new technology but operational excellence to make sure new systems implemented properly.
What should you do next?
The forecast is predicting more turbulence for global supply chains in 2022, so businesses must continue evolving to become more resilient and adaptive to obstacles. To do this, it is essential now more than ever to develop a crystal-clear business case with a compelling ROI before you start pilot use cases. You don't want to end up in what people are calling "pilot purgatory." This can be done more easily by connecting your digital strategy to your business strategy. We often find that the two are not linked and that's why digital transformation are not scaling.
Ultimately, EY teams have found that the best way to do this is to put people at the center of your transformation efforts. The culture and change management aspects required to truly deliver on a transformation effort are usually not given the attention they deserve, so understanding that the people must drive the transformation will be a crucial focal point for weathering the supply chain storms of 2022.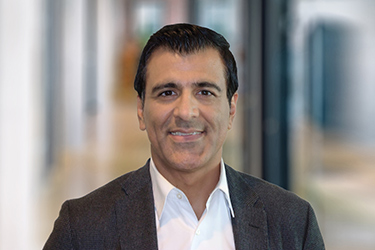 Sachin Lulla is the EY Americas Consulting Sector Leader for Advanced Manufacturing & Mobility.
Sachin is a Principal in the Consulting service line of Ernst & Young LLP and responsible for global digital strategy and transformation for advanced manufacturing and mobility clients. Sachin also founded the Internet of Things (IoT) practice in the Americas.
Before joining EY, Sachin spent eight years at IBM, where he established the company's IoT services business in the Americas for industrial clients and also led the Automotive Industry P&L. He also spent 10 years at Deloitte in its Manufacturing and Aftermarket business.
He's been a keynote speaker at major conferences around the world, including CES, Stanford Business School, Automotive News World Congress, IAA, NAIS, CAR Conference and others. He won the TU Automotive Award for the Best Auto Mobility Product/Service in 2017 for launching a 3D printed, self-driving electric shuttle called "Olli" with Local Motors.
Sachin holds an MBA and MS/MIS degree from Boston University and has an Executive Leadership degree from Columbia Business School. He lives in Tampa, Florida, with his wife and two sons.
Sachin is focused on helping advanced manufacturing and mobility clients in their digital transformation journey. His key areas of focus include educating Boards on the role of emerging technologies and developing a business-led transformation strategy to both optimize and grow their current business.
Sachin is also passionate about leveraging technology to amplify human potential. As an example, he co-developed a 3D printed, self-driving vehicle for people with disabilities and accessibility challenges called #AccessibleOlli.