Volume 21
| Issue 1
| Year 2018
Click here to read the complete illustrated article as originally published or scroll down to read the text article.
Winter is a crucial selling season and expectations are set high—according to the National Marine Manufacturers Association (NMMA), a six percent bump in unit sales of new powerboats occurred in 2017 (about 260,000 new boats sold) and 2018 promises another five to six percent increase on top of that.
"The New York Boat Show is a barometer of what upcoming sales are going to be like," notes NNMA president Thomas J. (Thom) Dammrich. One good indicator is that the show sold out exhibition space. "We're bursting at the seams," Dammrich says, "and we're already hoping that with future expansion of the Javits Center we'll be able to add more exhibitors."
The industry has good reason to be optimistic. "Any time GDP is three percent or more is typically a good sign for the recreational boating industry,"Dammrich notes. "Consumer confidence is at a seven year high so there are a lot of positive indicators for our industry.
Discover Boating
Prospective buyers include a healthy mix of new boat owners as well as boat owners looking to upgrade to newer models. "We have a website DiscoverBoating.com where anyone who might be interested in getting into boating can find a lot of useful information, not only about types of boats and how to go about buying a boat, but the boating lifestyle," Dammrich says, adding that, "We encourage comparison shopping. The association doesn't promote any specific manufacturer or dealership, we're an association that represents the voice of the industry to the media and the public. We're all about promoting boating and providing resources and services to support that."
Innovation is a key factor driving interest in boating, particularly among millennials. "The pace of innovation is ever-accelerating," Dammrich says. "Just one example is a new joystick control that makes docking so easy a 12 year old can do it, and probably do it better than an oldtime boater."
Another new feature is the ability to connect to and manage all a boat's systems using a smartphone. "For the younger generation in particular, being connected all the time wherever you are is very important," Dammrich points out. "Boat makers today are very conscious of addressing that market." The situation is much the same as it is the automotive industry where prospective buyers may be less interested in engine horsepower than Bluetooth connectivity.
"There's a range of electronic conveniences available, from GPS navigation to fish finders," Dammrich says. "Depending on the size of the boat, you can literally have all the conveniences at home with you on the water."
He points out that just getting out on the water with family and friends is a big attraction to prospective boaters. "A recreational boat is a discretionary purchase, and with the improving economy consumers are looking for something that provides a fun relaxing activity," Dammrich says. "These technical advances make getting into the boating lifestyle easy for just about anyone."
Making Waves
Fastest growing segments include powerboats, offshore salt water fishing boats, personal watercraft and water sports boats, particularly ski and wakeboard boats. These boats are designed to create wakes behind them for watersports., serving as a kind of "launch ramp" for wakeboarders to achieve their biggest "air." In addition, unlike conventional boats that rely on outboard motors in the rear, ski/wake boats position an inboard engine in the center to keep propellers safely away from the wake surfer. "This is a very popular water sport, and we've seen a lot of growth with this particular type of boat," Dammrich says.
Rising demand for recreational boats is floating industry expansion. Boat manufacturers are adding capacity for two reasons; one is consumer confidence and corresponding sales trends, the other is the improving economy and what looks like a more favorable tax picture that promotes investment. "Production is up, and as a result, so is jobs creation, There's definitely a lot more employment opportunities in our industry," Dammrich notes. "While the overall picture is existing manufacturers expanding, there are also some start-ups bringing further innovation to industry. One example is a Minnesota company that invented a pontoon boat that detaches automatically from its tow vehicle and then, with the push of a button, expands like an accordion to its full 11.5-foot width.
Interestingly, as manufacturers expand, dealerships are consolidating, at least in terms of ownership. "What we're seeing is that a lot dealers who have been in business for a long time are deciding to retire, and they are selling their dealership to larger national companies. Which is actually a good thing for consumers. You've got a broader network with more consistency in the brands and types of professional services that can be offered across the country."
For 2018 and beyond, the recreational boating industry finds itself in particularly safe harbors: with mounting consumer demand, accelerating innovation and manufacturing expansion, the industry is riding high waves for future success.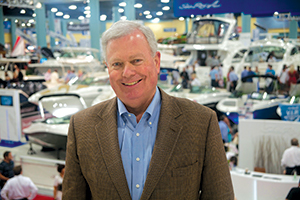 Under Thom Dammrich's leadership at National Marine, the association represents 1,300 marine industry members that produce 80 percent of the recreational boating products currently sold in North America. NMMA is the industry's unifying force working to Promote and Protect recreational boating. NMMA supports these objectives through timely research and industry data, providing sales and marketing opportunities, and working tirelessly to keep recreational boating top of mind with consumers and legislators at the federal and state level.
Most notably, Dammrich has been instrumental in helping bringing together the industry with the Grow Boating Initiative. From this project, the Discover Boating campaign was refined as an industry-wide effort to promote the boating lifestyle, improve the boating experience and increase participation. The results have been optimized sales of marine products and services, and expanded research on boaters.
Dammrich furthers his involvement and commitment to recreational boating interests by serving on several marine-industry boards such as the International Council of Marine Industry Associations, the Center for Sportfishing Policy, the American Recreation Coalition, as well as yachting and fishing councils.