Manufacturing is one of the pillars of our economy, one in which the future economy depends on. It is a driving force in many world economies; however, the sector has continued to evolve, undergoing constant change in the past century. Today, products are often manufactured through automated processes and robots with greater speed and quality control and the finished products are exceptionally more complex than ever before.
However, we are on the cusp of another great renaissance in manufacturing. The next step in the evolution of manufacturing will be one of "connected" and intelligent process. One area in which we will see great improvement as a result is in manual assembly workflows. We will see this implemented most readily in an electromechanical assembly for aerospace, defense, or complex industrial equipment.
The idea is to use augmented reality and have assembly workers wear headsets like a Microsoft Hololens or Vuzix Blade that can track, instruct, and correct the manufacturing of a product. Furthermore, a product or line supervisor will be able to use a virtual reality headset to go back and inspect the work of any line manufacturer as all that data is being captured by a camera and sent to the cloud. This supervisor or another quality control manager can then sign off on parts to make sure they conform to specifications which save a lot of time when meeting ISO procedures for quality control and assurance.
Adhering to these procedures requires a great amount of time, and even a small reduction in time-saved for each part manufactured could yield millions in savings for some companies like GE, Rolls Royce, etc. This has already been demonstrated by Boeing in limited ways and we will see this become more and more prevalent in the near future. In Boeing's example they easily demonstrated that limited augmented reality integration into their assembly process improved production time and reduced errors in manufacturing. They've used things like Google Glass before, but they are also testing AR solutions for technicians who are installing electrical wiring on airplanes. Initial results are showing "a 90 percent improvement in first-time quality when compared to using two-dimensional information on the part, along with a 30 percent reduction in time spent doing a job," according to Paul Davies, Boeing Research & Technology Associate Technical Fellow.
At Cemtrex, we are currently developing AR / VR solutions for similar industrial applications that will help manufacturers adapt the latest technology specifically for these types of markets. In the next few years, we will also see a move in manufacturing facilities towards strong integration of cameras and sensors which will reduce the time and errors in the manufacture and assemble of various parts.
We can conceive of smart intelligent workstations that have integrated cameras and sensors that complement the AR/VR headsets to yield a fully digital and "connected" manufacturing workspace. This setup would be able to track all components down to the smallest parts and be able to track the worker through the assembly process to eliminate all errors. Additional visual overlays and cues would virtually remove all the guesswork allowing for a worker to zip through the manufacturing process. Think Tony Stark's workshop! This would make the average worker hundreds of times more efficient and productive. American companies that adopt such technologies could enable their workers to be enormously more competitive on a global scale as their output would far exceed foreign workers with such enhanced work environments. The technology is rapidly developing and will be available sooner than most think and Cemtrex wants to help lead the way. It may be some time before workers can make an "Iron Man" suit but workshops like Tony Stark's will not be fiction for much longer.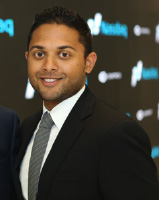 About the Author:
Saagar Govil has been with Cemtrex since 2008 and has been the Company's Chief Executive Officer and President since December 2011. He was recently named #17 on Business Insider's "Top 100 of Silicon Alley" and "Top 40 Under 40" by Stony Brook University. Prior to becoming the CEO, he was Vice President of Operations, responsible for sales, marketing, production, and engineering. He began his career as an applications engineer providing customer support on-site and designing turn-key engineered systems for various customers and projects. Saagar Govil has a B.E. in Materials Engineering from Stony Brook University, N.Y.