The gardening sector has blossomed, with many gardeners working at full capacity as people realize just how vital their outdoor spaces are.
The spring period is usually an extremely busy time for garden designers, however this spring was different due to the global coronavirus pandemic that has had a significant impact on almost every industry. Many gardeners were unable to work due to a lack of ability to collect supplies because of nationwide shortages, and were left feeling panicked about what their future would hold.
The spread of COVID-19 and the subsequent lockdowns meant that during the peak of the pandemic, garden designers were unable to function in a way that they had previously done. Many homeowners who had lost incomes put their garden design projects on hold and cancelled bookings for later in the year, simply because they could not afford to pay for them.
The situation was unprecedented and the impact was huge as a result of this. For many garden designers there was little work for a long period of time. However, now that the lockdowns have begun to ease, garden design specialists have begun to return to work, and are doing extremely well post-pandemic.
New ways of working
In light of the current pandemic, many garden designers, like those working in various other industries, have begun to find new ways to work, ensuring that social distancing guidelines have been met. The new normal of keeping a distance from everyone and making hand hygiene a priority, has changed the way in which many people are working, including those working within the garden design sector. A new approach has had to be devised and utilized across the entire sector.
Many gardeners have stated that they wanted to find new ways of working, ways that would accommodate the current need for physical distance and minimal social contact. This was especially important as garden designers realized that while people were trapped at home due to lockdowns, the garden was a welcome escape for many. So post-pandemic, there has been an influx of people wanting their gardens re-designed and their plants cared for.
Garden designers have begun to find new ways of working, both with clients and partner companies. For instance, many garden designers are now offering virtual consultations beforehand, where they call clients and have a video chat and video consultation, discussing the way in which they would work on the space, giving them the opportunity to determine what tools would be needed and whether any specialist skills or equipment may be required. Virtual consultations have been a life-saver for garden designers, allowing them to have clear, concise conversations with clients, without needing to be physically close.
Many garden designers work closely with partner companies on projects. For instance, for a garden overhaul where a pool has been requested, most garden designers will need to partner with a specialist company for pool deck drain installation, as well as for the building of the actual pool itself.
In instances like these, garden designers have been working to create a protocol of steps for ensuring that they, and any partners, are able to work in a safe and socially distanced way.
A successful future
Post-pandemic many sectors have struggled to gain back the income that was lost during the lockdown. However, for many garden designers this has not been the case, as the lockdown showed people how important their outdoor spaces were, meaning that post-lockdown many people are now opting to spend money on improving and enhancing their gardens further, transforming them into the most incredible spaces.
For garden designers, this newfound passion for outdoor spaces has meant that there has been plenty of work available. The gardening sector as a whole has recovered exceedingly well from the lockdown, with many garden designers actually at capacity for clients right now, highlighting just how well the sector has done post-pandemic.
Of course, with the potential risk of further lockdowns at some point in the near future, most garden designers are attempting to think of ways in which they can make sure that whatever happens, their business can continue to run in an effective, sustainable, and safe way.
Every industry has taken a hit due to the pandemic, however many industries and the businesses within them are now finding new ways to navigate the pandemic while remaining safe and ensuring that their customers remain safe.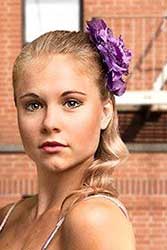 There's not much Lucy doesn't know about her two passions: fashion & interior design! Having worked in the fashion industry for six years, she has a keen eye for all things on-trend, with a focus on new developments in both the interior design world and on the world's catwalks.