October 1, 2019
By Brian Meeker, Principal, Deloitte Consulting LLP and Siemens PLM alliance lead
Today, customers demand the tailored, frictionless experiences that digital technology offers, and the manufacturing sector is no different. Leveraging digital technology, we can transform the way products are developed. This leads to the right products – designed with the customer in mind, yielding significant returns.
Digital Product Development (DPD) is a way of developing and managing products responsive to customer experience through smart real-time data, advanced technologies, and agile innovation, and it's already delivering measurable success. One industrial manufacturer slashed time-to-market by 50%, and reduced engineering and manufacturing hours by 530,000 over three years. A consumer products producer cut material usage by 20%, and labor costs by half.
DPD's benefits are compelling, but where to start? Many organizations dive head-first into technology adoption, only to be disappointed by the results. To start, you must emphasize process before technology. Look at your company's existing capabilities, defining its digital ambitions. Then map a strategy for how technology can transform those capabilities into DPD.
DPD capabilities including model-based product definition, rapid design optimization, customer experience design, manufacturing innovation design, and connected customer experiences allow for virtual process and product iteration before implementation. Here's more detail:
Model-Based Manufacturing Simulation. Also known as digital twin manufacturing, this capability creates a detailed digital model of a real-life manufacturing facility, and allows for manufacturing processes to be rapidly simulated and validated on the model before the first units are produced. This prevents costly quality issues, engineering changes, and cost overruns. Simulations also include capital changes to production lines, or sudden changes in demand. A digital twin of a new product can help you understand whether you have the materials, infrastructure, and talent to produce it. The simulation of an entire manufacturing run of that product can also predict and address production issues.
Real-Time Collaboration, Real-Time Product Intelligence. IoT's sense-gather-analyze-report-respond functions play a big role in DPD. IoT enables real-time design collaboration, allowing the entire value chain to work together on a single, live instance of the latest product definition. Once the product is in the field, IoT sensors gather and process data, delivering real-time insights on operating environments. These insights can serve as design feedback for proactive product improvement, or predictive maintenance. Imagine, for instance, a plane's landing gear equipped with IoT sensors that feed data directly to the engineering team, providing insights not only into performance, but potential improvements.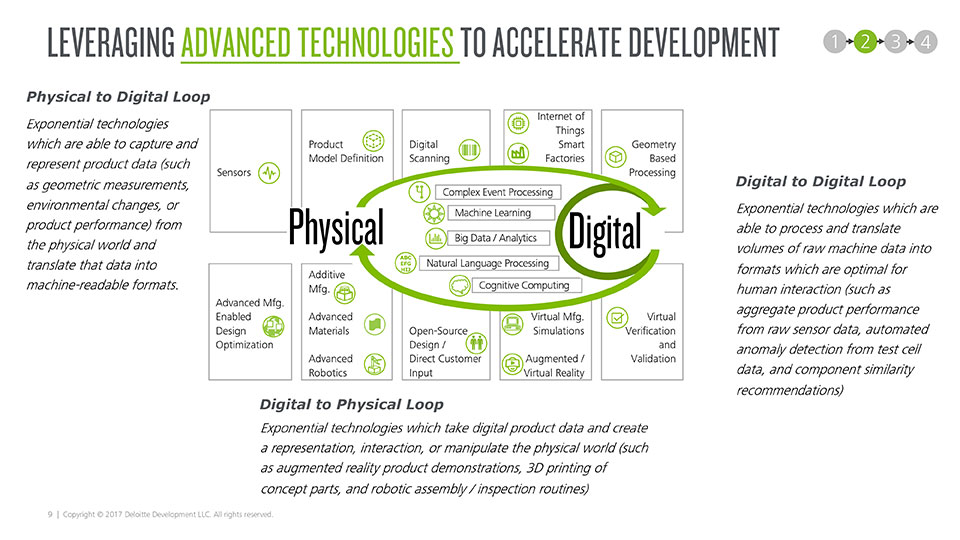 Transforming Product Development with Data
What's underpinning and enabling these DPD capabilities? Smart real-time data. When harnessed to an operating framework – the Smart Product Data Model – this data becomes the heart of DPD. Data is smart when it's:
Connected. Data points are integrated into systems along the entire value chain allowing you to take actions based on holistic insights.
Contextual. The data doesn't just define a product or the process to create it, but also describes performance, operational environment, and sample customer use cases.
On-Demand. The right people can consume data at the right time.
Flexible. The data adapts to changes in customer, situation, and learnings.
The most powerful aspect of smart real-time data is that it can visualize enterprise information. From what's happening in product development, manufacturing, in the field and aftermarket, these links in the value chain – connected but often operationally siloed – can now be holistically displayed to end-users.
This is done through a Control Tower – advanced analytics and tools that allow for proactive management of product development and supply chains in real time. Control Towers provide end-to-end visibility, allowing leaders to focus on exceptions, or predictive analytics of what is likely to happen, so they can prevent issues. A heavy equipment manufacturer's Control Tower displays data from sourcing, production, shipping – including transactional data pulled from SAP – and regional weather and traffic. The result? Managers can accurately track shipments in real-time, with visibility into the effects of environmental factors outside their control.
Business Impacts of DPD
DPD has significant business impacts, including improved design quality, increased productivity, and enhanced organizational communication. One of the most immediate enterprise benefits is cost reduction – in our experience, from 20 – 50%. This is a direct result of leveraging real-time visual data for proactive, corrective measures and predictive insights including product portfolio rationalization, reduced material and labor spend, and less inventory. A lower cost structure means increased competitiveness, faster time-to-market, and increased market share.
DPD is still in its infancy, but its effects are already being felt. Avoiding the temptation to rush the deployment of technology solutions will serve business leaders well. Thinking strategically about existing product development capabilities, then mapping the path to developing these capabilities according to vision and business case won't just make for a successful transformation. Like the real-time data that will soon flow through the enterprise, it's also smart.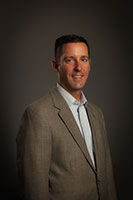 Brian Meeker is a principal with Deloitte Consulting LLP with more than 20 years of consulting experience specializing in product development engineering and innovation and has worked with aerospace and defense, automotive, industrial manufacturing, consumer products, high-tech and telecommunications companies. He currently leads Deloitte's Product Strategy & Lifecycle Management practice where he leads client through product and research and development (R&D) strategy definition, lean engineering transformations, digital engineering, Manufacturing Execution Systems (MES) and Product Lifecycle Management (PLM) implementations, R&D organisations, and talent transformations.
Brian has led a several digital engineering transformations for a variety of clients. His other relevant experiences include the redesign and implementation of new product development processes and PLM tools (Dassault, Siemens PLM, SAP, and Oracle PLM and PTC). Brian is also the Deloitte Alliance leader with Siemens PLM, MES, and Mindsphere.
Brian holds an MBA from Case Western Reserve University and a BS from Miami of Ohio.
About Deloitte
Deloitte refers to one or more of Deloitte Touche Tohmatsu Limited, a UK private company limited by guarantee, and its network of member firms, each of which is a legally separate and independent entity. Please see www.deloitte.com/about for a detailed description of the legal structure of Deloitte Touche Tohmatsu Limited and its member firms. Please see www.deloitte.com/us/about for a detailed description of the legal structure of Deloitte LLP and its subsidiaries. Certain services may not be available to attest clients under the rules and regulations of public accounting.
[Disclaimer]
This publication contains general information only and Deloitte is not, by means of this publication, rendering accounting, business, financial, investment, legal, tax, or other professional advice or services. This publication is not a substitute for such professional advice or services, nor should it be used as a basis for any decision or action that may affect your business. Before making any decision or taking any action that may affect your business, you should consult a qualified professional advisor.
Deloitte shall not be responsible for any loss sustained by any person who relies on this publication.
Copyright © 2019 Deloitte Development LLC. All rights reserved.