Volume 22
| Issue 3
| Year 2019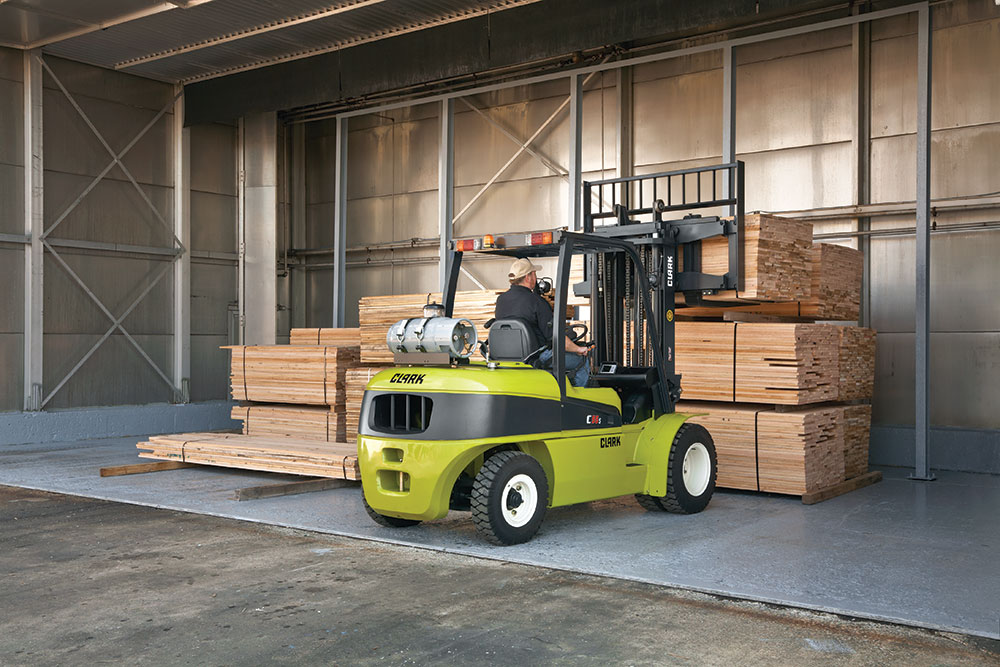 Click here to read the complete illustrated article as originally published or continue below to read the text article.
The oldest manufacturer of lift trucks in the world, the Clark Material Handling Company began the year 2019 with a feat of heavy lifting: the global launch of its S-Series forklift. The choice of "S" for this line of pneumatic and cushion-tired truck lifts was hardly random; the moniker references the equipment's cutting- edge triumvirate of safety, strength and smartness, attributes that have made Clark synonymous with forklifts throughout the world.
Safe, Strong and Smart
Throughout its 102-year history, safety has always been a priority for this pioneering company. From the outset, Clark's security standards have been innovative to the extent that they have routinely been adopted as general industry standards. In the case of the S-Series, such innovations include automatically applied parking brakes and speed limit controls as well as increased visibility.
Clark's corporate motto revolves around the promise that its products are "Built to Last." The S-Series bolsters this claim with features such as force-cooled wet disc brakes, six roller carriages and fully welded heavy gauge frames, all of which combine strong performance with lower ownership costs. However, it's in terms of "smarts" that Clark is really striving to position itself at the forefront of the next generation of lift trucks. Among the S-Series' stand-out design features are an interactive dash, built-in reporting of truck and operator performance via optional telemetry, integrated systematic service tools and on-board reporting of operator controlled functions.
A veritable team effort, the S-Series – configured for both LPG and diesel and boasting a 4,000 to 7,000-pound capacity – was developed with input from clients and centers of excellence from the Americas, Asia, Australia and Europe. For more than a year, prototypes were evaluated at test centers around the world prior to the product's launch. According to Carlos Ferreira, CEO of Clark Material Handling Brasil, "aside from increased operational efficiency, these new forklifts also offer notable improvements in terms of operators' working conditions."
Such benefits, along with guarantees such as ISO 9001 and 14001 certifications, have consistently won over Brazilian clients from food and beverage, supermarket, industrial and pharmaceutical segments. It's telling that while globally Clark is currently ranked 10th among fork lift manufacturers, in Brazil, where the multinational has had a strong presence for over half a century, it ranks fifth.
A History of "Firsts"
Founded in Buchanan, Michigan, in 1917, the Clark Equipment Company had already spent decades racking up a list of global "firsts" – creating the world's first internal combustion-powered industrial truck, the first trucks outfitted with load back rests and overhead guards, and the first dual voltage electric trucks, for example – before opening its first South American unit in the city of Campinas São Paulo, in 1958. Over the ensuing decades, the Clark Material Handling Company Brasil proceeded to consolidate its reputation while expanding throughout Brazil's continent-sized territory.
At the time of its arrival in Brazil, Clark had long been synonymous with forklifts. In fact, from its beginnings up until World War II, the company had been the sole manufacturer of forklifts in the world. However, the post-War period saw the emergence of a slew of new competitors, many of them German and Japanese manufacturers. Although Clark continued to dominate the global forklift market throughout the 1950s and '60s, by 1987, when headquarters moved to Lexington, Kentucky, the company was struggling.
As the new millennium dawned, Clark was verging on bankruptcy. It experienced a last-minute reversal of fortune when it was acquired by the Young An group, a Koreanbased multinational with 13,000 employees and 54 plants around the world. With annual revenues of US$1.6 billion (in 2017), Young An is present in an impressive diversity of market segments, running the gamut from buses and cell phones to hotels and hats (the Young An Hat Company is the largest producer of hats in the world). Seeing potential for growth in the forklift segment, particularly when armed with such a powerful brand name, Young An invested heavily in Clark's future in the U.S. and in key markets around the world, including Brazil's.
As part of a massive restructuration process, beginning in 2009, Clark Brasil inaugurated a brand new 65,600-square-foot headquarters in Vinhedo, São Paulo. Focusing on the commercialization of equipment and spare parts, it employs 37 people. In addition to its own facilities, Clark possesses a nationwide distribution network of 14 companies with more than 36 points of sales for new equipment as well as technical support and spare parts for clients' preexisting fleets. While forklifts are imported from Clark manufacturing plants overseas, local modifications and customizations rely on accessories, around 70 percent of which are produced domestically.
Meeting Specific Needs
According to Mauro da Silva Arrais Junior, Director of Operations and Sales at Clark Brasil, attentiveness to clients' needs has been one of the reasons for the company's success in the Brazilian market. "Our concern with customers' necessities has resulted in the creation of a department devoted to product customization, where we attempt to fulfill the requirements of our most demanding clients."
This emphasis on specific needs has helped set Clark Brazil apart from its competitors as has its commitment to developing local partnerships that enable the company to provide the most up-to-the-date options on the Brazilian market. Prominent recent examples of such features include ion-lithium batteries, high frequency chargers, specialized masts, air-conditioned cabins and safety accessories.
Additionally, since 2017, the company has worked to introduce a complete line of electric trucks, which today account for around 60 percent of the Brazilian market. Increasingly, there is strong demand for electric equipment both worldwide and in Brazil. While initial investment is higher in comparison to combustion trucks, when one factors in cost savings as a result of reduced maintenance, these new lines are extremely competitive not to mention more environmentally friendly. Less polluting than their gas, diesel and LPG counterparts, electric forklifts also comply with increasingly stringent emissions standards, which traditional equipment can't meet without being outfitted with costly internal filtering systems.
"Along with an expansion of our line of combustion equipment, the introduction of electric trucks to Brazil has really leveraged our growth," admits Arrais, noting that batteries for electric equipment are produced by national suppliers. "But also essential has been the reorganization of our commercial department and the creation of an intensive commercial and technical training program that we developed for our distributors."
Distribution is particularly important due to the specific nature of the Brazilian market. Unlike the United States and Korea, for example, where both giant multinationals and smaller domestic brands battle for market share, the high costs of setting up shop in Brazil has resulted in a market dominated by a handful of large multinationals. As a result, the level of investment is high – Clark spends a lot to make sure it has a vast stock of equipment on hand at any given moment – and competition is fierce. In such a context, it's essential to have a strong distribution network capable of offering continuing and high quality support. Fortunately, Clark has built up longstanding and experienced partnerships with national dealers that recognize the history and value of its pioneering brand.
Reputation aside, however, Clark is the only one of its competitors that doesn't actually produce forklifts in Brazil. As it contemplates growth strategies for the future, one of its main goals is to have its own manufacturing plant, initially to supply equipment for the Brazilian market, but eventually so that it can expand into neighboring Argentina, Chile and Colombia.
At the present moment, this plan has been put on hold, a consequence of the continuing fallout from Brazil's recent and ongoing political and economic crisis. The subsequent climate of instability has seen the domestic forklift sector shrink significantly in recent years, knocking Brazil from its perch among Clark's Top 10 worldwide markets. Despite this difficult phase, Clark, along with its distributors and its suppliers, are all optimistic that in the near future the tide will turn and a wave of growth will lift the fortunes of the lift truck segment along with those of the company that invented the forklift.