May 8, 2019
By Aidan Quilligan and Raghav Narsalay*
Companies are setting high hopes toward financial growth derived from digital innovation. In 2022, companies worldwide are forecast to spend $1.97 trillion on the digital transformation of business practices, products, and organizations, according to IDC.
Developing ideas focused on how to digitally innovate is no mean feat. However, it is only part of the equation. Growing the topline requires companies to innovate at scale.
And that's where most companies struggle. In recent research, Accenture Industry X.0 found that less than a quarter of large industrial companies are successfully scaling their digital proof of concepts (PoCs) (Fig. 1).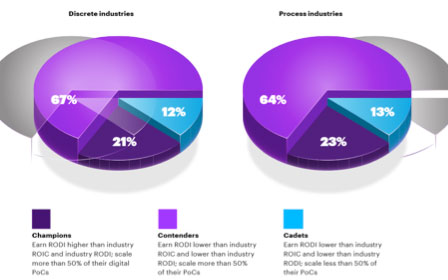 Companies that achieve this goal reap impressive returns on their digital investments: not only are these returns much higher than what their industrial competitors achieve—they also exceed the goals that these companies set for themselves to begin with. (Fig. 2).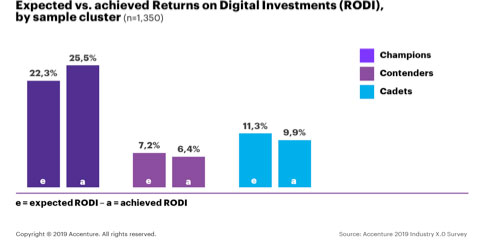 Before we look at what these 'Champions' do right, let us assess what keeps the remaining 78 percent of industrial companies from being equally successful. The executives we surveyed ranked four issues as the most common barriers to successfully scaling proof of concept projects:
Companies experience difficulties in aligning top management's views on the definition of digital value. Whether it's using technology to improve the customer experience or create an entirely new product—digital value can mean different things to different people. When a company's top leaders disagree on the desired outcomes for a proof of concept, uncertainty and hesitation may follow throughout the organization, effectively sabotaging the project before it begins.
Innovation is often trapped in the middle. In an organization that lacks alignment at the top, middle managers are likely to be similarly confused about how to build, execute and scale pilots and innovate efficiently, exacerbating deficits in alignment and success measurement. A company may introduce a digitally driven experience quickly, but that offering will likely be an incremental improvement. Additionally, it probably won't meet either company or customer expectations—or justify the investment made.
Companies are hampered by legacy technology architecture and a lack of future-focused talent. Many manufacturers are burdened with legacy IT tools and solutions, which rising digital experts may find cumbersome and ill-suited to designing, developing and scaling digital offerings. At the same time, middle and senior managers often struggle to leverage new IT and digital technologies.
In-house struggles with outside agility. Manufacturers often have difficulty aligning innovations designed in-house with the agile, digital ecosystems on the outside. Failure to address this partnership deficit effectively can trigger mid-level manager and employee fears. Employees may wonder whether they are equipped to support the innovation or whether engineers and innovators from the ecosystem will ultimately replace them.
Here's how the industrial Champions handle these challenges:
Their top leadership clearly articulates the value they expect from digital innovation scaling efforts. By doing so leaders provide orientation that the top and middle management need to start developing PoCs that are truly customer—and business-centric—and therefore will enjoy cross-organizational support and be easier to scale.
They focus on internal organizational change and external digital value. Champions blend organizational change and digital transformation initiatives. This allows the organization to become adept at systematically infusing relevant technologies, talent, ecosystems and skills to design, develop and scale PoCs. It protects the organization from delays or unexpected bursts of internal change, which can cause friction between existing and future talent as well as new and legacy IT.
They build in-house innovation factories. Champions re-rig the engine of the tanker inside their own organizations, seeding and growing new digital innovations organically within organizational boundaries. This helps them build, test and scale PoCs with agility.
Consider Schneider Electric's Digital Services Factory, an in-house development unit, which developed and industrialized a solution to monitor the heat and humidity of its electrical distribution equipment within eight months—an achievement which previously might have taken three years.
They identify key innovation drivers in each of their respective business functions. These enablers can be anything from using certain software applications to support operations to leveraging platforms to capture and analyze data to reveal relevant insights. Our research shows that, for example, Champions in discreet industries consider redefining ecosystem partnerships to secure digital talent, a key enabler in product and service design—whereas in production and operations, the key enabler is a digital services platform to collect and analyze 360-degree data in real-time.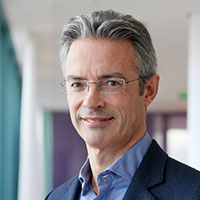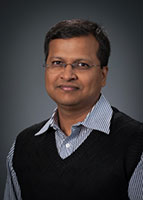 Aidan Quilligan is global lead for Accenture Industry X.0. Raghav Narsalay leads research for Accenture Industry X.0.