Volume 22
| Issue 2
| Year 2019
Click here to read the complete illustrated article as originally published or continue below to read the text article.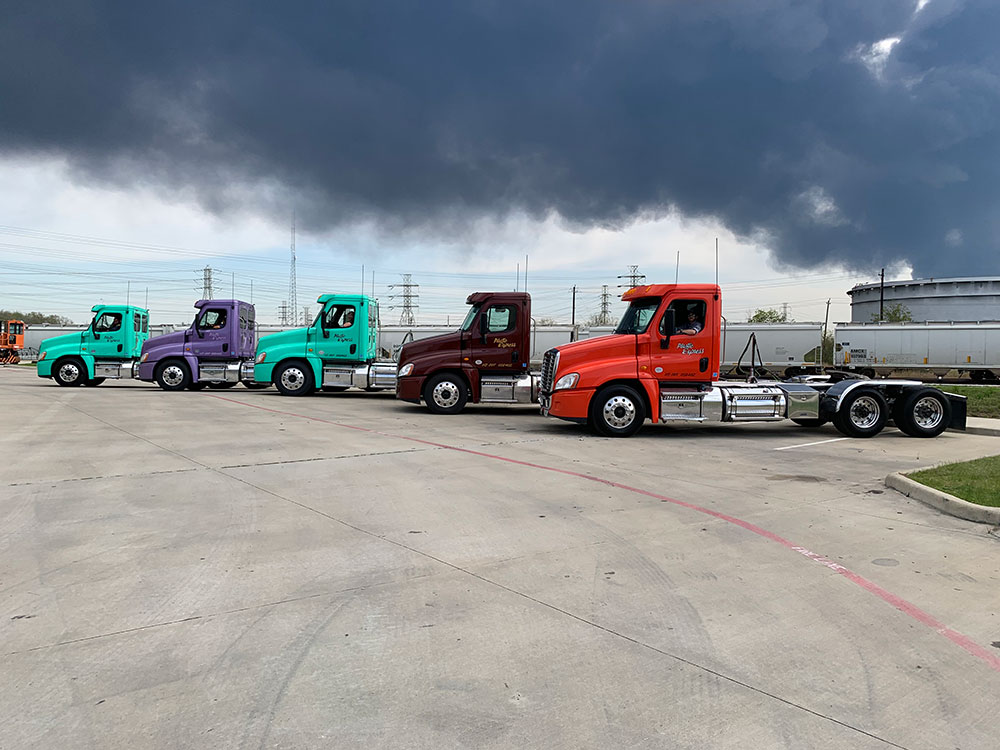 You know, it's a cliché that everyone uses, but it is the best way to describe what we do—we exceed customer expectations," says Ray Hufnagel, President and CEO of Plastic Express, a logistical solutions provider that offers a full range of bulk trucking, bulk terminal, packaging and warehouse services primarily to the plastics resin industry, but also customers handling non-plastics material as well. "We've optimized every aspect of the supply chain, focusing on truck, rail and ship transport, and are continually focused on improving efficiencies to deliver sustainable solutions to our customers."
Indeed, cliché or not, exceeding customer expectations for nearly 50 years has put Plastic Express in a position to invest more than $172 million to expand operations with two new manufacturing facilities at the Port Logistics Center in Pooler, Ga.
"This is a huge opportunity for us," Hufnagel says, "to extend our operations to the southeast and complete our network of trucking terminals, warehouse facilities, transloading docks and packaging plants nationwide." The company already has a bulk transload facility in Dalton, Ga. The new facility, expected to be fully operational by October 2019, provides strategic access to the Port of Savannah, one of the fastest growing seaports in the U.S.
Hufnagel is particularly pleased with the responsiveness of government agencies and business associations. "It's been truly a pleasure to work with the various economic development groups at the state and local levels, as well as the Ports Authority," he says. "Sometimes it's hard to get people on the phone. That's not the case here—in fact, they're the ones calling me and Plastic Express to see what they can do to help us. It's been a great experience to work with these people."
In a press release, Georgia Governor Brian P. Kemp is quoted as saying, "The company's impact will not only be felt in terms of job creating and investment, but they will be one of the top five export customers for the Georgia Ports Authority."
Headquartered in City of Industry, Calif., Plastic Express expects to create 166 jobs in Georgia to add to its current some 435 person payroll. Despite the low unemployment rate and the challenges companies are experiencing finding people with the right skills sets, Hufnagel is confident new jobs can be filled. "Our people have always been our key to success and total customer satisfaction. We pay good wages with benefits and talented people come to work for us because of this and our 'can-do' tradition," Hufnagel says.
Equally important to the company's success is the implementation of a range of new technologies that automate manual operations typically performed by minimum wage workers. Hufnagel is quick to point out that such technologies are not a threat to the Plastic Express workforce; rather, they present new and more challenging opportunities. "Whenever we've implemented automation that replaces workers, we've provided training to elevate their skill levels so they can perform other, usually more interesting tasks. So, someone who used to load material is now a technician programming and maintaining robots that now do that task."
For any logistics company, Hufnagel points out, automation is essential to eliminate human error and speed delivery. "One example everyone is familiar with is bar-coding. You scan items when they come in and out of a warehouse and you know exactly where they are at all times. There's no guesswork, there's no chance of miss labeling product and wasting time figuring out where it might have gone," he says.
Indeed, high-tech is tightly woven into the three operations performed by Plastic Express, serving more than 250 customers throughout the United States, Canada and Mexico, as well as around the globe:
Packaging and Warehousing
Bulk Terminals
Bulk Trucking.
Packaging and Warehousing
Plastic Express maintains thirteen ISO 90001- 2008 certified packaging and distribution centers in California, New Jersey, Oregon and Texas. Plastic packaging operations are the largest facilities on both coasts capable of packaging over 12 railcars daily in super sacks, boxes or bags. Fully automated palletizers and computer-controlled packaging and inventory control systems provide high efficiency, quality and cost control.
Bulk Terminals
Thirty-six bulk terminals offer high-frequency railroad switching and interface with all U.S. and Canadian Class I railroads. Regional centers are strategically located in California, Arizona, Nevada, New Jersey, New York, Indiana, Minnesota, Montana, Oklahoma, Oregon and Washington.
Bulk Trucking
Plastic Express maintains a fleet of over 250 self-loading 1600 cubic feet and larger J&L bulk trailers and late model Freightliner diesel tractors. The company hires its own drivers, who are required to complete extensive training on the proper handling of bulk plastic materials. Drivers are available on-call for after-hours delivery. It almost goes without saying that on-board GPS systems ensure efficient routing and on-time delivery.
Hufnagel emphasizes the importance of safety. "First and foremost, we want our employees to work safe and go home to their families the same way they came to work. "Our newer trucks are all equipped with the latest safety technologies, such as blind spot detection systems, lane departure avoidance and automatic breaking," he points out. "Beyond the concern with our own people, our customers want to be sure we avoid accidents for two reasons: one, accidents cause delays and, two, downstream a company's name gets mentioned in possible lawsuits and insurance claims, and no one wants their name associated with that, even if they aren't directly involved. Our customers can be confident that our commitment to safety minimizes any risk of that happening.
One-Stop Logistical Solution
The key to tying all these operations into a single logistics solution is transparency and accountability, according to Hufnagel. "Customers want to know what we're doing and where exactly the product is at all times. And, of course, that product arrives exactly where it is supposed to, when it is supposed to."
Plastic Express has extended these very same capabilities to the non-plastics industry. Whollyowned subsidiary PX Services handles a variety of non-hazardous commodities, such as paper rolls, lumber products, steel, roofing shingles and other building products. PX Services maintains over half-a-million square feet of docking and warehouse space, with the same full transload, warehouse storage and order fulfillment services offered by its parent company, as well as FTL (Full Truckload) and LTL (Less Than Truckload) services in select markets. PX Services has six locations near major U.S. ports in Los Angeles, Seattle, Portland, New Jersey, Houston and North Carolina. The Savannah warehouses will be the largest PX services site.
While 85 percent of business is plastics-based, Hufnagel says that PX Services is a steadily growing sector too. He expects overall growth to continue for the company, and not just because of the current favorable economy. "From a global perspective, the needs of third world countries require plastics, paper and other building materials for things like food storage, sanitary systems and other construction products that are essential to modernization."
Particularly now with its expansion into Georgia, Plastic Express is well-positioned to handle import and export transport needs of its customers with the most cost-efficient, sustainable and transparent all-in-one logistical solutions.